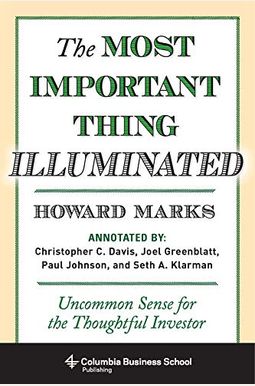 
 
The Most Important Thing Illuminated: Uncommon Sense For The Thoughtful Investor
Frequently Asked Questions About The Most Important Thing Illuminated: Uncommon Sense For The Thoughtful Investor
Book Reviews
(6)
Did you read The Most Important Thing Illuminated: Uncommon Sense For The Thoughtful Investor? Please provide your feedback and rating to help other readers.
Very well done

Derived From Web

, Feb 8, 2022

The Illuminated version is much better than the original, and I accidentally bought both of them. The investors commented on Marks' original work. Every chapter has something worthwhile to add to your knowledge base as a learning investor.
Excellent Advice

Derived From Web

, Jun 15, 2021

This is a great book to read about investing. Marks explains the difference between the terms value and growth investing. He talks about the importance of determining intrinsic value, assessing risk, and buying good buys, not good assets. He covers all of the factors that affect stock prices. His thoughts on investing and psychology are useful. If you' re interested in the subject of finance, this book is a good place to start.
Wisdom from years of investing

Derived From Web

, Oct 22, 2018

This book isn't going to make you rich quickly. It won't focus on charts or deep analysis. It will make you question overconfidence, hopefully stop you from making a big one time bet, and try to get you positioned to handle the downs with the ups. It causes self reflection, to expect the unexpected, and to look at the psychological factors that play into a market so you can catching yourself running after the herd. There are some great books in the book that are referenced for further reading.
I especially enjoyed his discussion of risk

Derived From Web

, Sep 20, 2017

Marks has a hundred billion dollar portfolio of distressed bonds. When he offered to give him a blurb if he published the memos as a book, he was a big fan of the periodic memos. I liked his discussion about risk. Marks seems to have a good idea of where the pendulum of risk is, as he has avoided some of the major crashes. His approach and notion of second level thinking are explained in this book. It's simple to read. It should be helpful to all investors.
Good book. Buy the original version without notes

Derived From Web

, Jun 29, 2017

Mr. Marks has a point of view in his investment philosophy. The book is worth reading and his thoughts on risk are valuable. If you want an easier read, purchase the original version. I didn't like the way the notations were included in the text. You don't need the notes if you can understand the topic.
The most important thing is...???

Derived From Web

, Mar 2, 2017

Risk control is what it is when it comes to investing. The word risk was mentioned so many times in the book that it's now permanently imprinted in my brain. It is worth reading for anyone looking to start investing. It's not the most entertaining book, but it's well worth the time and effort spent going through it.