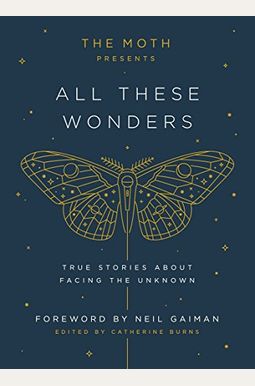  
The Moth Presents All These Wonders: True Stories about Facing the Unknown
Book Overview
Wonderful. --Michiko Kakutani, New York Times
Celebrating the 20th anniversary of storytelling phenomenon The Moth, 45 unforgettable true stories about risk, courage, and facing the unknown, drawn from the best ever told on their stages Carefully selected by the creative minds at The Moth, and adapted to the page to preserve the raw energy of live storytelling,
All These Wonders
features voices both familiar and new. Alongside Meg Wolitzer, John Turturro, Tig Notaro, and Hasan Minhaj, readers will encounter: an astronomer gazing at the surface of Pluto for the first time, an Afghan refugee learning how much her father sacrificed to save their family, a hip-hop star coming to terms with being a one-hit wonder, a young female spy risking everything as part of Churchill's secret army during World War I, and more. High-school student and neuroscientist alike, the storytellers share their ventures into uncharted territory--and how their lives were changed indelibly by what they discovered there. With passion, and humor, they encourage us all to be more open, vulnerable, and alive.
Frequently Asked Questions About The Moth Presents All These Wonders: True Stories about Facing the Unknown
Books like The Moth Presents All These Wonders: True Stories about Facing the Unknown
Book Reviews
(16)
Did you read The Moth Presents All These Wonders: True Stories about Facing the Unknown? Please provide your feedback and rating to help other readers.
Great read!

Derived From Web

, Mar 11, 2021

All these wonders are a great book, especially if you like short stories. I read a few books at a time and this is perfect for reading the first thing in the morning or before bed. These stories were initially adapted for the moth stage and slightly adapted for the book. A good book also if you are working on crafting your own stories for stage or print. I have enjoyed this book so much that I bought the next collection of stories, Occasional Magic immediately.
A wonderful book of stories of significant events in people's lives. It's worth your time

Derived From Web

, Aug 31, 2020

This is a fantastic book of life stories by people of different ages, from various countries and relating incidents that occurred in a variety of time periods. I loved the diversity of the stories and the different perspectives presented ''.
Saddened by edited version of great stories

Derived From Web

, Jul 1, 2020

My friend loaned me her copy of this book. After a few stories, I was hooked and ordered one of my own. These stories were inspiring, sad, funny and uplifting! When my copy arrived, I had already read over half of my friend's copy. When I went to the page that I left in my friend's copy, it was a different page number in my new copy. Strange!There is a story missing in this copy of The Walking Dead. The story of Louis CK is. As a reader, I don 't need the original issue to have stirred up edited. I can choose to skip an author if I don 't like them. I feel like I have been robbed by this edited copy, and am on a hunt for a FIRST edition.
A book for someone with a preference for non-fiction but nevertheless about human nature.

Derived From Web

, Mar 9, 2020

The stories are short, where you can pick the book up, read a story and move on. Each story has some substance to it, a message to it, and is about true occurances.
Dramatic true life serendipitous experiences

Derived From Web

, Feb 5, 2020

Tellers have gone beyond telling by living their stories and gaining inspiration from them.
Great book especially if you don't have time to read.

Derived From Web

, Jan 27, 2020

This is by far my favorite book that I have lately read. I'm busy, so it is really nice to read a wonderful true short story that touches me in 10 minutes. I cried, I've laughed, I have been inspired. This book is my favorite!
Enjoyable

Derived From Web

, Sep 25, 2018

If you are interested in viewing life through different eyes, this is the book for you.
I loved this collection of stories

Derived From Web

, Jan 30, 2018

I loved this collection of stories ''. And this phrase makes the whole book worth itJust walk fearlessly into the house of mourning, for grief is just love squaring up to its oldest enemy. And after all these mortal human years, love is up to the challenge of Highly recommended.
Love It

Derived From Web

, Jan 15, 2018

I am a connoisseur of other people's stories so that The Moth is 100% love. I never fail to laugh and usually cry so much, but I enjoy assessing things on how much they make me cry. I give it to 5 Tears.
Even better than listening on the radio

Derived From Web

, Oct 3, 2017

These stories are even better than the moth on the radio. A couple of them almost had me in tears, I was so moved.