Buy 3 Get 1 Free
Our Best Sale Yet! Add 4 Books Priced Under $5 To Your Cart Learn more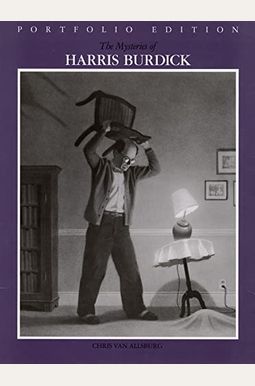 
 
The Mysteries Of Harris Burdick
Book Overview
Since its publication in 1984, The Mysteries of Harris Burdick has stimulated the minds of readers of all ages and backgrounds. Now the original fourteen drawings are available in a large portfolio edition of loose sheets. In addition, a newly discovered fifteenth drawing, titled The Youngest Magician, has been added, as well as an updated introduction by the author. The puzzles of these mysterious drawings will be even more provocative because of the larger size and the exceptional printing quality. For the first time, the drawings can be shared with groups or displayed singly. The Mysteries of Harris Burdick was a New York Times Best Illustrated Book of 1984.
Frequently bought together
Frequently Asked Questions About The Mysteries Of Harris Burdick
Book Reviews
(14)
Did you read The Mysteries Of Harris Burdick? Please provide your feedback and rating to help other readers.
Mysterious Harris Burdick, indeed.

Derived From Web

, May 20, 2022

As a longtime fan of the author, it took me surprisingly long to get around to reading Harris Burdick's Mysteries. It was great fun to discover that this book was in keeping with Van Allsburg's earlier work, with a twist. I must say that it required a few readings, cover to cover, at first. Each illustration caused the reader to look at it and puzzle over the caption. About what was this book exactly? How did a story connect to the next? Answers did not necessarily come readily. Harris Burdick, who was this? What was it about the illustrations that drew me back? Was it the mysterious orbs in the young boys'rooms, the bump under the rug, the ocean liner pushing into the canal? Another place, another time, said it best, and if there was an answer, he would find it there. Clear as... This book is read and then read again. Be prepared to come to your own conclusions.
The *best* book for creative writers

Derived From Web

, May 20, 2022

We were supposed to write one of the pages and pick a story based on Chris Van Allsburg's wonderful illustrations. Jumanji, known as the authorillustrator of Chris Van Allsburg and The Polar Express, outdoes himself in this book. Each illustration has a caption that is supposed to stimulate the mind. A child can not read this book without formulating a story in his mind, perhaps unconsciously. Each illustration, done in only simple black and white, is so breathtaking that I could look at them time and again and be amazed at the detail, the realness. The sentence-long captions that go with each picture even today cause me to dream up a story. It is a wonderful book to get a child interested in writing.
Beautiful artwork

Derived From Web

, May 20, 2022

If you have never read this book, you must definitely read it. It has all the quirky enigmaticity of all stories from Van Allsburg. This portfolio edition is suitable for framing all on separate sheets. As a teacher, I used these pictures as story starters, and my students always enjoyed looking at them when I had them on the wall of my classroom. There is only one thing that has always bothered me that the picture entitled Just Deserts should be just desserts! I wrote in a black pen with a little s because these things bug me, and I didn 't want my students to get confused and think it was right. I could not be more pleased otherwise!
A great tool for writing prompts

Derived From Web

, May 20, 2022

I love that book! I teach at an elementary school, where we write a quickie once a week ''. At this time, students are given a short prompt, usually a sentence, and are expected to write from it for a short length of time. As soon as this activity was brought into our Curriculum, this book came to mind. Each page shows a beautiful black and white picture of some kind of enigmatic occurrence. Instead of being connected to each other, every picture tells its own story and has only one sentence associated with it, which adds to the mystery of the images. Not only is this makes it a great tool for English language learners and creative learners, but the content of the artwork has been very engaging for my students and their visual writing. This is one of those unique books that can truly be interactive. Beyond the writing prompts alone, it is great for discussion and story telling. I even saw it leveled in high school English classes to promote creativity from students.
The Mysteries of Harris Burdick

Derived From Web

, May 20, 2022

It is very thought provoking and inspirational, and I highly recommend it to anyone with a sense of imagination who likes to ask the question, What if...?
Beautiful book to enjoy or to stimulate class discussion and creative writing

Derived From Web

, May 20, 2022

This book was recommended as a teaching resource and I am so glad that it was. It is a beautiful book and there is a lot of room to use the illustrations and cryptic captions for class small group discussion and creative writing. Also, the story of the illustrations and cryptic captions being dropped by Harris Burdick into a New York publisher who has never returned or was heard again, is intriguing and will promote discussion and creative writing ideas. Of course, you could just enjoy the book and buy it yourself!
Very interesting

Derived From Web

, May 20, 2022

It will be interesting to hear the stories that my younger family members can improvise.
Awesome book to inspire creative writing!

Derived From Web

, May 20, 2022

I love the books of Van Allsburg!
Exceptional - one of my all-time favorite books

Derived From Web

, May 20, 2022

The concept is to spark anyone's imagination of any age. The illustrations are fabulous, each so creative. I had my children write their favorite stories in childhood and choose their own story. Now I give them all their own copies of this book and ask them to write another one for my B-day present as adults. I have the grandkids write their favorites and then I will compile them for a Christmas gift book for everyone.
A Unique and Compelling Offering from Van Allsburg

Derived From Web

, Oct 28, 2020

As with the Wreck of the Zephyr and the Odysse, The Mysteries of Harris Burdick is a very compelling and thought-provoking story for children, one they will probably remember for their entire lives and one they would like to share with their own children. It invites the imagination to run wild with story lines for the remarkable illustrations.