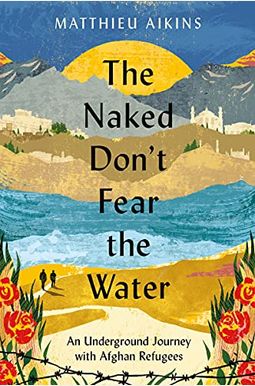  
The Naked Don't Fear The Water: An Underground Journey With Afghan Refugees
Frequently Asked Questions About The Naked Don't Fear The Water: An Underground Journey With Afghan Refugees
Book Reviews
(8)
Did you read The Naked Don't Fear The Water: An Underground Journey With Afghan Refugees? Please provide your feedback and rating to help other readers.
Don't bother

Derived From Web

, Mar 23, 2022

I had to force myself to read the book completely. It was much longer than it needed to be, much of the narrative was spent on other unimportant characters encountered during the journey.
Such a timely read, with all of the refugees fleeing Ukraine right now

Derived From Web

, Mar 4, 2022

Gripping read like a book. Often, I found myself looking up places on a map that were mentioned to see where they are. I really enjoyed that ''. This book did not only expand my view of the plight of refugees in various countries and European policies, but also expanded my heart with compassion for humanity.
Engaging and well written

Derived From Web

, Feb 27, 2022

Aikens weaves a detailed and uniquely experienced story of the world of refugees, smugglers, and NGOs while educating the reader about the geopolitical, social and psychological forces that drive migration. It is definitely a page-turner and is recommended to those who are fans of non-fiction.
Gripping and Compelling account of the Smugglers road out of Afghanistan to Europe

Derived From Web

, Feb 26, 2022

This is the best book I have ever read in ages. After watching all the reports from Afganistan in the media over the past 20 years, you can now read a complete work about the lives of the citizens and learn how they all emigrate. The author travels to Europe with a man named Omar. On the way they encounter numerous countries, live through tremendous danger and cross ruthless smugglers. It is not a literary piece ; it is very easy to read and almost like a diary. The brings the lives of all refugees and hardships they face to life.
Such an important story. Must read!

Derived From Web

, Feb 26, 2022

This book makes you think about our humanity in our world of wall building. Matthieu Aikins is very well written and I look forward to seeing more books by Charles Meredith.
Prepare to be both emotionally and intellectually enveloped

Derived From Web

, Feb 20, 2022

I choose this book after an NPR interview with the author. Aiken's ability to weave the extraordinary, but not so unusual story of an Afghan refugee with the hard facts of life in a war torn economy made for an interesting read. This middle class, midwestern American, still reeling from the quick fall of Afghanistan last August, was touched emotionally by Omar's journey. But I am concerned that the intellectual education received will stay in a much more impactful way with me. I am amazed by my fellow man's resilience. The 1st world problems fade into nothingness.
Beautifully written and eye-opening

Derived From Web

, Feb 20, 2022

I couldn 't put this book down because it is so beautifully written and I learned so much about the experience that a refugee goes through to try to get asylum.
A masterful story that educates and humanizes the refugees and their plight.

Derived From Web

, Feb 19, 2022

This is a fascinating read, showing us the human story behind the refugee news reports and educating us about the history of immigration in the European Union. More importantly, the author, by telling the story of his struggles alongside his friend and the other refugees he met on the dangerous underground refugee journey, makes us care about the plight of these people displaced from their homes because of war and persecution. The author reflects on the difference a piece of paper makes as he describes how his Canadian passport was a golden ticket that meant he could step away from the smuggler's road at any time he wanted. But without this golden ticket, his friend had to risk life and limb for his dream of freedom. It is right that the quality of your life and your safety should be dictated by the place you were born in? The book leaves us to find our own answer to this multi-faceted question.