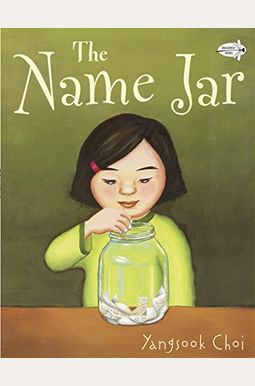  
Book Overview
This Description may be from another edition of this product.
The new kid in school needs a new name Or does she? Being the new kid in school is hard enough, but what about when nobody can pronounce your name? Having just moved from Korea, Unhei is anxious that American kids will like her, so instead of introducing herself on the first day of school, she tells the class that she will choose a name by the following week. Her new classmates are fascinated by this no-name girl and decide to help out by filling a glass jar with names for her to pick from. But while Unhei practices being a Suzy, Laura, or Amanda, one of her classmates comes to her neighborhood and discovers her real name and its special meaning. On the day of her name choosing, the name jar has mysteriously disappeared. Encouraged by her new friends, Unhei chooses her own Korean name and helps everyone pronounce it Yoon-Hey.
Frequently bought together
Frequently Asked Questions About The Name Jar
Book Reviews
(11)
Did you read The Name Jar? Please provide your feedback and rating to help other readers.
Wonderful multicultural story!

Derived From Web

, Apr 20, 2022

This was a great story about a girl who moves from Korea to America. She feels uncomfortable that her name is so different from American names. She learns that it is okay to be herself and that no child chooses his or her own name and that she is not after all so different. This would be an excellent book to read to an elementary classroom to help children understand that it is okay to be yourself and learn about similarities in all children.
The Name Jar

Derived From Web

, Apr 20, 2022

This book is great for introducing yourself or a new student to the class. I would recommend this to all parents.
Every Asian out there with a special name

Derived From Web

, Mar 15, 2022

The book is a comfort, an inclusion. I grew up with the funky Asian name that no one could pronounce and was criticized for it. And although my children's names are easy to pronounce than mine, there's always that one kid who wants to put their 2 cents in. This book helps to accept how special their name is, how pretty it is and how their name is just like any other name out there with a few tries.
Great Book About Identity and Acceptance

Derived From Web

, Oct 13, 2021

This was a great read aloud for my class building lessons at the beginning of the school year. My third graders really enjoyed it, my third graders really enjoyed it. I followed with a name art activity ''. The story also fits in nicely with one of the selections from our ELA series, Jade Bracelet and the Joon. I highly recommend both books ''. Both lend themselves to great discussions. Students can relate to characters and situations, and can relate to the characters and situations.
Beautiful book and very appropriate for any school project

Derived From Web

, May 23, 2021

My 2nd grader had to do a school project about any book she wanted about. We decided to get the book jar. She had to read the book, understand the story, answer some question, and prepare a project all around the book story, and turned out amanzy. She received the maximum score on this project, the story is easy to understand for second graders and its so cute, teach children about different culture and thats ok to be different from each other! Definitely recommend it highly.
Love Who You Are

Derived From Web

, Oct 28, 2020

I think this book should be in every classroom and in every home library '', I think this book should be in every library. It is a tender, meaningful story of change, adaptation, identity, friendship, and acceptance. It is beautifully written and reflects children in a positive light. With the help of her classmates, neighbors and her wonderful loving grandmother, I applauded when Unhie learned to feel good about her identity. I give this book as a gift to many ''. I will give this book as a gift to many.
Great book

Derived From Web

, Jul 20, 2020

This book is a great introduction to the concepts of acceptance and responsibility. It's one of my daughters' favorite movies. Only in the beginning would they have said how to pronounce her name correctly. As I was trying to teach my daughter the importance of learning how to properly say people's names, I had to google how to properly say her name.
Not good.

Derived From Web

, May 31, 2020

The story itself is amazing, McBride said. I cannot wait to use it with students. The book is in terrible shape, Simon says. Its water logged, wrinkled, and folded up. It has a.50 cent coin on the front cover. I am very disappointed with this purchase, said Dr. Julie Gerberding, director of the federal Centers for Disease Control and Prevention.
Great Message

Derived From Web

, Oct 16, 2019

Naming a person is a huge part of their identity. The students who enter our classrooms carry names that were chosen by teachers for them. Please do your part to learn, honor and respect their names. The name jar has a great message about identity, diversity, and self-acceptance, Raymond said.
A great book for Kindergarten

Derived From Web

, May 13, 2019

At the request of our kindergarten teacher, we bought this book and donated it to the school. We read it at home and really liked the overall message. As we have more and more cross cultural interactions, this was a great way to introduce children to being thoughtful to others and also happy with what they bring to the interaction, not worried if they don 't fully fit in.