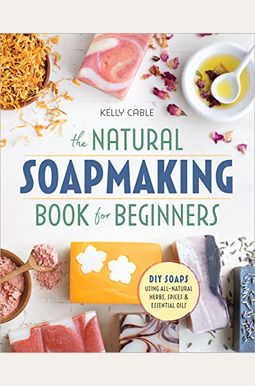 
 
The Natural Soap Making Book for Beginners: Do-It-Yourself Soaps Using All-Natural Herbs, Spices, and Essential Oils
Book Overview
The beginner's guide to soap making using all-natural ingredients
Making soap at home means being able to choose natural ingredients to nourish the body-but knowing what to do with those ingredients can be daunting. This easy-to-follow starter guide to making cold-processed soap walks beginners step-by-step through producing luxurious handmade soaps from scratch using the best natural herbs, oils, and milks.
Unlike other soap-making books, this guide is full of truly beginner-friendly recipes that are colored and scented without artificial chemicals. Moisturize thirsty hair with the creamy Goat Milk and Honey Shampoo Bar, wash away worries with a lather of Relaxing Lavender Soap, or give the gift of sweet-smelling indulgence with a bar of Cocoa-Mint Soap.
This standout in natural soap-making books includes:
A soap-making primer with illustrated tutorials and hands-on recipes that teach beginners how to cold-process soap, including working safely with lye.
Natural ingredient guides that make it easy to choose the perfect base oils, essential oils, colorants, fragrances, and additives like clay.
More than 55 recipes for soaps that include gentle baby formulas, Castile soaps, aromatherapy soaps, face bars, shampoo bars, and more, including nut-free and vegan recipes.
Discover how simple it can be to create natural homemade soaps with The Natural Soap Making Book for Beginners.
Frequently Asked Questions About The Natural Soap Making Book for Beginners: Do-It-Yourself Soaps Using All-Natural Herbs, Spices, and Essential Oils
Books like The Natural Soap Making Book for Beginners: Do-It-Yourself Soaps Using All-Natural Herbs, Spices, and Essential Oils
Book Reviews
(12)
Did you read The Natural Soap Making Book for Beginners: Do-It-Yourself Soaps Using All-Natural Herbs, Spices, and Essential Oils? Please provide your feedback and rating to help other readers.
Do not use the recipes in this book!!!

Derived From Web

, May 19, 2021

Not only are the titles names wrong on most tha recipes, but also are the names wrong on most OMG. After a week of trying a few recipes, most are trash, I have a few molds full of jelly vaseline, they look like ... I shared the recipes with groups on FB and people laughed and where, like OMG, did you get these through the Soap Calculator. Ashamed to say : I got them from a stupid book on which I have wasted money ''.
Great for Beginners!

Derived From Web

, May 7, 2021

After years of being afraid of making soap due to the lye, I made my first batch of soap successfully because of this book! I highly recommend this book for beginners.
Not for beginners

Derived From Web

, Jan 4, 2021

I believe that the author was spoken into adding the words for beginners to sell more books and make people like me buy it. Well, it is not for beginners and you'll end up spending so much money trying to buy all the ingredients she needs. Right now I have a miniapothecary in my studio and still find it hard to make different types of soap listed in the book. In a recipe you will need grapeseed oil, then the next avocado oil, then castor oil, etc. Then there are all the essential oils : At 6 to 8 dollars for a small bottle, you are already about $100. She does go on about using lye and that added another $100 just to buy gloves, glasses, and respirator. The bottom line is to sell the book to someone it is not meant and be honest about costs just to make your recipes.
Great Beginners Soap Book!

Derived From Web

, Jul 18, 2019

I love this book! '' I love it! I am new to the soap making process. I am new to the soap making. I tried a few recipes that I found online as well as on You Tube, I found a few recipes that I tried as well as You Tube. Most of them came out not so great. I tried 3 different recipes from this book and all came out picture perfect.
Only Buy This If You Are Willing to Work with Lye

Derived From Web

, Jun 21, 2019

I bought this book as a complete soap-making novice ''. When I purchased it, unknown to me, you do not need to work with lye when making soap. It is highly toxic and, though it is a necessary part of the process, can be incorporated into your process by working exclusively with melt and pours ''. The recipes in this book require working with lye. I am surprised that a book that promotes a natural approach to soap making, shampoos, laundry soaps and more includes recipes that promote this technique. Personally, I won 't touch the stuff. Environmental goggles, safety masks, safety gloves, mixing lye water outside? No Way! No Way! I wish I had known this before purchasing it. There are better ways : Trust Me! I am now looking for a book that uses much safer, healthier approaches.
Requires lye

Derived From Web

, Dec 12, 2018

Well, since natural soap making that it will be without lye, I will figure. But it needs lye, which makes it difficult when you don 't want to use lye or have lye with little ones in your house.
Diverse recipes

Derived From Web

, Dec 1, 2018

SO many cool recipes : ... They have a soap for everything... Relaxation Soap, Camping Bug repellent Soap, Acne Soap, Baby Soap, Shampoo Soap... So much more!
Great book, incredibly helpful

Derived From Web

, Nov 29, 2018

This book is created beautifully! Absolutely perfect for starters, perfect for starters. The layout and organization is well thought out and so much knowledge is shared in a very easy to digest way. A great balance between art and science behind soap making, is a great balance between art and science behind the soap making. I found the most helpful were conversion charts, natural color swatches, the easy-to-understand use of SAP values and the immense amount of starter recipes. I truly understand how to create my own recipe using percentages and SAP values. This book is a book of a collection and should not be your only source, though. I found this author had subjective views on which oils should and shouldn't be used for ethical reasons and which additives should not be used based on the authors'research, but please note that the author does not share any of this research in the form of footnotes or asterisks or are any of the research listed in the references section of the book.
Great Book for Beginners

Derived From Web

, Apr 3, 2018

I would recommend this book to newbies and all soap makers. I learned so much from this book, the natural and right way to make soap.
Too many animal products for me

Derived From Web

, Mar 19, 2018

I wish I had read more reviews and sampled this before I bought it. I love to be vegan, and every recipe I see includes lard or tallow. Well, this is kind of fun! From what I understand, I can substitute palm oil as long as I am careful, but the reason I purchased the book is because I am a debut soap maker and I wanted to follow a recipe just. And now for... Well. ''