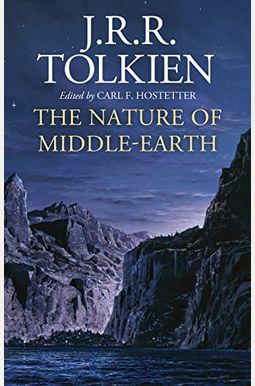  
The Nature of Middle-Earth
Book Overview
The first ever publication of J.R.R. Tolkien's final writings on Middle-earth, covering a wide range of subjects and perfect for those who have read and enjoyed The Silmarillion, The Lord of the Rings, Unfinished Tales, and The History of Middle-earth, and want to learn more about Tolkien's magnificent world.
It is well known that J.R.R. Tolkien published The Hobbit in 1937 and The Lord of the Rings in 1954-5. What may be less known is that he continued to write about Middle-earth in the decades that followed, right up until the years before his death in 1973.
For him, Middle-earth was part of an entire world to be explored, and the writings in The Nature of Middle-earth reveal the journeys that he took as he sought to better understand his unique creation. From sweeping themes as profound as Elvish immortality and reincarnation, and the Powers of the Valar, to the more earth-bound subjects of the lands and beasts of N menor, the geography of the Rivers and Beacon-hills of Gondor, and even who had beards
This new collection, which has been edited by Carl F. Hostetter, one of the world's leading Tolkien experts, is a veritable treasure-trove offering readers a chance to peer over Professor Tolkien's shoulder at the very moment of discovery: and on every page, Middle-earth is once again brought to extraordinary life.
Frequently Asked Questions About The Nature of Middle-Earth
Book Reviews
(5)
Did you read The Nature of Middle-Earth? Please provide your feedback and rating to help other readers.
Which kind of Tolkien fan are you?

Derived From Web

, Sep 4, 2021

Or perhaps you are the sort of Tolkien fan who wants to know exactly how Tolkien calculated the ages of elves using a single, seemingly simple mathematical equation. Or, exactly what kind of paper and with what ink Tolkien wrote each piece of manuscript under discussion, this book is for you. But if you are the sort of fan who can barely tolerate Lord of the Rings, this book is not for you. There will be occasional nuggets of interest, but otherwise you will find yourself skimming through the book in dismay. The book is a prequel, though the elves are not mentioned. I would like to have met more of the other peoples of Middle Earth. Casual fans will find the book undemanding. It's just that much fun, for the most ardent collectors.
A fascinating collection of essays

Derived From Web

, Sep 4, 2021

I've been anticipating this book for months, and devoured it as soon as it arrived. It was chock full of all kinds of new information about Middle Earth and its history, the nature of Elvish birth, growth, death and reincarnation, population figures for the Elves in the period after they first awakened, and so forth. This book gave me exactly what I wanted and expected, but the general reader has to understand what it is a series of loosely-related and often incomplete essays as Tolkien explored ideas on how the world of Middle Earth worked. Nevertheless, there is quite a lot of never-before-seen and extremely valuable information in this book, a delight to the hard-core Tolkien fan.
Not exactly what's advertised

Derived From Web

, Sep 4, 2021

Note the subheading of this terrible parable in the "Persuasion" series, "Notes on the Silmarillion." Beautifully bound and well done, but it's like combining the boring parts of the LOTR's appendix with notes and references to the Silmarillion's notes -- not a book of essays and stories.
Cure For Insomnia

Derived From Web

, Sep 3, 2021

At this point we are just publishing anything to induce fans of LOTR to spend money. I'm a huge Tolkien fan, but this is mind-numbingly boring. Note the margins: "Random" notes about Middle Earth printed on a napkin. If you can't get enough of the Simarillion this may be for you, but for the rest of us just start rereading Fellowship of the Ring instead.
A Treasure Trove for Tolkien Superfans

Derived From Web

, Sep 3, 2021

This is a treasure trove for Tolkien superfans who are fascinated by all things Middle Earth. Trust me, there are many. One thing that makes Lord of the Rings so enduringly great is how much Tolkien deliberated over every detail of his magnum opus, and this book shows that deliberation carried on well past its publication. Lord of the Rings is not for everybody. There are many who will be delighted to discover this book and all of the questions it answers. While it may not be for every Tolkien fan, there is no need to disrespect this outstanding contribution to the published work simply by re-publishing it.