Cyber Week Deals
Cyber Monday Deals are Here! Save 20% on All Books Under $10 - Code CYBERBOOK Learn more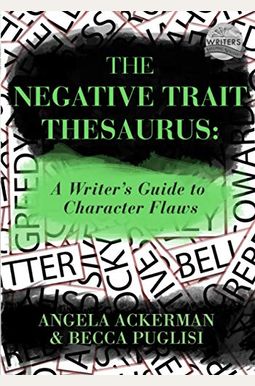 
 
The Negative Trait Thesaurus: A Writer's Guide To Character Flaws
Book Overview
Crafting likable, interesting characters is a balancing act, and finding that perfect mix of strengths and weaknesses can be difficult. But the task has become easier thanks to The Negative Trait Thesaurus. Through its flaw-centric exploration of character arc, motivation, emotional wounds, and basic needs, writers will learn which flaws make the most sense for their heroes, villains, and other members of the story's cast. This book's vast collection of flaws will help writers to explore the possible causes, attitudes, behaviors, thoughts, and related emotions behind their characters' weaknesses so they can be written effectively and realistically. Common characterization pitfalls and methods to avoid them are also included, along with invaluable downloadable tools to aid in character creation. Written in list format and fully indexed, this brainstorming resource is perfect for creating deep, flawed characters that readers will relate to.

Frequently bought together
Frequently Asked Questions About The Negative Trait Thesaurus: A Writer's Guide To Character Flaws
Books like The Negative Trait Thesaurus: A Writer's Guide To Character Flaws
Book Reviews
(15)
Did you read The Negative Trait Thesaurus: A Writer's Guide To Character Flaws? Please provide your feedback and rating to help other readers.
Make Readers Respond To The Characters In Your Stories........

Derived From Web

, May 25, 2022

If you want your readers to interact with the characters in your stories or in your writings, they must feel like real people, good or bad. Because a reader wants to cheer for, or boo at the people, you want them to spend their time with. If a reader can not relate to your protagonist or even your antagonist for that matter, they will wonder why they even bother finishing their story. Yes, but it is your job to make characters as real as possible by showing what makes them what and who they are. Good guys and bad guys, all have traits that make them take the road they travel. Show these properties to your readers.
Excellent Resource for creating the best characters

Derived From Web

, May 25, 2022

Do you know that you must give your characters flaws, but can 't think of anything fresh that will fit with your story? Every time I write, I am in that same boat. The negative trait Thesaurus is my go-to resource for issues involving characters in my character-driven novels. As I explore the pages for the perfect flaw, I end up walking away with so many ideas for future books and really interesting flaws that I want to read for fun. Before you get to all the amazing flaws, the Thesaurus is outlined with helpful sections on roles of flaws within the character arc. Flaws play roles of flaws within a relationship. Building your characters is easy. Indy - Legends are the villains. The positive terrait thesaurus should be kept together with its companion, the negative trait thesaurus, throughout the process of writing your first novel or your fiftieth novel, and every in between.
Also a Great Reference for Writers

Derived From Web

, May 25, 2022

I also bought this book for my nephew and liked it so much that I bought another one for my own use. I bought the companion, Positive Traits and the emotion thesaurus for him and Ditto, then purchased copies for himself.
Great Tool to Conjure Up Negative Character Traits.

Derived From Web

, May 25, 2022

Your editor wants you to flesh out a villain or give a flaw to your main character. It is easy to use and ignites your creative juices.
5 stars

Derived From Web

, May 25, 2022

It is particularly useful in book form because this means that when you need something you don 't have to flip through the book. You click an emotion and, zoom!, there is the information right in front of you!
Great resource

Derived From Web

, May 25, 2022

This is an essential reference for writers in the development and strengthening of their characters. I think that readers interested in psychological issues would find this book as well entertaining.
Another great book by the authors!

Derived From Web

, Nov 14, 2021

A fantastic book and not even for a writer! I found this book '' useful to decode the various characters in my own life! Truly great addition to your own library if you are into building discernment, having insight into other motivations and understanding body language. Yes, this review is about the negative trait thesaurus...I took it not for this I could use a thesaurus!
Excellent book for any level writer

Derived From Web

, Feb 14, 2020

A friend recommended this book to me. When I went in to pick up the order, spotted this and three others. Ended up with all four. Writers of any level are excellent for writers. I am a writer and a media psychologist. I know that if I write this information at my fingertips, it helps enrich my characters. Even with my expertise, I continue to learn personality traits and other psychological elements that make a full, well rounded character. These books are specifically written to help this process immensely. A good writer is always learning how to write better characters and these books help in this process.
Supportive

Derived From Web

, Dec 20, 2019

This is a good reference to have on hand, but works much better as a paperback than as an e-book.
Amazing series!

Derived From Web

, Jun 1, 2019

As you see many marked pages. Clear understanding of how negative traits affect every aspect of the characters'lives love that!