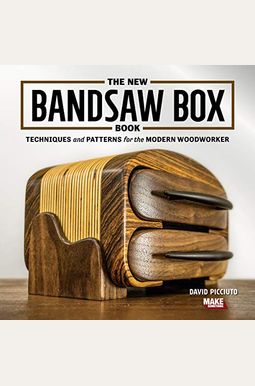 
 
The New Bandsaw Box Book: Techniques & Patterns for the Modern Woodworker
Book Overview
No woodworking project is more fun to make than a box.
Requiring little material and offering lots of challenges, making a wooden box results in a satisfyingly functional project that is proudly used and displayed or given as a gift that will be cherished for years. It's no wonder boxes rank as the most popular woodworking project by beginners and advanced craftsman alike. David Picciuto is a huge fan of making boxes, especially with his trusty bandsaw. His Bandsaw Box YouTube videos and his Weekly Woodworking Round-up are must-see viewing among the woodworking community. In his first book, The New Bandsaw Box Book: Techniques and Patterns for the Modern Woodworker, David presents a collection of beautiful boxes that can be easily made with a bandsaw, considered by most woodworkers as the most important, versatile, and easy to use stationary tool in the workshop. Each project is captured in a modern and fresh step-by-step style that makes learning easy while David's engaging manner keeps the information accessible and light. In keeping with the younger, artisan mindset that is infiltrating the woodworking community, David concludes with his raises a glass toast that matches the perfect craft beer to compliment the wood and style of each completed project.
Frequently Asked Questions About The New Bandsaw Box Book: Techniques & Patterns for the Modern Woodworker
Book Reviews
(13)
Did you read The New Bandsaw Box Book: Techniques & Patterns for the Modern Woodworker? Please provide your feedback and rating to help other readers.
People will think you're a pro woodworker!

Derived From Web

, May 27, 2022

Lots of great photos and well written instructions make this project even accessible to the absolute beginner. I have been woodworking for only a few short months and was able to make a box that looks like it was made by someone who has been doing woodworking for years! [ See photo ] I veered away from the author's design and used in my box maple instead of plywood. The author not only has great hair, he is quite active on social media and often responds to tweets or posts with encouraging comments.
Where Artistry and Craftsmanship Meet

Derived From Web

, May 27, 2022

The designs in David Picciuto's book are strongly inspired and artistically one-of-a kind. The directions in his book are detailed and contain a wealth of instructional color photos. I also enjoyed the photo gallery at the end of the book with Bandsaw box designs from the US and Europe. Bandsaw box making has opened for me a new area of woodworking. Where complex joinery and precision cutting give way to flowing geometries. Since buying David's book, I have built six of his designs. Once you have the basics under control, the construction goes fast. It is the shaping and finishing that takes real time, but the results are well-worth it.
A book every woodworker should have.

Derived From Web

, May 27, 2022
Small but nice!

Derived From Web

, Apr 19, 2021

Great little book, wish there were a few more designs for the money, but overall, I am happy with the purchase. I found about 4 designs that I probably use and I may modify a couple to upgrade them as well. Overall, a good purchase, probably more great for a beginner, but a great purchase overall, glad I made the purchase. You can print the drawings if you choose and change the sizes with your printer larger or smaller. Recommend printing them on contact paper, then peel and stick right to your stock to get started.
Great start on boxes

Derived From Web

, Mar 4, 2021

The author shows detailed pictures of the construction as well as printed instructions for each box. Has access to helpful online templates that must be expanded to glue to glued blocks. The templates can be expanded to create any desired box size. Having made four of the boxes so far, I see how I can also do my own designs.
This has good clear ideas

Derived From Web

, Aug 25, 2020

I have watched several youtube videos on bandsaw box making and I feel this is the best book out there.
This book changed my life

Derived From Web

, Dec 21, 2019

This book changed my life. I really didn 't expect much, but the plot twists and character development really showed the maturity of the author. I did not anticipate the ending. For the final product, the book was finely crafted with high paper products and appeared to use the best inks available. I was surprised at the elegance of the binding and I could tell that this book was made to survive through the ages. This book will become a personal favorite that will exist for generations. Merciful to the author and to the publishing company for having set the bar so high. The boxes are also pretty cool and easy to make.
Beginners take heed.

Derived From Web

, Dec 17, 2019

Getting ready for my first whel at the band saw boxing. The Wood Whisperer mentioned the author : I ordered here, went there and had the book the next day. The simple, but elegant designs are exactly what I needed for making some chic and elegant Christmas gifts. Mr Picciuoto did a great job. David Adkins is a regarder.
A good book

Derived From Web

, Oct 15, 2019

I would have given the book more stars because it is a solid 4 star book, but in his opening comments, he states that with a few inexpensive tools you can start making bandsaw boxes '', but when I read the book it was pretty obvious that some inexpensive are not going to have you making bandsaw boxes. A decent 12" bandsaw is $ 1,000.00 not to mention the disc sander, the oscillating spindle sander, drill press or in his case a drill press, plus clamps and sand paper etc... It is pretty obvious to me that you are not doing this on the cheap.
Safety

Derived From Web

, Apr 30, 2019

I really like this book, it gave me the tools to start making my own bandsaw boxes and how to do it safely.