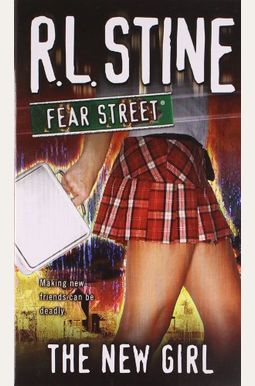 
 
Book Overview
FEAR STRET -- WHERE YOUR WORST NIGHTMARES LIVE.
The new girl is as pale as a ghost, blond, and eerily beautiful -- and she seems to need him as much as he wants her. Cory Brooks hungers for Anna Corwin's kisses, drowns in her light blue eyes. He can't get her out of his mind. He has been loosing sleep, ditching his friends.and everyone has noticed. Then as suddenly as she came to Shadyside High, Anna disappears. To find a cure for his obsession, Cory must go to Anna's house on Fear Street -- no matter what the consequences. Anna may be the love of his life.but finding out her secret might mean his death.
Frequently bought together
Frequently Asked Questions About The New Girl
Book Reviews
(13)
Did you read The New Girl? Please provide your feedback and rating to help other readers.
GREAT!!

Derived From Web

, Jun 4, 2022

THIS IS ONE OF R.L. 'S TEMPONSIBLES. I LOVE LOF BOOKS I READ TILL NOW AAND I IWANNA 'READ SOME MORE AND ALSO EXPLORE R.L. STINE ON NET. THIS IS A GR8 ROMANCE BOOK IF YOU WANNA BUY THIS BUY OTHERS TOO!
really amazing,

Derived From Web

, Jun 4, 2022

I think it is unique and impressive creation of R.L Stine. In this book, he is expressing a different kind of romance,so it is really good.
GOOd BOOk

Derived From Web

, Jun 4, 2022

Can 't put it down once you start reading it.
"thats a NO from me"

Derived From Web

, Jun 4, 2022

I thought that v. good, since his goosebumps were good as a kid, these would be okay. I WRONGGG! BOY WAS I WRONGGG! AT ALL, NOT SCARY. BYEEE :
Modernized from the original

Derived From Web

, Feb 11, 2022

The product is great in quality, new brand. It is not an original first edition and is not being advertised as one. The cover art is obviously updated and plain to see. I did not expect, however, that the story would be somewhat modernized to be rewritten. For example, the original story of 89 has a line at the beginning of chapter 4, where Cory says he is listening to his walkman. It was a little disappointing as I grew up reading the originals in the 80s and 90s and that stood more like something geared towards attracting the generation after mine, so that nostalgic value is a little lost to me. No fault of the seller, just a fair warning to know what you are buying before adding it to your cart.
Enchanting New Girl

Derived From Web

, Jan 24, 2022

This is the first episode of the series and we meet Cory and his friends. They attend Shadyside High School and one day Cory notices a new girl that he is immediately mesmerized by Anna. He can 't get her out of his mind, but he sees less and less of her, his obsession grows strong enough for him to venture into Fear Street to search for her. Overall, it was pleasant and the mystery of the story draws the reader in.
Great story!

Derived From Web

, Dec 14, 2021

This is a great first book in Fear Street. I used to have several of this series, but never had the chance to read this one, nor owned it.
A great Scare

Derived From Web

, Oct 13, 2021

This book was really good, a well written thriller that keeps you guessing and makes you think one thing, while it ends up being something else entirely. The characters were interesting, especially Cory, a confused and lost boy who becomes obsessed with a girl named Anna, he learns many things about her, it takes awhile for him to learn the truth, the mystery is what keeps this book interesting. The plot is a wonderfully written thriller with not the most reliable narrator. Overall, this was another great book by the best YA and children's horror author.
Not At All Like The Netflix Movies

Derived From Web

, Aug 26, 2021

For those of you obsessed with the Netflix - trilogy like me, this is nothing like it. I thought it would be more adult, but it is more like a very mild pre-teen horror. I feel bad giving it 1 star, because it is probably good for what it is if you weren 't hopingexpecting it to be like the movies.
Interesting read

Derived From Web

, Jul 29, 2021

First and foremost '', I am a horror fan. Always will have been a constant After watching the three films, this book caught my interest. I read it and fell right back in love with R.L Steins writing it all over again. I loved that it was a quick read and kept me entertained the whole time. Would definitely recommend, and I will definitely read the other books in this series.