Buy 3 Get 1 Free
Our Best Sale Yet! Add 4 Books Priced Under $5 To Your Cart Learn more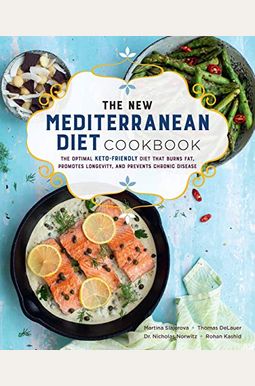 
 
The New Mediterranean Diet Cookbook: The Optimal Keto-Friendly Diet That Burns Fat, Promotes Longevity, And Prevents Chronic Disease
Book Overview
The New Mediterranean Diet Cookbook is your guidebook to the ultimate superdiet, an evidence-based keto diet that emphasizes a diversity of fish, healthy fats, and a rainbow of colorful vegetables--with 100 delicious recipes for everything from snacks to dinner.
The
Mediterranean diet
has long been touted as one of the world's healthiest diets,
renowned for its protective effects against heart disease, cancer, and other chronic illnesses
. However, its heavy inclusion of grains and carbohydrates can contribute to obesity and is a drawback for many. Also shown to have many health benefits, the
ketogenic diet stimulates the fat-burning and longevity-promoting state of ketosis
by limiting carbs and emphasizing high-fat foods. While the keto diet is about the proportion of macronutrients (fats, protein, carbohydrates) in the food you eat, the Mediterranean diet is about specific food types: seafood, olive oil, colorful vegetables, and other anti-inflammatory foods. This book is about living and
eating at the intersection of these complementary diets
so you can
reap the benefits of both
. While both diets advocate significant amounts of healthy fats and protein, the new Mediterranean approach to keto significantly shifts the fat profile of the diet to emphasize the monounsaturated and omega-3 fats that health experts agree
Read More chevron_right
Frequently Asked Questions About The New Mediterranean Diet Cookbook: The Optimal Keto-Friendly Diet That Burns Fat, Promotes Longevity, And Prevents Chronic Disease
Book Reviews
(9)
Did you read The New Mediterranean Diet Cookbook: The Optimal Keto-Friendly Diet That Burns Fat, Promotes Longevity, And Prevents Chronic Disease? Please provide your feedback and rating to help other readers.
Great Foundations; Poor Recipes

Derived From Web

, Jul 22, 2021

The foundations presented by this book for a low carb, Mediterranean-style diet are excellent. Core Ingredients: Wheat, Corn, and Soybeans are the building blocks of the food. The rest of the book consists of recipes that have numerous ingredients, including many that are difficult to obtain, expensive, and not things that would be commonly stocked in one's pantry. It should focus on simple, fresh, common ingredients and the book fails in that respect.
Worst cookbook I've ever purchased

Derived From Web

, Jul 6, 2021

I thought this was going to be a great cookbook, Rosa said. It turns out that this was the worst cookbook I have ever purchased. Many of the products are listed as not available. Thinks of Halloumi cheese, kelp noodles, buffalo mozzarella, etc. Who can find things at your grocery store? I would never recommend this book.
I bought five copies!

Derived From Web

, Jul 3, 2021

It was a huge hit, and I pre-ordered it for my grandmother, who loves Mediterranean food. Then I went to her house and she cooked me the recipes in the bonus material that came with the pre-order, and my tongue almost fell out of my mouth. After looking at the health information about how the recipes were designed and being really impressed, I bought four more copies. It's just that one for my doctor.
Good book but it would be expensive to follow this diet.

Derived From Web

, May 25, 2021

Pauley, who co-chaired the inquiry, said: "The book is a well put together book and for what its intended purpose it does a good job. However, I must admit that it fell short of my expectations and definitely wasn't the right fit for me. I had high hope that this would be a great book, even if Thomas Delauer was not one of the authors. The recipes looked and sounded great, Mr. Cowger said. The quality of the products is generally good. He said Blair never met Mr. Daschle. Many of the recipes were written with highly exotic or expensive ingredients. They used macadamia nuts in a lot of recipes. If I had infinite disposable income this would be an awesome cookbook but if I actually tried to follow it in my current life I'd be made a popper in the first month. If you know the basic principles of eating a clean keto diet and the same for a true Mediterranean diet, it should be relatively easy to meld the two, said Dr. Aronov. He also said: "There is no such thing as a free book."
Inventive and Fertility Friendly Recipes!

Derived From Web

, May 21, 2021

Three recipes from this book are still being churned out. Healthy fats work well with this book, using a lot of healthy fats. The latter is a lot less monotonous, taking a lot of the monotony out of keto. She says her doctor had recommended that she try a low-fat diet, and the Mediterranean combination was the best approach to increase her chances of conceiving. Very good review, Paul. The only downside is that the recipes don't use a ton of salt, and can be a bit bland. Since salt is recommended for keto to help the body absorb more water, I have added salt to the recipes to give them more flavor. There are also no ton of dessert recipes, so I don't mind, even though that wasn't as important to me.
A must-have cookbook for optimal health

Derived From Web

, Apr 30, 2021

I've been dancing around the edges of a ketogenic diet for the past year, overwhelmed by the lingo and trying to understand the shifts I had to make. Not to lose weight, but interested in reducing inflammation as I age and a lover of cooking, I bought this book and, I wasn't disappointed. I grew up on a Mediterranean diet, so concepts are not unfamiliar. The New Mediterranean Diet, for example, takes healthy eating to a whole new level. I'm so impressed by how well thought out this book is, how much research and development went into it, and how beautiful it is, he said. It's more than a cookbook—organized with nutritional facts, key points, and fun facts. I've learned so much through the recipes, the meals look as if they were made by hand. It's great to be back home, said Blair.
Wonderful and delicious food. Will recommend to everyone.

Derived From Web

, Apr 24, 2021

I received the book 3 days ago and I cannot stop raving about it. Rushing to get my hands on the disc, I had to wait months to get it. They were so good, I've already tried several. Easy to make and very time-consuming, Mr. D'Antonio said. Before I started working with Dr. Goin, I was on the Mediterranean diet. I've had a lot of fun on that diet, but I put on quite a bit of weight. When I saw that this book was going to be available, I had to try it, he said. It gives me that wonderful Mediterranean food but without the weight gain. I haven't gained any weight since eating this amazing food, she said. In a conference call yesterday, Microsoft execs were asked how they could improve the company's customer service.
Love it!

Derived From Web

, Apr 23, 2021

Amazon also said Monday that preorders have been delayed for two weeks, and that shipments have arrived "a little more than a week ago." It was a long wait, but after the initial rush, I can truly say it was worth it. I tried the pouched salmon recipe, which I substituted for wild caught trout, and it was delicious! It was a huge hit with my family and we'll never forget it. I can't wait to try the other recipes, Shibley said.
Literal HOME RUN! Exactly what you need to know to achieve a MUFA focused low carb diet

Derived From Web

, Apr 21, 2021

Amazon said it received the book yesterday. This book is what I have been looking for, Frey said. оет на онтрате? Dr. Norwitz said: "Many thanks, Dr. Shelby. In fact, I am ordering another copy for a friend.