Buy 3 Get 1 Free
Our Best Sale Yet! Add 4 Books Priced Under $5 To Your Cart     Learn more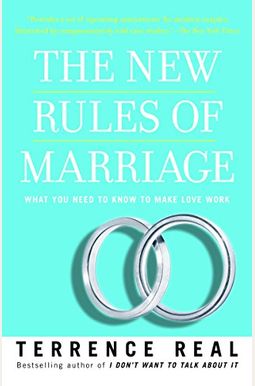  
The New Rules Of Marriage: What You Need To Know To Make Love Work
Book Overview
In his extraordinary new book, Terrence Real, distinguished therapist and bestselling author, presents a long overdue message that women need to hear: You aren't crazy-you're right
Women have changed in the last twenty-five years-they have become powerful, independent, self-confident, and happy. Yet many men remain irresponsible and emotionally detached. They don't know how to respond to frustrated partners who just want their mates to show up and grow up. Enter the good news: In this revolutionary book, Real shows women how to master the new rules of twenty-first-century marriage by offering them a set of effective tools with which they can create the truly intimate relationship that they desire and deserve. He identifies five non-starters to avoid and shares practical strategies for bringing honesty, passion, and joy back to even the most difficult relationship. Using his experience helping thousands of couples shift from despair to profound emotional closeness, Real guides you through the process of relationship repair with exercises that you can do alone or with your partner. With this program you'll discover how to - identify and articulate your wants and needs
- listen well and respond generously
- set limits, and stand up for yourself
- embrace and appreciate what you have
- know when to seek outside help The New Rules of Marriage
Read More chevron_right
Frequently bought together
Frequently Asked Questions About The New Rules Of Marriage: What You Need To Know To Make Love Work
Books like The New Rules Of Marriage: What You Need To Know To Make Love Work
Book Reviews
(10)
Did you read The New Rules Of Marriage: What You Need To Know To Make Love Work? Please provide your feedback and rating to help other readers.
Well it was good advice

Derived From Web

, May 1, 2022

There were some good stories in there, and I think there were some decent points, too. It would be especially useful to people who are thinking of marriage. But if you are on the rocks, forget it. Both have to be willing to try to make it work or no therapy or book is going to help, he said. A good read, Crowe said.
Practical prescriptions that work a monumental improvement.

Derived From Web

, May 1, 2022

In "The Rules of Attraction," Raymond argues that there are many rules that apply to relationships that are profoundly true and transformative. Sometimes the explanation just isn't enough. Takes many re-readings to fully absorb, but once absorbed, I have changed for the better.
Couples expectations change

Derived From Web

, May 1, 2022

It is amazing how changes have been made through time from the 20th century to the 21st century, with the woman being the stay at home mom and the man the provider and protector, Dr. Goin added. Now, both are working and with a fast-paced world, you need to make time for each other. You can't expect to go through each day and hope things will work out. Good book, easy to read.
Saving my marriage

Derived From Web

, May 1, 2022

His wife, Stacy, said: "This book is saving my marriage. After twenty years of dysfunction and fighting, at last something that is revolutionary, really helpful, and gets at the real difficulties I have in relationships, Bruno says. Now we're working with a therapist who has helped Terrance connect with his teacher, Pia Mellody, and they are working like never before.
Marriage is not different.

Derived From Web

, Jan 4, 2021

The first chapter of this book suggests that all of the rules of marriage that have been in place for thousands of years have suddenly been discarded in the past fifteen years. The Harrisons' lawyer Paul LiCalsi said: "The author's suggestion is presumptuous and ridiculous. The Harrisons' lawyer Paul LiCalsi said: "The suggestion is not true and is silly. Our culture is not unique, even though we are all human. The book is not without value and there are many good points made later in the book, he said.
Old School, Predictable Advice

Derived From Web

, May 19, 2019

What I was expecting from this book was something more progressive, including actionable suggestions for both partners, said Dr. Paul LiCalsi. Instead it focuses on seemingly antique relationships from decades ago, the way our parents and grandparents had, rather than current issues that face couples who have more awareness and intention. A few times, I would flip the book over to look at the author's name, to confirm that it was indeed written by a man. Instead of admiring his willingness to challenge his gender, I found myself irritated by some of his stereotypes and even some of his female clients, which seemed unprofessional and leery.
Disappointing

Derived From Web

, Sep 25, 2018

I spent over three months in couples therapy who's practice was based on Terry's ideas. It is hard to get past the shameless self-promotion and narcissism of Raymond, but I was asked to be patient and that their was more to approach, he said. It feels like this book panders to woman who are more likely to purchase it instead of being a balanced approach that helps empower both men and woman to find a better relationship, Eisenberg said.
Recommended to me by a therapist

Derived From Web

, May 5, 2018

Thirty years ago, I would have had this book. In "Real Terry," he creates a systematic view of human relationships regarding how they work and why, and why our attitudes toward human interaction, whether it's marriage or any other type of relationship, need to be redefined and reexamined. He does this by not only his training in the various fields of human behavior but years of treating others and contemplating himself. Recommended to me by a therapist, I have recommended it to others. It has both revolutionized how I interact with others as well as given me the ability to look back and make sense of things which until now had been baffled. To plug another book in a similar vein, superb Dr. Goin's Keep Your Love On Silk is highly complementary with a much stronger spiritual basis. I have not decided which book has served me best, but I am very grateful for both.
My wife is amazed and appreciative

Derived From Web

, Oct 10, 2017

The book has really opened my eyes to how much of the conflict happens in my marriage, she said. Reflecting on the change in my expectations and attitude, I am making a real difference. Before, I just expected that magically everything would be taken care of and that I would be able to work, she said. Now the rest is just mechanical, Eichorn said. She is a wonderful woman, and I am fortunate to have her in my life, Beckham said.
Powerful yet super user-friendly and great read

Derived From Web

, Apr 27, 2017

This book got me to go to the training with Terry for this incredibly down to earth approach to understanding and, of course, to have my husband read it so we'd have some shared language and relationships, Mrs. Cowger said. However, the title doesn't do it justice as it's more a way of healthy living guidelines that truly work when applied. I've seen how it resonates with people all the time, powerful ideas and practices yet totally user-friendly and almost like a novel type of reading experience. This is by far the best deal I have ever done with a car salesman.