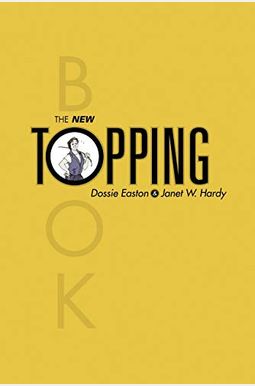 
 
Book Overview
The New Topping Book by Dossie Easton and Janet Hardy Tens of thousands learned the emotional and ethical skills of BDSM topping from the first Topping Book. Now, in addition to the sage advice and good humor that made the first edition a classic, the authors tackle some of the issues that have come up for tops in the last six years: on-line domination, the challenges and rewards of lifestyle relationships, ensuring our own and our partners safety, and more.
Frequently Asked Questions About The New Topping Book
Books like The New Topping Book
Book Reviews
(9)
Did you read The New Topping Book? Please provide your feedback and rating to help other readers.
Worth the time and price.

Derived From Web

, May 4, 2022

One of the best I've read on the subject yet, and I've read quite a few in the past year. I've read at least one other book and other excerpts and articles by this author and can tell you the author speaks from experience, Morgenthau said.
Helpful

Derived From Web

, May 4, 2022

I did this book quite useful, apart from the last two chapters, I would say it's a good find to start off research with, he said. It also brought up for discussions between me and my mate that we may not have ordinarily thought of.
A great guidebook

Derived From Web

, May 4, 2022

A great introduction to the pleasures and joys of topping.
Best BDSM book I've read so far

Derived From Web

, May 4, 2022

Pauley, also known for his books "The Fifth Estate" and "The Ladykillers," said: "This book was incredible. The content was easy to digest and addressed many areas of topping that I had not considered as a novice. Rereading the book after reading some other bdsm literature, I have found the book insightful and found some aspects that I glossed over previously. Especially helpful for me were the interviews and scenes, which helped me understand that some of my personal fears of being a top are shared by others and that its not something that is wrong with me. Pauley, one of the book's co-authors, said: "I would heartily recommend this book to anyone interested in the scene."
Great guidance for begginers

Derived From Web

, Aug 18, 2021

If you are new to BDSM, I would recommend the topping book and the bottoming book for anyone learning about BDSM for the first time or refreshing themselves on the basics.
Philosophical, not practical

Derived From Web

, Feb 4, 2021

For those looking for ways to be a better top, you won't find much of practical use or interest here. Part of the inquiry is looking at the psychological or philosophical aspects of being a top. Imagine, for example, what it would be like to go to a sex therapist and ask whether you're a top or top ethically. If so, you might have some discussions like this one. There is almost no practical information or insights on how to elevate your craft. It was pretty disappointing, said Blair, "especially when we knew we were going to be up against it." It was mostly a book to skim, and it mostly read like a really long chapter to a good book.
An Amazingly Dense Book

Derived From Web

, Apr 28, 2020

I mean, dense in the sense of being packed with information, concepts and thought-provoking stories and questions. So much so, I found myself highlighting entire paragraphs. This research also shows that empathy increases the likelihood that individuals will develop self-understanding. This book will require multiple readings with reflection and exploration between readings from which to reap the greatest benefit.
Good book with good points.

Derived From Web

, Nov 4, 2018

It's not all BDSM oriented, but rather focused on the power dynamic relationship in a way that should allow the advice to be adapted to fit most relationships that use a non-traditional power dynamic.
Same ol same ol

Derived From Web

, Sep 8, 2018

This is the second book written for those who essentially are beginning BDSM. The book was originally intended for those who do not have some experience and are looking to advance their knowledge and skills. The last part of the book was very good. Dark and spiritual side of BDSM. What a great read, said Dr. Pauley. Just wish BDSM authors would stop turning out the same info book after book and hat someone would write a book that focuses on advance BDSM not beginner.