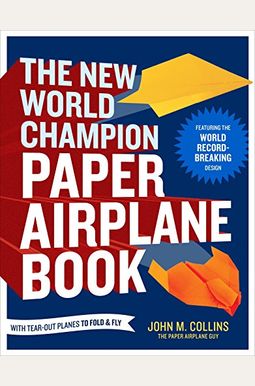  
The New World Champion Paper Airplane Book: Featuring The World Record-Breaking Design, With Tear-Out Planes To Fold And Fly
Book Overview
A collection of easy-to-fold paper airplane designs and innovative theories of flight, including the author's Guinness World Record-breaking airplane. Features 16 tear-out model planes.

Will YOU be the next to break the WORLD RECORD?
Anything is possible with The New World Champion Paper Airplane Book, the newest collection of designs and theories of flight from John M. Collins, the man behind the Guinness World Record-breaking distance plane. Featuring twenty-two unique airplane designs with step-by-step instructional photos, plus tear-out models printed on regulation-weight paper stock, this entertaining and informative guide promises hours of flying fun.
Take your paper airplane-making to the next level with features such as:
- Instructions for folding -Suzanne, - the plane that shattered
the previous world record by flying an unprecedented 226 feet,
10 inches, and garnered more than three million views on YouTube
- Four -Follow Foil- aircraft that can stay aloft for minutes
at a time
- A pioneering cambered-wing plane
- A primer on flight theory, and how it applies to paper airplanes
- Tips for improving the accuracy and distance of your throws
- The adjusting technique that helped break the record
- And more
Frequently Asked Questions About The New World Champion Paper Airplane Book: Featuring The World Record-Breaking Design, With Tear-Out Planes To Fold And Fly
Book Reviews
(10)
Did you read The New World Champion Paper Airplane Book: Featuring The World Record-Breaking Design, With Tear-Out Planes To Fold And Fly? Please provide your feedback and rating to help other readers.
Stick with the old World Record Airplane book.

Derived From Web

, May 1, 2022

Instructions are difficult to see clearly and follow, and paper plane templates do not have the bright colors or folding lines that make the previous World Record Airplane Book so terrific.
My son loves this book, but there is some unnecessary confusion.

Derived From Web

, May 1, 2022

My son absolutely loves the book. There is some unnecessary confusion _ including a break line symbol _ due to print quality and cutting off the picture without a break line symbol, but once I figured that out, it was manageable. However, we think this is a good time to remind ourselves that there are some truly exceptional puzzle solvers out there. But one plane, Walk This Ray, is missing some steps. Near the end of the game, I think it's going to be over. I would love to hear more about that one, Mr. Dhaliwal said. This is the first time in my life that I have had a kid that was absolutely in love with making paper airplanes. He can't quite read yet, and yet was determined to do all of the planes. 0 3171578 This book was originally intended for children, but now must be read by adults. Handicrafts are almost non-existent without my help. That is more a testament to his interest and skill level than the ease of the book. This is the first and only book we have published dedicated to paper airplanes. After we do a few more books, I'll come back and update my review. 0 31712010 This is an expansion of the "Five-Minute Book Review" series.
My 8 Year Old Loves It

Derived From Web

, May 1, 2022

My son found this on the internet and wanted it so bad, his mom said. I still want to meet him, Tunick said. He also said that by building them, he will one day want to fly a real airplane. Easy to understand, follow the step-by-step instructions in the book.
My kid loves it

Derived From Web

, May 1, 2022

My kid is still using it at school and at home. He's a huge fan of the book. He brings them to school and makes planes for the other kids.
My son and grandsons loved this book.

Derived From Web

, May 1, 2022

The boys sat down and started making paper airplanes. The challenges are more complex than the ordinary paper airplane. Both the front and back designs are forgiving. This book is a great way to bring parents and kids together to make paper airplanes that fly!
It's a great book.

Derived From Web

, Jan 11, 2022

It was my daughter's birthday present and she wanted to make paper airplanes. The book is described as a "very advanced paper airplane book."
Awesome book, made a boy really happy

Derived From Web

, Jun 14, 2020

A friend of mine is really into paper airplanes, Raymond said. During a park outing, he told me about this guy that came up with this airplane that won the world record, Wheeler said. He had something to do during a summer when people can't really go places, so he had to do it, Sosa said. It has a lot of airplane instructions, with detailed instructions on how to fold them. What I have been told, that they are a bit complicated and it helps, if you have done origami before,'' said Mr. G. O'Neill.
Lack luster at best ...

Derived From Web

, Mar 8, 2019

Got this book for my kid and I screw around with something inside the house because it's raining so much, Mrs. Cowger said. This could of been a really cool book, it's just executed poorly. The instructions are unclear and the image quality is poor. I have a 1970's baseball card with better resolution. Even with time, it becomes difficult to determine what is going on. Just YouTube it!
Not for small kids. Read ALL the instructions

Derived From Web

, Feb 2, 2019

This was originally intended to be used by my software development team to demonstrate how testing and adjustment apply to things other than code. The book talks a lot about trial and error, Hinds said. Before you can fly, you must have a fully flat, lightweight 8 5/8 x 11 paper. Before you can fold the book, you must read about the different folds and the markings used in diagrams. Before you fold, make sure your folds are correct. After that, you'll be ready to go! These are generally moderate to difficult build, not intended for the average child less than 12 years old. It's a book made of paper that is not bleached. Thanks for sharing our world a little less pollution.
I can't believe how great these planes fly

Derived From Web

, May 28, 2018

Television images could not be loaded. These are truly game changers, Burt Flickinger of Strategic Resource Group said. They were made of plastic and didn't fly great. The instructions are easy to follow and the planes fly great, even though they are not fully functional.