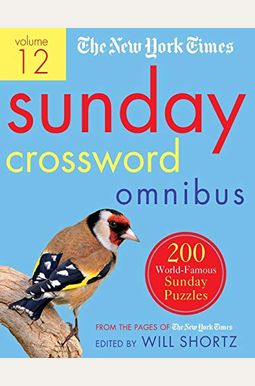 
 
The New York Times Sunday Crossword Omnibus Volume 12: 200 World-Famous Sunday Puzzles from the Pages of the New York Times
Book Overview
200 of the famous giant Sunday puzzles from The New York Times
It's the biggest crossword series around:
New York Times
crosswords editor Will Shortz's gigantic Sunday puzzles in an omnibus-size volume that guarantees hours of head-scratching and entertainment for all puzzlers. Features: - Convenience and value with 200 puzzles in a single volume
- Contemporary themed puzzles more than 50% bigger than the weekday puzzle
- Fun, fresh vocabulary and challenging clues the
New York Times
Sunday crossword is famous for
Frequently Asked Questions About The New York Times Sunday Crossword Omnibus Volume 12: 200 World-Famous Sunday Puzzles from the Pages of the New York Times
Book Reviews
(7)
Did you read The New York Times Sunday Crossword Omnibus Volume 12: 200 World-Famous Sunday Puzzles from the Pages of the New York Times? Please provide your feedback and rating to help other readers.
Unexpected challenge

Derived From Web

, May 3, 2021

The eagerly awaited Omnibus Volume 12 arrived before I expected. I was surprised, nay shocked to discover that the printed clues were an E Y E T E S T! It will be some time before this octogenarian can puzzle her way through this fine collection of posers.
Smallest font in life - 6 or 8, but puzzles are challenging

Derived From Web

, Mar 19, 2021

When I read reviews of small font advisory, I thought I mean how small could it be? Well, it is the smallest font possible before no font at all. I'll probably go blind, but hey, the crosswords are challenging for me, so it was worth it. If people say that the font is small, the font is hella small.
Let Your Words Not Be Cross

Derived From Web

, Feb 5, 2021

This article has proven to have a nice difficulty level, without being so arcane, you have no idea how to end a puzzle without looking it up. It has many funny themes and ideas are often clever. I like to have a puzzle solved without having to think about an answer, but have it challenging enough that it takes some time to complete. The last issue I received before this was Vol 6. It was so vain and I threw it away after fumbling through about 40 of the puzzles.
not up to the usual standards of this series

Derived From Web

, Dec 26, 2020

I gave it a star because it is my favorite puzzle series, but this one is seriously disappointed. The grid size is acceptable, but the type size for the clues is so small that it is extremely difficult to read even with my readers and the brightest light possible. Unless your eyesight is 2020 or better, this is probably not the book for you. I pushed it through a puzzle so I can not send the book back, but definitely not high on the enjoyment scale. Please bring the larger font sizes back!
Print is unreadable, smallest I've ever bought.

Derived From Web

, Dec 7, 2020

Each year I buy 8-10 crossword books. These puzzles could be fine if you could read the clues. From the 100 crossword books that I have bought, this is by far the smallest, least readable print I have ever seen. Having to correct and reread every hint takes all the fun out of working the puzzles. I rarely return anything, but this book is worthless to me.
What a Mess

Derived From Web

, Dec 1, 2020

The pages are stained, wrinkled, and worse. About 13 are sliced in a zigzag pattern and the top half separates from the page. If that wasn 't enough, the print is so small that without a magnifying glass is unreadable.
Classic NYT

Derived From Web

, Nov 23, 2020

Not the hardest, but not the easiest. I guess that places this in the middle. Decent quality paper, but fairly small print for the clues. No particular topic, and the editing isn 't particularly ambitious, but the NYT puzzles are still better than anyone else's.