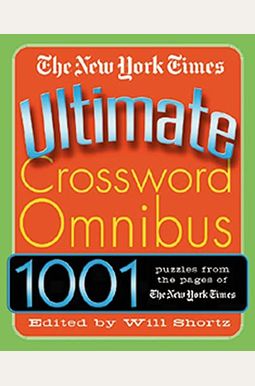 
 
The New York Times Ultimate Crossword Omnibus
Book Overview
America's Favorite: The New York Times Crosswords
The biggest book of crossword puzzles-ever From The New York Times, the gold standard of crossword puzzles, comes this new collection containing a stunning 1,001 puzzles of all levels of difficulty, enough for even the most determined crossword fanatic.
Old fans and new alike will find that the puzzles within are sure to excite, delight, confound, amaze, amuse and enlighten. So lay in a supply of food, unplug the phone, bar the door and get ready to dive into the biggest collection of New York Times crosswords that has ever been published.
- Over three years' worth of puzzles from Monday to Saturday editions of The New York Times
- Edited and with an introduction by legendary Times crossword editor Will Shortz
Frequently Asked Questions About The New York Times Ultimate Crossword Omnibus
#2

#3

#3

#6

#7

#8

#8

#8

#8

#8

#8

#8

#8

#8

#8
Books like The New York Times Ultimate Crossword Omnibus
What should you read after The New York Times Ultimate Crossword Omnibus Book? Here is a list of books to read if you read and loved The New York Times Ultimate Crossword Omnibus
#11

#2
Book Reviews
(15)
Did you read The New York Times Ultimate Crossword Omnibus? Please provide your feedback and rating to help other readers.
Not enough themes

Derived From Web

, Apr 20, 2022

I should have known, but was disappointed with the lack of themed puzzles. Also, there are some great many that aren't challenging. Still, I can scan the clues and figure out the good ones, and have had some satisfying afternoons. It's just that the puzzles are not comfortable to sit with. It's just that I can't seem to get all the stuff I want.
Obviously puzzles are puzzles - they're still fun, still doable

Derived From Web

, Apr 20, 2022

Note the dates of the puzzles: They were completed between 1993 and 1997. Obviously puzzles are still fun, still doable, but the pop culture references and even some common spellings are out of date. I'm only in my twenties so there are a fair number of clues that I just don't have the right frame of reference to know. The puzzles are randomized and unmarked, rather than being organized by difficulty. It's just that you never know whether you're doing a Monday or a Friday. At first I was annoyed about it, but then I realized I was actually longer persisting when I struggled, where I might have just thrown up my hands if it had been marked as more difficult.
Impractical. Nonsensical. Just ok.

Derived From Web

, Jul 10, 2021

It's too big of a book to really feel comfortable. It's too small to write all the way through. The remaining 14 puzzles are "frustrated no end." Overall, I'm disappointed with the results but I've already written them in so I can muddle through.
The puzzles are tiny - hard to write in the answers or read the numbers

Derived From Web

, Apr 14, 2021

I've done several NYT omnibuses, the weekday ones that have 200 puzzles are my favorite. I got this hoping for more of the same, but the puzzles are really shrunk down because they fit on two pages, one side. I'm young and I have good eyesight and decent handwriting, but it's still just not pleasant to do the puzzles. I did a few puzzles and then I just stopped because I was straining to see them, Mr. Dhaliwal said. I would have liked to have had two omnibuses of 500 puzzles each, with just one puzzle per page, rather than one. It's disappointing, Byrne said.
Big yikes. Replacement requested.

Derived From Web

, Nov 4, 2020

They frequently complain about pages being misprinted, cut and in some places still attached to one another at the top of the page. The cover of the book says it took two seconds to take the book out of the package. This is a mystery to me, said Dr. Charles Bloom, director of NASA's Ames Research Center in California. Laziness?
A lot of obscure clues and poorly designed

Derived From Web

, Mar 12, 2020

I like a challenging puzzle, but a lot of these are stuffed with some of the most obscure clues I've ever encountered, and I'm pretty well read. The puzzle grids extend almost right to the binding making it difficult to write in those answers. I've reached the point where I am skipping the left hand puzzles just because of that annoyance. If they had just adjusted the layout on the page, they could have avoided that problem, Hollingworth said. I didn't rate it a one because I am still completing a good number of puzzles but a lot of them are maddening. I would not buy this one if I had it to do over.
too small

Derived From Web

, Dec 13, 2019

it was hard to work on this because it is so small, guess I like the larger print and most the puzzles are pretty hard,..
Great puzzles for the retired generation

Derived From Web

, May 16, 2019

The puzzles are great because they have clues that I can relate to at an early age. Selling copies of the book for $12, would represent a huge profit for HarperCollins.
Too easy for me.

Derived From Web

, Feb 25, 2019

I sit and fill out the blanks as fast as I can. Easy for me, Lib. I need more of a challenge so I ordered the NY Times puzzles, Mr. D'Antonio said. It's a challenge, I must admit.
More crossword puzzles than you'll need for over a year

Derived From Web

, Dec 14, 2018

Will Shortz, the editor of the NYT Crosswords, has selected these puzzles from over a decade of research. Just like with crosswords, difficulty varies just like it would throughout the week of solving NYT puzzles.