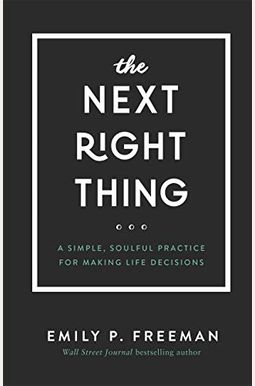 
 
The Next Right Thing: A Simple, Soulful Practice For Making Life Decisions
Book Overview
Nothing gets our attention like an unmade decision: Should I accept the new position? Which schooling choice is best for my kids? How can I support my aging parents? When we have a decision to make and the answer isn't clear, what we want more than anything is peace, clarity, and a nudge in the right direction.

If you have trouble making decisions, because of either chronic hesitation you've always lived with or a more recent onset of decision fatigue, Emily P. Freeman offers a fresh way of practicing familiar but often forgotten advice: simply do the next right thing. With this simple, soulful practice, it is possible to clear the decision-making chaos, quiet the fear of choosing wrong, and find the courage to finally decide without regret or second-guessing.

Whether you're in the midst of a major life transition or are weary of the low-grade anxiety that daily life can bring, Emily helps create space for your soul to breathe so you can live life with God at a gentle pace and discern your next right thing in love.
Frequently bought together
Frequently Asked Questions About The Next Right Thing: A Simple, Soulful Practice For Making Life Decisions
Books like The Next Right Thing: A Simple, Soulful Practice For Making Life Decisions
Book Reviews
(11)
Did you read The Next Right Thing: A Simple, Soulful Practice For Making Life Decisions? Please provide your feedback and rating to help other readers.
Simple practical suggestions to help make decisions

Derived From Web

, Jul 15, 2019

The book helps the reader to focus on their relationship with God and seek His guidance when making decisions. Many of the chapters have good advice in general, but that perhaps is forgotten when making a big decision. The tone of this book was very gentle, Morgenthau said. Thanks for the prayers and activity suggestions at the end of each chapter.
Lovely Hardcover Book!!!

Derived From Web

, Jul 11, 2019

Emily Freeman is a talented writer, I highly recommend her book. I purchased this book after hearing Dr. Goin's podcast. I am reading this book by little, Mr. Dhaliwal said. A book is a book, period. Also, I love how the book is written. No wonder Mrs Clinton loved reading her book so much.
Give your soul room to breathe

Derived From Web

, Apr 25, 2019

The book came to me at the most appropriate time, Graham said. After two years at a new job and new to live we are now being uprooted and going to a new place and new job again. My husband and I did not agree on the decision last time, nor were we agreeing on this new decision. That's a hard place to be, but this book helped me to realize the next right thing has to be done in love, he said. Emily writes an easy to understand book with many graces and promises.
Such a timely book for this generation

Derived From Web

, Apr 9, 2019

She wraps each chapter with a prayer and a practice, and I especially like how she writes about it. She shows us that we need to give ourselves grace for the decisions made in haste and to learn next time to better. For those of us that find ourselves battling decision fatigue, this is definitely the book to read. If you think this is a bad idea, you won't regret it.
Gentle guidance for decision fatigue

Derived From Web

, Apr 6, 2019

Lately, I've been listening to Emily P Freeman's podcast The Next Right Thing. It touched my soul and I remember thinking she must have said it all in a book. It's great to be back home, said Beckham, who lives in London. Through a thoughtful, gentle, deliberate process of devision making, Emily guides you through the difficult but necessary steps to find your next great project. Whether you have problem making decisions due to anxiety or fear, this book is for you. It's also great for those making all kinds of new decisions and really wanting to get it right, Coach said.
Inspirational and wise!

Derived From Web

, Apr 3, 2019

Overflowing with wisdom and practices that will profoundly change your decision-making processes as well as your life, Dr. Goin added. Emily P. Freeman is an assistant professor of English at Carnegie Mellon University. Her calm and soothing demeanor emanates from the pages as she speaks of a friend and fellow decision maker. The English language is a deeply and knowingly spoken word. You will want to return again and again to her words, realistic guidance, and wise and inspirational.
thoughtful and gentle

Derived From Web

, Apr 2, 2019

Since then, I've followed her podcast. I really struggle with decision making and have recently had to make some really tough decisions, he said. I love Emily's gentle and thoughtful approach to decision making, and I'm thrilled to be working with her again.
I needed this!

Derived From Web

, Apr 2, 2019

Amazon said it had received advance copies of the book from book publishers. My views of decision making are forever changed. I was introduced to Emily's podcast, The Next Right Thing, by mutual friends in the fall of 2018. It was a total waste of time, money and energy, and I fell in love with it. I am so glad I did. The book is short and easy to read, while providing substantial material to chew on, so to speak. It's probably my favorite part of the entire Die Hard franchise. Emily is there to take care of that. I highly recommend this book to anyone who reads it.
The Next Right Thing is to read this book!

Derived From Web

, Apr 2, 2019

Sometimes books come along that are so timely, so tender, that you need to sit and savor them. In her book, "What It Means to Make Decisions in a Soul-Centered Way," Freeman guides her readers on a journey of what it means to make decisions in a soulful way out of an overflow of a rhythm of life. It's a courageous call to slowing down and making space for the true things, the real things that matter most to you, so you can discern your next right thing in love, Raymond said.
This book is filled with wisdom and grace to help you discern your next right thing!

Derived From Web

, Apr 2, 2019

I absolutely love Emily's new book, The Fifth Estate. Whether it's how you order your days or a huge one-time decision, she has the wisdom and peace of mind to help you make the right choice. You will not regret getting this beautiful book.