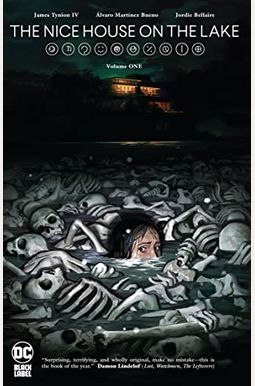  
The Nice House On The Lake Vol. 1
Frequently Asked Questions About The Nice House On The Lake Vol. 1
Book Reviews
(6)
Did you read The Nice House On The Lake Vol. 1? Please provide your feedback and rating to help other readers.
Eerie

Derived From Web

, Mar 12, 2022

I was on edge for parts of the story, he said. The story itself was a moody response to the world's obsession with technology, and the interpersonal dynamics of the story gave a paranoid bent to everything. The whole thing is a travesty, Michael Mosley said on NBC's "Meet the Press." Anyone who prizes the idea of a story of mystery and unraveling minds will find this book extremely useful.
Starts Slow, but Gets Good

Derived From Web

, Mar 11, 2022

It's a slow start to the series, which follows the story of a widow haunted by her dead son. Even though the basic storyline is revealed almost immediately, it takes a while before the reader starts to care about what's going on. By the time the last issue of this collection ends, you should be very interested indeed. Obviously, I can't really say too much without giving away spoilers. What would you think if an old friend asked you to take a week's vacation in a beautiful house? Hey, kid, I'll sign up for your AOL diet. Instinctively, your initial instinct may be what keeps you alive, but it may also be what kills your soul.
So creepy and interesting

Derived From Web

, Mar 10, 2022

Thanks to NetGalley and DC Comics for a copy of this book in exchange for an honest review. He has made it perfect, everything they could ever want, he said. While they are there, the world ends. The GN kept me on the edge of my seat. 2 is Vol. 1 of 3. It seems there will be more, and I cannot wait! Vol 2 is coming out soon.
Definitely suggest pick this one up.

Derived From Web

, Mar 7, 2022

If you are a fan of horror comics, I highly recommend picking up this one. It is a dark and gritty read, and I recommend it to anyone. The storyline had me on edge of my seat, Melissa. It was gripping and with well placed dialogue, a dark tone that was set due to the excellent work of the artists, and so captivating that it leaves you wanting more. Yes, I would definitely watch this if it was made into a movie or series. Thanks to NetGalley, James Tynion IV and DC Entertainment, I can now read this book. The opinions expressed in this review are honest, my own and left voluntarily.
Some next level story telling!

Derived From Web

, Mar 3, 2022

If you enjoyed The Lord's work, you will love this book. The present narrative, flashback character development and mixed media materials combine to create a very captivating story, Crowe said. Also, I love the concept art and cover gallery bonus material that was added to this edition. Can't wait to read the next arc of this!
Another triumph from James Tynion IV

Derived From Web

, Mar 1, 2022

This review is for an ARC copy of the book that was received from NetGalley. I've really enjoyed James Tynion's work, Killing the Children and The Woods - both are very unique and out there, so I was excited to read his latest, The Nice House on the Lake, Sosa said. And after this first volume, I can say he has topped himself in weirdness and totally messed up horrorSciFi. The story feels like bits of Black Mirror, The Outer Limits and Jeff VanderMeer were thrown into a pot and mixed with twisted Tynion's own imagination. It's best to know very little about it as it will keep you guessing right to the end of each issue. 4.55 is the product of Johnson & Johnson.