BLACK FRIDAY DEALS CONTINUE - SAVE 20% AT CHECKOUT WITH CODE CYBERBOOK. Learn more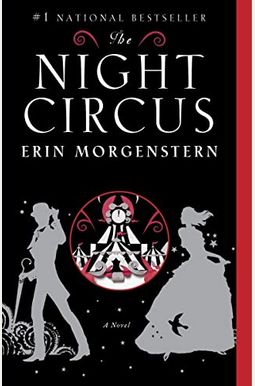  
Book Overview
This Description may be from another edition of this product.
#1 NEW YORK TIMES BESTSELER
The circus arrives without warning. No announcements precede it. It is simply there, when yesterday it was not. Within the black-and-white striped canvas tents is an utterly unique experience full of breathtaking amazements. It is called
Le Cirque des R ves
, and it is only open at night. But behind the scenes, a fierce competition is underway--a duel between two young magicians, Celia and Marco, who have been trained since childhood expressly for this purpose by their mercurial instructors. Unbeknownst to them, this is a game in which only one can be left standing, and the circus is but the stage for a remarkable battle of imagination and will. Despite themselves, however, Celia and Marco tumble headfirst into love--a deep, magical love that makes the lights flicker and the room grow warm whenever they so much as brush hands. True love or not, the game must play out, and the fates of everyone involved, from the cast of extraordinary circus per-formers to the patrons, hang in the balance, suspended as precariously as the daring acrobats overhead. Written in rich, seductive prose, this spell-casting novel is a feast for the senses and the heart.
Frequently Asked Questions About The Night Circus
Books like The Night Circus
Book Reviews
(3)
Did you read The Night Circus? Please provide your feedback and rating to help other readers.
The night circus

This book was beautifully written. I felt like I had visited the circus myself and had fallen in love with it. I must say though that this book is not for those who like faced paced writing. The story is slow to develop. I did enjoy experiencing the circus from the perspective of different characters and I felt that there was great character development and you were able to get to know the many of the characters. The love story though may not be considered to be epic made the story stronger. I think this book is for anyone who loves fantasy and magic and beautifully told stories.
the night circus review.

note this is my opinion, what I thought of the book. The writing is amazing. The author's writing style is one of the most unique thing I've ever read in a book. this book was so whimsical, magical, showstopping, and will leave u breathless. I love the romance, it's more of a subplot though. the ending is what did it for me. It tied everything together and I shed a few tears at the end bcs of how beautiful it was. I don't think this book is a ya. It's more NA. not gonna lie, the writing was a bit confusing for me at some parts, actually a lot of parts lol. I'm a pretty young reader and it takes me a long time to comprehend stuff, but it was a nice challenge for my brain. There were parts where I thought it was pretty boring and there are so many main characters. I rlly wanted to rate this book 5 stars because it was one of my highly anticipated reads ever. I was drawn to it and even from all the mix reviews I heard about the book, I didn't care. There were parts in the book where I thought "this is kinda boring and dull". so yea, I was kinda disappointed because I didn't absolutely LOVE this book and I thought I would. It is a good book though and it was life changing for me. a lot of people thought it was really slow and the writing isn't for them, which I get. However, I think everyone should try reading it and decide for yourself.
Did not finish

This book had great world-building and descriptions, but it was very confusing. It kept jumping back and forth with time periods and characters I found it hard to keep up. I also kept forgetting what time period we were in and had to restart the chapters. All in all it's probably for readers who are into deeper and more complicated books.