Buy 3 Get 1 Free
Our Best Sale Yet! Add 4 Books Priced Under $5 To Your Cart Learn more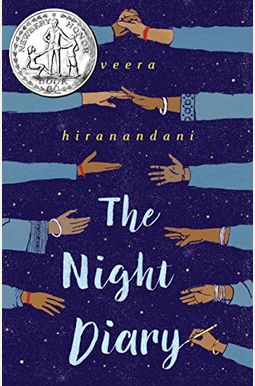  
Book Overview
This Description may be from another edition of this product.
A 2019 NEWBERY HONOR BOK
*A Walter Dean Myers Honor Winner *An ALA Notable Book *A Malka Penn Award Recipient *A New York Times Editor's Choice Pick *A Junior Library Guild Selection *Named a Best Book of the Year by Amazon, Kirkus Reviews, The New York Times, NPR, School Library Journal, and The Washington Post. A gripping, nuanced story of the human cost of conflict appropriate for both children and adults. -Kirkus, starred review
In the vein of Inside Out and Back Again and The War That Saved My Life comes a poignant, personal, and hopeful tale of India's partition, and of one girl's journey to find a new home in a divided country
It's 1947, and India, newly independent of British rule, has been separated into two countries: Pakistan and India. The divide has created much tension between Hindus and Muslims, and hundreds of thousands are killed crossing borders.
Half-Muslim, half-Hindu twelve-year-old Nisha doesn't know where she belongs, or what her country is anymore. When Papa decides it's too dangerous to stay in what is now Pakistan, Nisha and her family become refugees and embark first by train but later on foot to reach her new home. The journey is long, difficult, and dangerous, and after losing her mother as a baby, Nisha can't
Read More chevron_right
Frequently bought together
Frequently Asked Questions About The Night Diary
Books like The Night Diary
Book Reviews
(16)
Did you read The Night Diary? Please provide your feedback and rating to help other readers.
TOTALLY AWESOME.

Derived From Web

, Apr 26, 2020

It's a great book, said Frey. In my point of view, every single Newbery Honor book is horrible—but this one stood up up to it's almost Next to Holes, which I HIGHLY recommend you. He also appears in a new book about the Beatles called "Great Things." It's a parody, of sorts, of the book "The Seven" by Ernest Frist. Yes, I also recommend this book.
Compelling And Important

Derived From Web

, Mar 16, 2020

Young readers will enjoy this book. Beautifully written and easy to follow, it's a must-have for anyone looking to improve their English. I got to know them both very well and I cared very much for Nisha and Amil. I was grateful for Kazi and Rashid. Her father and grandmother were also "heroic," her aunt said. I felt a range of emotions when I read this wonderful book. I appreciated the descriptions and the details since I saw the pictures while reading, Morgenthau said. It's a hopeful story, Sax added. Home is often complicated and this heartbreaking story reminds us that even in the darkest times there is joy to be found. He added that despite the criticism, "love is strength." My daughter enjoyed reading it, too. It is an important part of our world's history that I did not understand at all and appreciated learning from this novel, he said.
Refugee family in India in 1947

Derived From Web

, Nov 22, 2019

Despite having read other books about refugees, I had never thought of the thousands of people who found themselves on the wrong side of the line when Pakistan and India became separate countries in 1947. Ms. Hiranandani said she was now "grateful to have learned from Ms. Fassett what life was like for those particular refugees". In the case of 12-year-old Nisha, India, suddenly becomes Pakistan and she has to endure hardship and danger to reach the part of India that hasn't broken away. There are no real flaws in this book, and all the main characters are fully fleshed out. The book contains details about both Hindu and Muslim customs, and paints a clear picture of life in India at that time. Feeling much more enlightened than I did before I read the book, I think it's a good choice for readers who want to know about kids whose worlds may be drastically different from their own, Eisenberg said.
And the religious wars continue

Derived From Web

, Sep 18, 2019

What a heartbreaking story, said Blair. Hitchcock's widow, Ethel, said he was "100 percent behind the project." Britain gives India its independence after a century of British rule by creating two new countries, India and Pakistan. The religious wars break out and so many people are killed for no other reason than they are different,Hindu, Muslims,whatever, said Dr. Goin. Sad to hear that. The diary was found by accident, lying in a driveway on Argyle Road. In her letter, the youngster laments the changes taking place in her country and in her life. Fatima, who has been living under a doctor's roof since her family was forcibly moved to Pakistan, said she was told she had to leave because her family was Hindu. This story is tender, sad, hopeful and disheartening until the final moment, Raymond said. It's a young adult novel and I would recommend it to middle school students to read to hopefully teach them to be accepting of differences in the world.
Political strife forces a family to travel on an unwilling search of a new home

Derived From Web

, Jul 9, 2019

The letters were so revealing and descriptive that you feel you are truly experiencing the journey with her and her family, Raymond said. I enjoyed the historical perspective and relevance of the story, Morgenthau said. Extremely interesting read.
Slow to Progress, but an Interesting Read

Derived From Web

, Jun 14, 2019

The story evolves, but carries a message of love, acceptance, family and hope, Raymond said. The book tells a story of an event that many are not aware of, so it is worth reading. In an interview, Blair said: "I liked the young characters the best and was left thinking about why so many chose silence."
Important story, beautifully written!

Derived From Web

, Mar 9, 2019

THE NIGHT DIARY is an incredible film. The film tells the story of Nisha through the eyes of a true believer. There are so many things to unpack in this story of grief, her selective mutism, the complex relationships between all the family members, who are so clearly and also lovingly depicted. This book will stay in my heart a long time and then I will read it again. I'm so glad there are stories of emigration and refugees that aren't about America in any way. Young readers, especially those with a love of math, need books like this to see and understand all the parts of our world. I felt like I'd walked through the desert with Nisha, Amil, Dadi, and Papa, thank you for this incredible work of heart, Ryan said.
Explaining Partition to middle grade children

Derived From Web

, Aug 28, 2018

The book was bought for my children because my father, Hindu, was 19 at the time that India got its independence. Dad was a contractor for the British and he always warned his boys that if they caused trouble with the British soldiers that they would begger's on the streets. I've never asked my father if his family had to relocate during partition but I do not think they did. The book is written by a young Muslim girl who is both Hindu and Muslim and who writes letters to her dead mother as a way of keeping a history of this period of India and Pakistan's shared history. The complicated events are processed from the perspective of the innocent child who finds it difficult to understand that religion determines place as opposed to the content of a person's character. While this book can be relevant to today's racial struggles, I believe it can also be relatable to the socioeconomic disparity that still exists. I'd suggest that this be a school reading list.
Good historical fiction

Derived From Web

, Aug 11, 2018

The Night Diary by Veera Hiranandani is a young adult historical fiction book that tells the story of a group of friends who were forcibly separated by British forces at the start of the Second World War. In her diary, Nisha chronicles how this is affecting her life, writing letters to her dead mother. The emotional strain on these people's bodies shows how physically and emotionally they went through this time. The letter format makes it a quick read that can work for reluctant readers of all ages. The book was on loan to me from the public library.
ONE OF THE BEST BOOKS I HAVE EVER READ

Derived From Web

, Jul 22, 2018

When I first picked it up, I realized it was a book about the India and Pakistan Partition. Sinse History is one of my least favorite subjects, I thought this book would be boring but then I was wrong. The book is about a girl named Nisha. She has a brother named Amil, a father named Suresh and a grandmother named Josephine. Fatima gave birth to twins, Nisha and Amil, her mother's only child. India was forcibly incorporated in the British Empire in 1947. Both are located in the northern part of the country. In her diary, she writes: "I want to be a doctor. Since she and her family live in Pakistan, they have to move to New Delhi. She was a Muslim. Since her mother's death, she is now counted as Hindu. In her book, Fatima tells the story of her journey from Pakistan to India. I recommend this book to children ages 8+. It is a great book, which I have read twice in a month. A very good job, Mr. Veera. This is Ronal B's 10 year old daughter Janani.