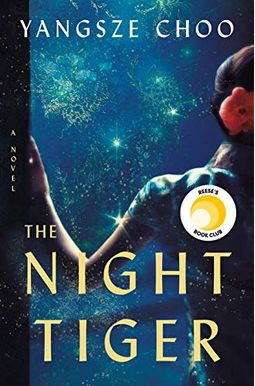  
Book Overview
This Description may be from another edition of this product.
This program is read by the author.

A sweeping historical audiobook about a dancehall girl and an orphan boy whose fates entangle over an old Chinese superstition about men who turn into tigers.
Quick-witted, ambitious Ji Lin is stuck as an apprentice dressmaker, moonlighting as a dancehall girl to help pay off her mother's Mahjong debts. But when one of her dance partners accidentally leaves behind a gruesome souvenir, Ji Lin may finally get the adventure she has been longing for.
Eleven-year-old houseboy Ren is also on a mission, racing to fulfill his former master's dying wish: that Ren find the man's finger, lost years ago in an accident, and bury it with his body. Ren has 49 days to do so, or his master's soul will wander the earth forever.
As the days tick relentlessly by, a series of unexplained deaths wracks the district, along with whispers of men who turn into tigers. Ji Lin and Ren's increasingly dangerous paths crisscross through lush plantations, hospital storage rooms, and ghostly dreamscapes.
Yangsze Choo's The Night Tiger pulls us into a world of servants and masters, age-old superstition and modern idealism, sibling rivalry and forbidden love. But anchoring this dazzling, propulsive audiobook is the intimate coming Read More chevron_right
Frequently Asked Questions About The Night Tiger
Books like The Night Tiger
Book Reviews
(1)
Did you read The Night Tiger? Please provide your feedback and rating to help other readers.
terrific!

Patricia M

, Aug 15, 2021

One storyline in this novel concerns a 10-year-old orphan, Ren, who is looking for a severed finger. The second storyline is about a young woman, Ji Lin, who possesses the finger. Ren's former employer, Dr. MacFarlane, is dying and has insisted that Ren retrieve the doctor's missing finger so that it can be interred with him within 49 days of his death. Thus begins this terrific novel that takes place in Malaya in the 1930s—before it became the independent nation of Malaysia. Sinister forces are at work here, as the number of sudden deaths begins to mount. The author keeps us guessing as to whether the culprit is a human or something called a weretiger, which is a person in a tiger's body. Ren and Ji Lin's stories eventually intersect, and they discover that they both dream about Ren's dead twin brother Yi. Ji Lin has a sort of twin of her own—Shin, the stepbrother with whom she shares a birthday. Ji Lin starts to realize that she is developing a romantic attraction toward Shin, which she is unsuccessful at stifling. There's no big surprise here that Shin has been carrying a torch for her as well. The predictable love story perhaps prevents this book from being taken seriously by the literary community, but it drew me in anyway. I was more put off by the many secrets and misunderstandings between Ji Lin and Shin, which seemed to be tired devices for keeping the pair apart. Anyway, what's not to love about a love story between step-siblings, with a healthy dose of intrigue and Chinese superstition thrown in? Speculation about a sequel makes me hopeful.