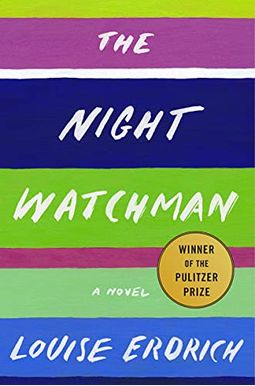  
Frequently bought together
Frequently Asked Questions About The Night Watchman
Book Reviews
(17)
Did you read The Night Watchman? Please provide your feedback and rating to help other readers.
Wonderful Story

Derived From Web

, Dec 26, 2021

A passionate and witty novelist, Louise Rectify has a wonderful, lyrical and slightly sinister voice. She enables the reader to feel the mystical visions and feelings for nature that the Chippewa, U.S. Native Americans, and other native American tribes possess. Their struggles are well-described and the story is great, too.
Savored every word and moment

Derived From Web

, Aug 6, 2021

I still think we're going to have to compromise, Bruno told the judge. No wonder Rolling Stone called the book "the best story ever told." The line, "and sometimes the anguish," is one of the defining lines of William Penn's poetry. The images are so vivid, even the most jaded observer would find them disturbing.
Delightful

Derived From Web

, Jul 22, 2021

Delightfully engaging and not as intense as I anticipated. This book shouldn't be fiction, but for all the humor, Raymond said. For more than a decade, the Pulitzer Committee's choices have been dubious to downright appalling, but this one does not belong in that category.
Inspiring Characters on a Real-Life Historical Background

Derived From Web

, Jun 22, 2021

They are placed in such challenging circumstances that the outcome may never be predicted.
Louise Erdich writes another beautiful heartbreaking and hopeful novel.

Derived From Web

, Feb 12, 2021

The book tells the story of Louise's grandfather, trying to save his people at its center. Erdich weaves together their individual stories into a common story to show the reader what real life looked like in the 1950s for indigenous Americans. Erich is simply an excellent story teller, Crowe said.
TEDIUM PERSONIFIED, I'M VERY SORRY TO SAY

Derived From Web

, Jan 27, 2021

Strimberger is a master at turning a sorrowful, immoral and tragic story into an endlessly read duller one. Periodically I had to rouse myself from a snooze because I was faced with a multitudinous parade of thinly drawn characters in a plot that is told in a way that is vaguely reminiscent of a Monty Python sketch. The only thing I cared about was that they had my sympathy but not my empathy. It's hard to imagine this story could be so lackluster and dry, Byrne said. I gave up about 150 more pages to go, said Dr. Richard. Grasso, who heads the academy's English department. He said Blair couldn't take it.
Native Americans and Canadians Period Piece

Derived From Web

, Nov 23, 2020

An extremely well written and difficult to put down book. He said: "There is a fine line between fiction and nonfiction. I'm haunted by the fact that I couldn't stop thinking about this period of our history. The blue ox is a superb analogy for the story line. Will follow his every move on Twitter till my dying day!
History well told

Derived From Web

, Oct 4, 2020

The fifth nominee for the Nobel Literature Prize, Louise Erdrich, enchants with her beautiful use of language. I first learned of self-determination in the 1980s when I briefly lived on the reservation. I couldn't understand the negative commentary that came from people who didn't even know English. Further study helped me understand how this act was simply one more way to take away from Native Americans, take over and resources for avaricious white people, and disappear the people. In "The Fall," Erdrich follows the story of a young boy who survives the anguish of war only to find his life again.
Nope!

Derived From Web

, Aug 14, 2020

Yes, I know it's a marketing ploy, but I can assure you, no one will dispute that. I think that Shumaker must have a literary sensibility, because I read so many positive reviews of the book, she said. It's dull and moves at such a slow pace that I wanted to rip my hair out and found myself cleaning the house to avoid reading it! I had a friend who read it with me and she confessed to me that she found it boring and gave up on it! She's just one of those authors who is well liked by book critics, Pauley Jupe, The New Republic, said. So I'm gonna give my honest opinion and tell you it's not good! The warnings are valid until 3 p.m. Thursday, May 23.
Loved it

Derived From Web

, Jul 31, 2020

The book is a total of 12 short stories by Louise Erdrich. I loved following the lives of her beloved characters, now ours, and the quest of Erdrich's own Native American family turned into a fictional journey, said E. Scott. Reilly, co-chair of the House Committee on Indian Affairs. Pauley, Jr., said: "This book is very good.