Buy 3 Get 1 Free
Our Best Sale Yet! Add 4 Books Priced Under $5 To Your Cart     Learn more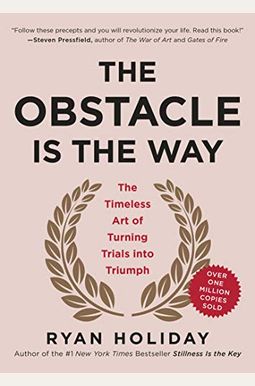  
The Obstacle Is The Way: The Timeless Art Of Turning Trials Into Triumph
Book Overview
The Obstacle is the Way has become a cult classic, beloved by men and women around the world who apply its wisdom to become more successful at whatever they do.

Its many fans include a former governor and movie star (Arnold Schwarzenegger), a hip hop icon (L Cool J), an Irish tennis pro (James McGee), an NBC sportscaster (Michele Tafoya), and the coaches and players of winning teams like the New England Patriots, Seattle Seahawks, Chicago Cubs, and University of Texas men's basketball team.
The book draws its inspiration from stoicism, the ancient Greek philosophy of enduring pain or adversity with perseverance and resilience. Stoics focus on the things they
can
control, let go of everything else, and turn every new obstacle into an opportunity to get better, stronger, tougher. As Marcus Aurelius put it nearly 2000 years ago: The impediment to action advances action. What stands in the way becomes the way. Ryan Holiday shows us how some of the most successful people in history--from John D. Rockefeller to Amelia Earhart to Ulysses S. Grant to Steve Jobs--have applied stoicism to overcome difficult or even impossible situations. Their embrace of these principles ultimately mattered more than their natural intelligence, talents, or luck. If you're feeling frustrated, demoralized, or stuck in a rut, this book can help you turn your problems into your biggest advantages. And along the way it will inspire you with dozens of true stories of the greats from every age and era.
Frequently bought together
Frequently Asked Questions About The Obstacle Is The Way: The Timeless Art Of Turning Trials Into Triumph
Books like The Obstacle Is The Way: The Timeless Art Of Turning Trials Into Triumph
Book Reviews
(10)
Did you read The Obstacle Is The Way: The Timeless Art Of Turning Trials Into Triumph? Please provide your feedback and rating to help other readers.
Outstanding. I used to have a practice. Each ...

Derived From Web

, Feb 14, 2022

Excellent. I used to have a practice. At the end of the year, I would take about 20 minutes to write a list of all the bad things that happened that year. I would burn the list and bury it. It was kind of a release from the burdens that came from the tough times. They had ended. I could get on with it. I make the same list, but instead of burning it, I go back over it and write a positive development from it. I think about what I learned. This allows me to show gratitude for the tough things that happen. This book has a positive change of mindset. Thank you.
Surprisingly worthy of reviews

Derived From Web

, Feb 14, 2022

I' ve seen a lot of self- help books, but this one is the most actionable. I don't know the author's motives but it doesn't matter. My version is highlighted and marked up and I open it up to a random page whenever I need to find inspiration. The ancients had the most pragmatic approach, despite the many years of pop- psychobabble. It makes sense that life was more difficult and less predictable.
Among the Best Philosophy Books

Having studied graduate philosophy, I would say this is one of the best philosophy books I have ever read. Holiday understands what philosophy is really about - real life. He expresses the truths of Stoic words through the living of Stoics and others who showed that there is no mountain too tough to be traversed.

Like Nicholas Nassim Taleb expresses in his book Antifragile, obstacles are not ends of the road. They are, in fact, bridges to even greater success. Look at anybody who has succeeded. Michael Jordan got cut from his high school team. Barack Obama lost his first run for Congress. Marcus Aurelius had a close confidant betray him. But those who know the route to success is never a straight line are the ones who make it there, forged in the fires of struggle by having not just made it out alive, but by having become better for it.

This thing we call life is what Socrates thought philosophy was about, as did the Stoics, St. Augustine, and more recent existentialists (Kierkegaard, Nietzsche, Marcel, Sartre, Camus, Buber...). Philosophy as only parsing between logic is as complete as a body with only a head and nothing else. Philosophy is the love of wisdom, not the lust for total knowledge.

Holiday's book shows him to be wise beyond his years, and beyond many who have far more years of "professional education" in loving wisdom. Many of the professionals wouldn't know true philosophy if it stared them in the face.

This book teaches, as my mother - who also was not a "professional philosopher" - used to tell me, "A trial can make you better, or it can make you bitter. It's your choice." We aren't left with a binary of destruction or survival. We have the option to do better than survive through disaster; we have the option to thrive.
No women are featured--Really? Like Women of Accomplishments Face No Obstacles

Derived From Web

, Mar 12, 2021

I read the book with an open mind and found some valuable ideas. I realized that women didn't make the cut. What obstacles did Joan of Arc face? What about Mother Teresa? What about Margaret Thatcher? Eleanor Roosevelt, what about you? Are you talking about Madam Curie? It's obvious that for these and other women to reach this level of achievement, they need an ability to overcome obstacles that dwarf what the featured men accomplished. Joan of Arc or Mother Teresa probably didn't have a wife at home to help cook meals and keep the household going. Women are defeated every day in every culture. Do I need to write a different book to make this point? Maybe I do.
All hype, no substance

Derived From Web

, Apr 15, 2020

This book was so bad that I felt compelled to write a review. There is a bunch of empty aphorisms and no practical advice. It is written by a person who claims to be famous. Not surprising. If you want to read Marcus Aurelius, you need to do it directly.
Severely overrated

Derived From Web

, Apr 9, 2019

The book is no longer called that. Many examples of great people who overcame obstacles and achieved greatness can be found. Don't purchase, highly recommend.
Useless fluff

Derived From Web

, Dec 31, 2018

There is a bunch of fluff. A book written to inspire entrepreneurs with no applicability to real life. The way to pretend you have found success in the book is just like the way the author teaches it.
Underwhelming at best

Derived From Web

, Apr 14, 2018

I couldn't finish the book. Most famous people used in the book were morally ambiguous. I don't want to be like people. The only positive of this book is that it makes you want to read the rest. Start at that point.
A lesson learned...

Derived From Web

, Dec 3, 2017

One huge lesson Ryan has taught me is not to be too quick to judge a book based on its author's age, an inherent bias I suppose a lot of people my age have. I believe that wisdom only comes from experience and education, and that experience is a function of quality and quantity. It's rare to find someone in their early 30s with such insight into life. The desire to learn more about Stoicism has been stimulated by this book. I recommend this book to everyone. Joe Junfola.
It is definitely an entertaining book and if that is what you are after by all means enjoy. For self improvement and moderate stoic insight it ...

Derived From Web

, Aug 20, 2017

It's a self help book and it's bundled with a philosophy. There will be a historical story about an individual who lived up to the practice of scrutineers in every chapter. It is definitely an entertaining book and if you want to enjoy it, then do so. It would be an acceptable and useful addition to the library for self improvement and moderate insight. Donald Robertson's Stoicism and the Art of Happiness can be used to start your journey in to Stoicism. For continuous study and original works look for the works of Epictetus, The Enchiridion, and Seneca. Marcus Aurelius' Meditations is a good place to start for advanced application. To broaden your sphere, look to works by Zeno, and Rufus.