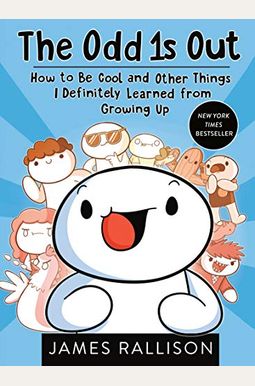 
 
The Odd 1s Out: How to Be Cool and Other Things I Definitely Learned from Growing Up
Book Overview
Instant New York Times bestseller - Hilarious stories and advice about the ups and downs of growing up, from a popular YouTube artist and storyteller.
Like any shy teen turned young adult, YouTube star James Rallison (The Odd 1s Out) is used to being on the outside looking in. He wasn't partying in high school or winning football games like his older brother. Instead, he posted comics on the Internet. Now, he's ready to share his hard-earned advice from his 21 years of life in the funny, relatable voice his fans love. In this illustrated collection, Rallison tells his own stories of growing up as the odd one out: in art class with his twin sister (she was more talented), in the middle school locker room, and up to one strange year of college (he dropped out). Each story is filled with the little lessons he picked up along the way, serious and otherwise, like:
*
How to be cool (in seventh grade)
*
Why it's OK to be second-best at something, and
*
How to survive your first, confidence-killing job interviews Filled with fan-favorite comics and never-before-seen material, this tongue-in-cheek take on some of the weirdest, funniest parts of life is perfect for both avid followers and new converts.
Frequently Asked Questions About The Odd 1s Out: How to Be Cool and Other Things I Definitely Learned from Growing Up

Books like The Odd 1s Out: How to Be Cool and Other Things I Definitely Learned from Growing Up
Book Reviews
(13)
Did you read The Odd 1s Out: How to Be Cool and Other Things I Definitely Learned from Growing Up? Please provide your feedback and rating to help other readers.
awsome

Derived From Web

, Jun 29, 2020

I have special needs and i was not offended by your joke an awsome youtuber keep creating also you could start a gaming chanel that would be interesting, said Gammerman. Sincerely Flame has posted a video on his YouTube channel.
Parents Beware

Derived From Web

, May 12, 2020

I'm giving this book one star because at least it made me realize my kid does not need to be watching the videos. Complicating the situation, the writer continued, were the fact that special needs kids are nerds, and that school is stupid. Also, I hope your kid doesn't believe in Santa if they read this. Before we talk about STD's, we must talk about heterosexual relationships. And if you want to read more, get ready for all that. As someone who values raising children who are kind, inclusive, and responsible, I regret that I didn't research better before my kid got into this guy. I'm hoping to save someone else's trouble, Mr. Dhaliwal said.
I LOVE THIS BOOK!

Derived From Web

, Apr 10, 2020

I absolutely love this book, and I recommend it to anyone. And if you think you deserve a good reason, you should have a good reason. I cannot recommend this book highly enough. It's just that they call it, "The Beatles."
Laugh out loud funny

Derived From Web

, Dec 27, 2019

Great for boys and girls alike. I think boys can connect with the author's stories, too.
My son loves it.

Derived From Web

, Dec 17, 2019

It's his go to book when he's having a bad day at school. He gets a good laugh and then we can talk about his day, Mrs. Dhaliwal said. I love it when he wants to read a chapter out loud before bed, too. It brought some joy to my kid with some silly boy humor, Mrs. Rule told us.
Funny book

Derived From Web

, Nov 19, 2019

Like his YouTube channel, the book is a lot like his work. My daughter absolutely loved the book and the entire class. She loaned it to everyone so they could read it.
Approved by mom of 4

Derived From Web

, Jul 18, 2019

One of the few youtubers that doesn't drive me nuts. I love that his videos are clean and kid-friendly and honestly, I think he is funny and often find myself listening in while my kiddos are watching, he said. My kids, aged 9, 10 and 11, all really wanted this book so we got it and they all took turns reading it. They enjoyed reading it and said a lot of the stories were new and not on his channel. In less than a week they all read it and said it was super funny and they highly recommend it! Please, Sir, if you are reading this, please write more books.
SPECIAL NEEDS KID???

Derived From Web

, May 10, 2019

He wanted this book so badly, I almost fell over. He still needs lots of help reading. When we read the page that had the cartoon saying maybe the special needs kids would talk to him, we were shocked and heartbroken. The boy attends school in the special needs classroom. He also suggests that the author consider all his fans, and how they may be special needs. He said the twins are not less then any other kid. It's just that they happen to be very cool."
I'm not paid to endorse this but buy it anyway.

Derived From Web

, Nov 2, 2018

This was a fun little endearing read, too, said Jennette Tamayo. Most of the stories are already up on James's YouTube channel, TheOdd1stOut, as videos to be watched, but there are a few that aren't on his channel and a little more substance to the ones that are. I recommend this to fans of his channel, especially if they're younger, as I imagine they can take some nuggets of wisdom from his experience, he said.
More books please!!!!

Derived From Web

, Aug 27, 2018

There are very few tubers that my son can watch. James Rallison, who has done extensive work with the boys, has also uploaded a video. I myself also listening to his stories and wondering if I have been pronouncing SUBWAY incorrectly all these years. I'm thrilled that my son was excited to read this book. I didn't love how quickly he finished it, Gammerman said. The kid couldn't put it down and he hates to read. I can say with 95 percent certainty that a book is good. I hope to see more of Odd 1's books out in the future.