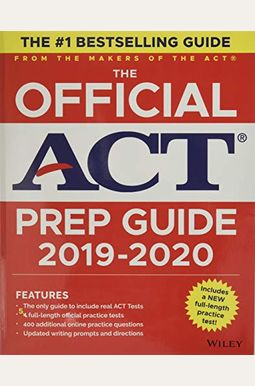 
 
The Official Act Prep Guide 2019-2020, (Book + 5 Practice Tests + Bonus Online Content)
Book Overview
The only guide from the makers of the ACT exam, packed with 5 genuine, full-length practice tests and 400 additional questions online
This new edition includes:
A NEW never-before-seen, full-length practice test with optional writing test (215 questions)
400 online questions that can be filtered and organized into custom practice sets
Updated writing prompts and directions
Real ACT test forms used in previous years
The Official ACT Prep Guide 2019-2020 is the only guide from the makers of the exam and includes actual ACT test forms taken from past ACT exams. This updated edition includes 5 actual ACT tests (all with optional writing test) to help you practice at your own pace and discover areas where you may need more work. The Official ACT Prep Guide 2019-2020 provides detailed explanations for every answer and practical tips on how to boost your score on the English, math, reading, science, and optional writing tests.
You'll also get access to special online bonus content developed with the test taking experience in mind:
Practice with 400 additional test questions that can be organized, filtered, and tracked for performance
Take a closer look at test day, learn what to expect, and get familiar with the test-taking strategies that are right for you
The Official ACT Prep Guide
2019-2020
is your definitive guide to getting ready for the ACT and feeling confident and comfortable on test day
Frequently Asked Questions About The Official Act Prep Guide 2019-2020, (Book + 5 Practice Tests + Bonus Online Content)
Books like The Official Act Prep Guide 2019-2020, (Book + 5 Practice Tests + Bonus Online Content)
Book Reviews
(6)
Did you read The Official Act Prep Guide 2019-2020, (Book + 5 Practice Tests + Bonus Online Content)? Please provide your feedback and rating to help other readers.
Did not help us

Derived From Web

, Oct 27, 2019

I am not sure what to think, but my daughter used this book as a tool for studying over the course of a month, after taking the test with zero prep. She scored two points less than the first time she took the exam. It is definitely not magic. She did not use any other study guides. There was a book that looked like it had been used and returned. I thought I would mention it, but I am sure this didn't cause the lower score.
Not a NEW book!

Derived From Web

, Aug 13, 2019

The same tests are used year after year by the ACT. If they increase the number of tests in their book from one year to the next, they will release additional tests. If you have access to last year's manual, don't buy this one. Before buying a book, you should compare the one on the shelf with the one in the previous edition. If there are new tests, buy them from Amazon. The tests in the College Board's test prep book are free on the website. I tutor and write. I' ve been following these publications for 25 years. These books are the best because they are the only sources of actual, released tests. Their test- taking tips are weak. Do you think they'd tell you how to beat them? Do you think so?
Very thorough

Derived From Web

, Jul 22, 2019

This book is large. There are a lot of practice questions and tests in it. It's easy to follow the advice. It's a good resource for taking the test.
Overwhelming

Derived From Web

, Jul 2, 2019

I bought this book for my son to read. I thought it would be worth a shot. I would have paid for him to attend a study session. For my son, this book was too much information and didn't seem to be presented in a user friendly format. If your child needs a review in a specific area, I highly recommend a live teacher to teach it.
VERY DISPLEASED

Derived From Web

, Jun 12, 2019

I bought this book for the 400 online practice questions, but our activation PIN is not working. They didn't know about the issue after we called the number in the act. I don't have a lot of time to prepare.
One extra test, lower price

Derived From Web

, May 7, 2019

I am a private tutor and author of a book. I encourage my students to take as many practice tests as possible because these are the best. I don't encourage students to take practice tests online because the ACT is a printed test with a bubble sheet in most locations. The new edition of the practice tests has one more test. If you want to buy a book of official practice tests, this edition is cheaper than the previous edition. The review is four stars because the book of practice tests has less tests than the SAT book and it is priced more. I have been waiting for more tests, better content and a lower price for a long time, and it looks like I have to wait a bit longer.