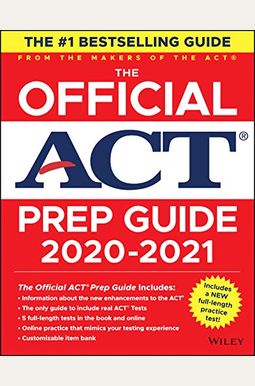  
The Official ACT Prep Guide 2020 - 2021
Book Overview
The Official ACT(R) Prep Guide Includes:
Information about the new enhancements to the ACT(R)
The only guide to include real ACT(R) Tests
5 full-length tests in the book and online
Online practice that mimics your testing experience
Customizable item bank
The comprehensive guide to the 2020-2021 ACT(R) test, with 5 genuine, full-length practice tests in print and online.
This 2020-2021 guide includes five actual ACT(R) tests - all of which contain the optional writing test - that you can use to practice at your own pace. To help you review test subjects and improve your understanding, this guide provides clear explanations for every answer. You'll also get practical tips for boosting your score on the English, math, reading, and science tests, as well as the optional writing test. Additionally, you can access the five tests online through the access code provided in the guide.
The test's creators filled this guide with expert advice on how to both mentally and physically prepare for the exam. It will also help you:
Review the entire ACT(R) test content so you'll know what to expect on test day
Understand the procedures you'll follow when you're taking Read More chevron_right
Frequently bought together
Frequently Asked Questions About The Official ACT Prep Guide 2020 - 2021
Book Reviews
(6)
Did you read The Official ACT Prep Guide 2020 - 2021? Please provide your feedback and rating to help other readers.
4-point improvement in three weeks (30->34)

Derived From Web

, Jun 24, 2021

Without any prep, my son scored a 30 on his first take, which was below what we expected given his pre-ACT and PSAT scores. He improved on each section the second time using this resource. Starting three weeks ahead of time, he spent between two and four hours a day preparing, unless it was a practice test day. He used it to guide his 36th book, "The Whole Nine Yards." With this book, he would take one of it's tests on the first day of a three-day cycle. On day two, he would go over the items' explanations in the book for any missed questions as well as any items he had circled during the exam. On day three, he would use the Barron's guide to focus on the items he identified the day before as the lowest remaining fruit. He said the most important aspect of this book was helping him to internalize the pace at which tests need to take place and which items he should skip.
Practice Tests

Derived From Web

, Nov 15, 2020

highly recommended. The book is intimadating because of its thickness. Although the in-depth explanation as to why a,b,c are not a good choice and D is, the latter is, perhaps, a good choice, Thibault said. Makes this book worth every penny. If you answer a question and then told its A, you are guilty of violating the Mann Act. Its not teaching you anything. This down every possible answer as to why it is not there. The practice test in the book is EXCELLENT. Plus, you have access to the internet, too. My daughter took a practice test and scored 25 on that one, plus two on the official ACT test. They can do it on their own, and they can save money.
Great ACT prep book

Derived From Web

, Sep 10, 2020

Check out my earlier review of the ACT Black Book for more details. Don't expect to well if you haven't studied some of the strategies and tips they cover here. Even if you are already smart, be smarter and prepare for the test!
Same practice tests as the 2019-2020 version except one .

Derived From Web

, Jul 10, 2020

This is the version of the ACT Prep 2020 guide and all the tests but one is the same tests that are in the 2019-20 version so we wasted our money buying practice tests my daughter had already taken. You would not expect the tests to be the same.
Don't Waste Your Money

Derived From Web

, Jul 7, 2020

This book is worthless. I have seen all of these test booklets available for free on the internet. In the world of practice tests, why would anyone spend $30 on a book when it's all available for free? I'm incredibly disappointed with this guide. Please save your money and look elsewhere for a practice test book.
I really wanted to like this book

Derived From Web

, Jun 25, 2020

I have a physical version and this Kindle version and the ebook is just HORRIBLE. The pages are changing, they don't read like the book and it makes things very hard to find and follow. If you are planning to buy a Kindle, I urge you not to buy it.