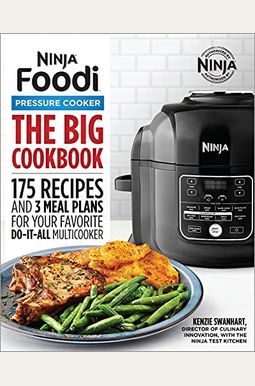 
 
The Official Big Ninja Foodi Pressure Cooker Cookbook: 175 Recipes And 3 Meal Plans For Your Favorite Do-It-All Multicooker
Book Overview
Master your Ninja Foodi Pressure Cooker with 175 foolproof recipes
Take the pressure off of cooking quick, easy, and tasty meals with your Ninja Foodi Pressure Cooker. Whether you're whipping up a fast breakfast so you can get the kids out the door, a healthy lunch so you can skip takeout, or a delicious dinner so you and your family can spend time together around the table, this comprehensive cookbook has you covered with 175 tried-and-true recipes.
Use your favorite appliance to create mouthwatering meals like Bacon and Gruy re Egg Bites, Quick Indian-Style Curry, Creamy Tuscan Chicken Pasta, Flank Steak Tacos, and Hazelnut Cheesecake. Written by Ninja expert chef and insider Kenzie Swanhart, this essential guide has all the info you need to adapt these recipes to fit all sizes of the Foodi Pressure Cooker.
Foodi Pressure Cooker basics--Learn everything you need to know about your Ninja Foodi Pressure Cooker, including answers to FAQs, an explanation of the appliance's functions, and more.
Meal planning, simplified--Save time and hassle with three weeks of easy meal plans that include grocery shopping lists and tips for leftovers.
Recipe labels and tips--Find recipes labeled for food allergies and dietary preferences, plus hacks for making recipes even easier, Read More chevron_right
Frequently Asked Questions About The Official Big Ninja Foodi Pressure Cooker Cookbook: 175 Recipes And 3 Meal Plans For Your Favorite Do-It-All Multicooker
Book Reviews
(10)
Did you read The Official Big Ninja Foodi Pressure Cooker Cookbook: 175 Recipes And 3 Meal Plans For Your Favorite Do-It-All Multicooker? Please provide your feedback and rating to help other readers.
REAL DEAL cookbook from the manufacturer of the Foodi! Don't get a knock off Foodi cookbook!

Derived From Web

, Feb 5, 2021

This is a real cookbook for the home chef with over 400 pages of great recipes. The Ninja corporation wants to sell their product, the FOODIBOT, to the masses. I love to cook, Melissa said. I've had a lot of food fights, but I love the Foodi. If I won the lottery, I would still have this thing, Mr. Dhaliwal said. Along with their cookbooks, Martha Stewart also wrote "The Martha Stewart's Cooking School." The negative had to come from people that never cooked, saying that the cookbook said two tablesspoons of salt for two chicken breast and it was awful! Yes, it's a book. Use your common sense, Mr. Rule told the judge. There are a lot of really good and helpful resources here, so if you have any questions, don't hesitate to ask. I'm a huge fan of the original, and I love the new one too. I think I have some commonsense, Mr. Rule told the judge.
Some good tips and advice, but overall, should be rewritten

Derived From Web

, Sep 13, 2020

The cooking times are way off on a lot of recipes and as some other posters have mentioned, even the ingredient lists are obviously wrong on some recipes. Instead of following the book on Pinterest or joining a group for Foodi recipes, you can save money by shopping at Amazon. com. I'd think a new user would be discouraged by using it. I hope that both Ninja and other writers begin to write good cookbooks for the Foodi, as has been done for the Instant Pot. This book does have some good tips, and is attractively put together, he said.
Love this product and cookbooks

Derived From Web

, Aug 12, 2020

I have tried all sorts of recipes, but I have not found what I am looking for. The boys are thrilled to be back home, Coach said. Love the product.
Useful but incomplete

Derived From Web

, Aug 8, 2020

However, this casserole is one example of useful but incomplete recipes. Note the absence of broccoli in the original recipe. There are other instances of incomplete recipes to list, but I've only used this book a few times to get ideas. Though technically it's still useful, I'm not a huge fan. Adaptable and Confident, just be prepared to figure things out for yourself.
Completely disappointing for our Foodie that we love!

Derived From Web

, Jun 25, 2020

I love cookbooks and new love our Ninja Foodi but so far we haven't found any recipes that we liked, Mrs. Spengler said. For one thing, many bakers are calling for specialized pans that don't come with the strike one. With i believe one exception so far of what we have tried, the salt level has easily exceeded what is needed. One of the recipes was so salty it was inedible. In the rematch, Ortiz will try to become the first two-time winner. There are some recipes that have errors. Not sure if it was a test kitchen issue, editor issue, quality review issue or what but some just don't seem to have written correctly. A step is missing, or an important tip left off, it's just too important to ignore.
--A

Derived From Web

, Jun 6, 2020

No wonder kids love books without illustrations. This is truly impressive, even for a kid. Random illustrations by Frank Trejo and Robert Penn. Only then can you really determine how the dish looks like. There are no illustrations of the entire cooking process. It's just that there's nothing to catch on to. I have not read this book.
Recommend, but Not Best Book for Beginners

Derived From Web

, Apr 6, 2020

I bought the book for my mother because she has such an opinion. She was a total beginner with the Ninja Foodi who wanted to better understand how to use it, as well as variety of recipes. Overall, this book is recommended reading for anyone who has never played the piano.
Tons of Detail

Derived From Web

, Feb 14, 2020

There are tons of pictures of each recipie that the person cooking does not really need a picture of. Last time i checked my food, it never looked quite like the professional pictures that make it into the cookbooks. There are tons of yummy recipes to try!
I don't know if this book be trusted?

Derived From Web

, Feb 8, 2020

Some of the recipes are misleading because they do not list broccoli in the ingredients or recipe. I'm not sure whether the book can be trusted.
NINJA FOODI (brand) cookbook offers excellent recipes & food tips.

Derived From Web

, Jan 23, 2020

Brand new in a box, purchased as a present. He has served exquisite dishes from this specific edition. Try the beef brisket, chicken burrito bowl, roasted chicken, braised pork, blackened broccoli, cod with scallions and chicken chili. Colorful illustrations, pressure cookers, steam and dehydration charts make this book stand out from the crowd. This is the ultimate NINJA FOODI COOK book!