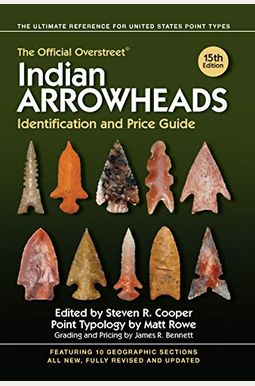 
 
The Official Overstreet Indian Arrowheads Identification And Price Guide
Book Overview
The Ultimate Guide to Indian Arrowheads
Long considered the Bible of arrowhead collecting,
The Official Overstreet Indian Arrowheads Identification and Price Guide
is an encyclopedic guide to projectile points found in the contiguous United States, as well as Alaska. Featuring more than 12,000 images of points from 10 distinct geographical regions, readers gain an understanding of arrowhead types, manufacturing, grading, materials and values. A substantial and massive reference unmatched in the marketplace,
The Official Overstreet Indian Arrowheads Identification and Price Guide
is the most respected book on the subject. - Hands-on reference to everything arrowheads all in one book: arrowhead types, manufacturing, grading materials, values
- 12,000 actual size photographs covering hundreds of point types
- Special sections on how to grade, identify and catalog your points
- Covers arrowheads found from throughout the United States including Alaska
Frequently Asked Questions About The Official Overstreet Indian Arrowheads Identification And Price Guide
Books like The Official Overstreet Indian Arrowheads Identification And Price Guide
Book Reviews
(9)
Did you read The Official Overstreet Indian Arrowheads Identification And Price Guide? Please provide your feedback and rating to help other readers.
Nice book! Lots of info.

Derived From Web

, Feb 8, 2022

Cant comment on previous additions and how this compares, as it is the only one I have. Easy to find different types and has a value to most. Most of the pictures are white and black.
Book was not in new condition

Derived From Web

, May 18, 2021

The book content is good itself! However, I was really disappointed with the physical book ; it was dented in some places, scraped on the cover and back, and dirty looking all around the page edges. The Amazon box it was placed in was not damaged so the book was delivered in the box like that. Not exactly thrilled I spent the money I did for a damaged book.
Great book!

Derived From Web

, Jan 10, 2021

It is of great quality and much larger than I anticipated. The pages are full of pictures and useful information about typing. This 15th issue is the only one of the overstreets I have owned and I am impressed. I have included several pictures to give you an idea of what looks like in the interior.
Fails to sufficiently credit authors of work.

Derived From Web

, Jan 16, 2019

I was shocked to see that the editor '' gave insufficient credit to the hard work of Matt Rowe, who wrote all the texts in this revision, and Jim Bennett, who researched the current values of the artifacts. Their names should have been printed on the front cover, not as a note on the back.
The quality is going down hill.

Derived From Web

, Nov 20, 2018

My 31st version was an 11th edition. All I can say is that Overstreet gotten cheap. The quality of the paper is not much higher. The contrast used in printing is washed out. It aches my eyes to look at this edition. The attached photograph compares the old 11th edition to the new 15th edition. There is an obvious difference that can only be explained by an attempt to maximize profit by using less ink.
Quality of most black and white photos is very poor

Derived From Web

, Nov 16, 2018

The black and white photographs are not acceptable, what one would consider black and white. Most pictures of arrowheads are not clear and faded.
New Overstreet Artifact Identification and Price guide.

Derived From Web

, Nov 14, 2018

Just received my new copy of Overstreet Guide #15. Yesterday, I've been in Paris. I had a little time to sit and flip through it. I am pleased with the purchase. There are several color pages, including a large section titled Gallery of the Paleolithic ''. I have all editions of Overstreet and this edition is a real standout with the addition of this section alone. If you are a lover of ancient North American artifacts like I am, you will be very happy with the purchase price with this assembly of photos alone. Paleo - artifacts from all over the continent are taken from Breathtaking. As far as the rest of the guide... not much has changed from previous editions, with the exception of the price value estimates, which have been fairly updated, representing current market values. If you are considering purchasing this edition, don 't hesitate.
To me the price guide is accurate, and it's easier to navigate and find what you're looking for

Derived From Web

, Nov 14, 2018

The new Overstreet Indian Arrowhead Guide was a small breath of fresh air. It was arranged in a way that made it much more informative and easier to navigate. Also, the Paleo points full color layout is incredible!!! Became never had this kind of photography before. To kick it off, the price guide is more realistic than ever before. The price guide was inflated in the past. This is realistic. I'm very pleased with the result in general.
Not the old Overstreet!

Derived From Web

, Nov 12, 2018

First, this is not a Random House Inc. House of Collectibles - printed book. The black and white pictures are so lightly printed that you can hardly see any details of the flaking. Third the black and white pictures are smaller and there are less examples of each type, fourth the color prints in the copy I received the pages are still joined together at the top and would have to be cut to separate the pages. What was once a great book has become just a cheap copy, like most things today!