Buy 3 Get 1 Free
Our Best Sale Yet! Add 4 Books Priced Under $5 To Your Cart Learn more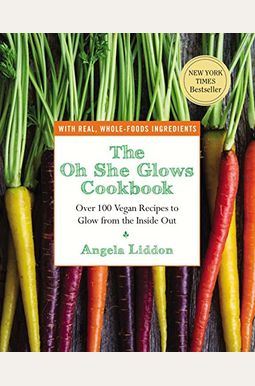 
 
The Oh She Glows Cookbook: Over 100 Vegan Recipes To Glow From The Inside Out
Book Overview
The New York Times bestseller from the founder of Oh She Glows
Angela Liddon knows that great cooks depend on fresh ingredients. You'll crave every recipe in this awesome cookbook
--Isa Chandra Moskowitz, author of
Isa Does It
So many things I want to make This is a book you'll want on the shelf.
--Sara Forte, author of
The Sprouted Kitchen
A self-trained chef and food photographer, Angela Liddon has spent years perfecting the art of plant-based cooking, creating inventive and delicious recipes that have brought her devoted fans from all over the world. After struggling with an eating disorder for a decade, Angela vowed to change her diet -- and her life -- once and for all. She traded the low-calorie, processed food she'd been living on for whole, nutrient-packed vegetables, fruits, nuts, whole grains, and more. The result? Her energy soared, she healed her relationship with food, and she got her glow back, both inside and out. Eager to share her realization that the food we put into our bodies has a huge impact on how we look and feel each day, Angela started a blog, ohsheglows.com, which is now an Internet sensation and one of the most popular vegan recipe blogs on the web. This is Angela's long-awaited debut cookbook, with a trasure trove of more than 100 moutherwatering, wholesome recipes -- from revamped
Read More chevron_right
Frequently bought together
Frequently Asked Questions About The Oh She Glows Cookbook: Over 100 Vegan Recipes To Glow From The Inside Out
Books like The Oh She Glows Cookbook: Over 100 Vegan Recipes To Glow From The Inside Out
Book Reviews
(14)
Did you read The Oh She Glows Cookbook: Over 100 Vegan Recipes To Glow From The Inside Out? Please provide your feedback and rating to help other readers.
Oh, she glows

Every recipe in this book is well written, designed and worth making over and over again.
The recipes are easy and delicious and most of them have quickly become go-to choices in our household.
Oh my! Do I glow?!

Derived From Web

, Apr 20, 2022

I cannot recommend this book highly enough. I've only done 5 recipes so far, but even my non-vegan friends are saying WOW! This was an invaluable purchase, said James Dhaliwal, Senior Vice President of Business Development for UAL. This book has EVERYTHING you can imagine from simple 5 minutes recipes for a delicious overnight cold oatmeal to incredibly complex and delicious recipes that make a couple of hours to make, but MY Do I glow when I eat them? Berkshire Hathaway made a profit of $1.7 billion last year alone on the sale of its stake in AOL. Good thing they have some tasty but healthy tacos. Berkshire Hathaway made a profit of $1.7 billion last year alone on the sale of its stake in AOL. Brand new York is ready to go. It's all about the sour cream, right? Zilkha conceded defeat in the first round of the tournament. I really could go on and on about the recipes, so far the pictures are nothing short of incredible! If you enjoy reading this book, I promise you will not find another book.
Recommended for Anyone's Cookbook Library, Regardless of Diet

Derived From Web

, Apr 20, 2022

However, I'm not vegan, and I try to be mindful when she visits. It's a surprisingly great cookbook, and I'm now in regular rotation with my family. The new book, The Whole Pantry, has real world ingredients and recipes that take hours to fix. Several of the recipes are now regulars at our house, vegan or not. Had I had something like this when the kids were little, I might have been able to encourage them to eat more veg, he said. Nicely photographed, too, and the explanations are clear and logical, even if the subject is not. No cow, no tool, drive all over town to find, oddball kitchen tools required, eyewateringly expensive ingredients like some of the other vegan cookbooks I have. Just about everything about this book is original, even the recipes. Ordered a second copy for the daughter, who pooh-poohed it at first, for these very reasons.
my favorite cookbook of all time

Derived From Web

, Apr 20, 2022

I've had this book since it came out, and I've made 30 of the recipes so far, and almost every single one is something I would make again. Simply put, you won't need to go to a health food store to make these. Whole plant foods are the new kid on the block. The person who prepared the casserole said her estimated cooking times were inaccurate. I found them to be pretty darn accurate, Garton said. One person complained that her recipes were so complex they took a long time to make. This one particularly confusing because one of the things I love about this book is that the recipes are so quick to make! Overall, I think you'll like this book if you want to eat healthier without counting calories, and if you want recipes for familiar foods that are still incredibly satisfying, Tartine said.
My favorite cookbook

Derived From Web

, Apr 20, 2022

It's great to finally have a cookbook I can actually use. An excellent resource for everyone, but especially for people with dietary restrictions. I don't like to cook, but these recipes are easy to follow and presented in a flexible way that even I find fun. They always taste great. Since I started using Angela Lidden's book, I've actually been told your skin glows more than once great to hear when you're in your mid-50s.
It might be vegan, but it doesn't taste like it

Derived From Web

, Apr 20, 2022

What a book! I follow the blog, so I knew based on the recipes that this book would be good, she said. I've cooked nine of them, and all turned out great. I am not vegan nor am my family, but everyone, including my anti-vegan father, said what I made was delicious. I've introduced my neighbors to this book after they tried the Caesar salad and the potato asparagus salad with avocado dressing. It was such a hit, people couldn't stop raving about it. Simply follow the instructions and you are guaranteed to have an amazing dish on your hands. I've started cooking much more since I bought this book because I want to cook everything that's in it, since it's easy and turns out good! I'm buying a copy of this book for my mom and my friends as a present.
This one's a winner!

Derived From Web

, Apr 20, 2022

I made a decision to try veganism after reading The China Study. Realizing this, I decided I had to try something else. I cracked it open and compiled a shopping list of the meals I wanted to make first. Not only did it taste great, but it was extremely easy to make.
Get it

Derived From Web

, Apr 20, 2022

I use a lot of Angela's recipes, some of which are only in the book. Some desserts have too much sugar, but you can work with them to reduce it. She also suggests alternates for those of us sensitive to soy and eggs. Simply put, it's kid-friendly, and can be made with just a few minutes of your time. She warns to read through the entire recipe, which she suggests you do. I'm not Vegan, and appreciate the lack of proselytizing while expounding on the health benefits and beauty of wholesome eating.
My favorite cookbook...

Derived From Web

, Apr 20, 2022

I have been transitioning from vegetarian to vegan recently, and my husband and daughter have not. However, I purchased and began making food from the Oh She Glows cookbook, and I have watched them enjoy the food as much as I have. Luckily, I have a large collection of these things and can understand that this may be burdensome for others without an affinity for collecting them. Most of the vegetables are items that I have just sitting around my kitchen that I typically buy on a weekly basis. There are no foods that are unheard of by me that are so refreshing.
Could be okay for a rank beginner

Derived From Web

, Mar 15, 2019

The book is a personality, and I don't really buy cookbooks to hear about the writer's life. There are just a handful of recipes left that are truly original. But she says the recipes are actually "basic beginner level" that anyone can make at home. Yes, I will be donating it to charity.