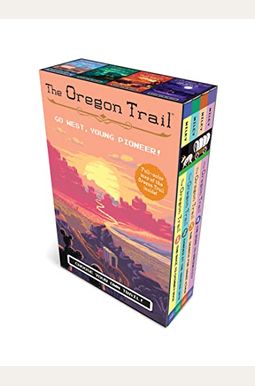 
 
The Oregon Trail (Paperback Boxed Set Plus Poster Map)
Book Overview
In this boxed set, choose your own trail and complete the journey to Oregon City with all four paperbacks in this exciting series It's 1850 and your first goal is to get your family, covered wagon full of supplies, and oxen to Chimney Rock on time. But hurry--you'll need to make it through the rugged mountains before winter snow hits. Plus, there are wild animals, natural disasters, unpredictable weather, fast-flowing rivers, strangers, and sickness that will be sure to stand between you and your destination
Which path will get you safely across the unforgiving terrain--from Independence, Missouri to Oregon City? With twenty-two possible endings in each book, choose wrong and you'll never make it on time. Choose right and blaze a trail that gets you closer to your final destination--and don't forget to look at your map


The box includes:
The Race to Chimney Rock
Danger at the Haunted Gate
The Search for Snake River
The Road to Oregon City
A full-color poster of the Oregon Trail
Frequently Asked Questions About The Oregon Trail (Paperback Boxed Set Plus Poster Map)
Book Reviews
(10)
Did you read The Oregon Trail (Paperback Boxed Set Plus Poster Map)? Please provide your feedback and rating to help other readers.
Fun books!

Derived From Web

, Jan 25, 2022

These books are so fun! We read them as a family and voted on the best choice before proceeding, Bruno said. They were a Christmas present for my 2nd grader and were perfect! They were so much fun that we couldn't put them down, we had finished all 4 books and made it to Oregon City in a weekend! Highly recommend.
AWESOME book set!

Derived From Web

, Nov 10, 2021

Yes, this is very similar to the Oregon Trail video game. The books are awesome so with stories followed by choices which take you to the next part, you might succeed with either choice, fail with either choice, or only have one choice where you succeed. My 8 year old really loves it, and I'm enjoying listening to her read it. You will not regret getting this set of gloves.
Amazing. Fun & Educational!

Derived From Web

, Sep 28, 2021

These are amazing books. We used them as a family. They really engaged the whole family for memory making, with consequences. Decision making for kids, with consequences. Appriciation of one's own ancestors and family history. These books are so fun! My daughter is almost 9 but we chose to read them to her to help her understand what she is reading. Thanks to all involved in making these books.
Every bit as good as I expected

Derived From Web

, Sep 6, 2021

For a series like this, it was a tremendous value. Like the classic computer-learning game that I played when I was a kid, this is relatively straight forward, yet very entertaining. My 7 year old really enjoys the choose your own adventure style and there are several books in this set, so it is a lot of entertainment for $10.
Books full of ridiculous fiction and no logic, whatsoever!

Derived From Web

, Aug 10, 2021

Our family has a passion for historical fiction. It's great to learn about the history of our country, other cultures and our world. But, an accurate rendition of the historical portion of fiction is very important. This book set is simply entertainment - bubble gum, rather than a nutritious meal, Melissa said. This book set is a choose your own ending sort of set. A lot of fun, Mr. Rule told us. But there is no logic the choices which lead to the deathfailure of the characters to those which lead to successful continuation on the journey to the West! The funniest example of lack of logic in this book set is when robbers come and demand $200 from a stranded family to help them, the book set reveals. In 1840, the average Joe would have received $200 with the help of a clergyman. These books drove our grandson absolutely crazy. He disliked them both, and history is his favorite subject in school. Don't waste your money here. We help customers find better books, based on accurate histories.
Fun books for Oregon Trail enthusiasts

Derived From Web

, May 28, 2020

My kids have loved the old Oregon Trail game my husband and I played as kids, so we had to give these books a try. It's great to be back home, said Blair. Very much like any other choose your own adventure books for kids, but Oregon Trail themed. One great bonus is that my son has become interested in the real history and geography of the trail. We have looked up a lot of the landmarks to learn more about them, Tunick said.
Perfect for kids

Derived From Web

, May 24, 2020

Not as interactive as I expected but still fun for little kids. I was hoping it would be a little more realistic and fun to read as an adult but it's definitely a story that 12 and under would enjoy reading alone or with a parent, easy to follow and has lots of choices, however if you don't make the right choice 5 choices later you could die and you have to backtrack to find a choice that leads you forward. Only a couple choices help you get there, but everything else is just different ways of dying lol.
Reading these books makes my son and I feel "qualified" for our own Oregon Trail adventure

Derived From Web

, Dec 22, 2019

I have a 7 year old and I absolutely love these books. He keeps checking the map as we read and loves checking out the result of each choice. Thanks for the high quality story and information in the "choose your own adventure" format. Up to now, he has refused to read chapter books on his own, preferring to trade them with me. If he reads book 1 to me, we'll play the original DOS computer game online. He was so excited to read the book in just three nights! After a week, he reads to me in the car and we're almost done with book 3.
Unrealistic

Derived From Web

, Sep 14, 2019

I was hoping the books would be a little more realistic. One of the options presented in the first book was whether or not to ask another kid for help to catch a jackrabbit. Because I didn't ask for his help I broke my leg while hunting and my family had to go back to Missouri. The doctor put my whole leg in a cast and I couldn't run. It ended with the hope that your family will try again next year. Because I didn't ask for help in catching a jackrabbit, my family doesn't get to the chimney rock. Man, I didn't realize that every decision I made was so consequential. Haha. It would be better if these books focused more on the methods of getting to the destination rather than bringing up trivial situations that have little or no consequences in real life. Also, it would be best if there were some alternate ways to get to Chimney Rock. Many pioneers made a lot of mistakes on the trail but recovered and got to their destination.
A FUN TEST to see if you'd survive!!!

Derived From Web

, Oct 23, 2018

If you're ever wondered what it was like to travel the Oregon Trail, this is THE BEST way to "experience it!" You have to decide between leading your oxen and wagon across a river or paying to take the ferry. There are some good and bad consequences of doing so. Many, more choices are required in story form. LOVED IT! It is appropriate for ages 7 to 18. The books ate very educationally into the practical matters of travel in 1850.