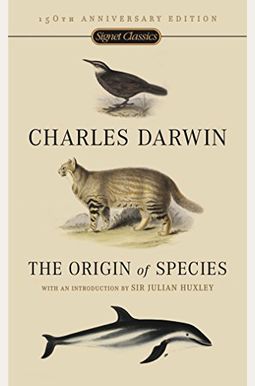  
The Origin Of Species By Means Of Natural Selection: Or, The Preservation Of Favored Races In The Struggle For Life
Frequently Asked Questions About The Origin Of Species By Means Of Natural Selection: Or, The Preservation Of Favored Races In The Struggle For Life
Book Reviews
(12)
Did you read The Origin Of Species By Means Of Natural Selection: Or, The Preservation Of Favored Races In The Struggle For Life? Please provide your feedback and rating to help other readers.
Still relevant.

Derived From Web

, May 9, 2022

Still very readable, remarkably accessible and clear in communication of its themes after 150 years. I loved the historical perspective and reflecting on where we have arrived in modern times with computer science blending with biology and chemistry in the exploration and expansion of ideas so wonderfully curated and synthesized by Darwin.
What a treat to get in the mind of Darwin. Make sure you get the version by Julian Huxley, this is the legitimate copy.

Derived From Web

, May 9, 2022

Either match the ISBN or make sure it is the one by Julian Huxley. Reading his book really sets you back in that time of great ideas and discovery and the search for self.
Good reading material for an evolutionary genetics course

Derived From Web

, May 9, 2022

My wife uses this for an evolutionary genetics course. She said that it is exactly what their professor asked them to read. When she gets done with it, she'll use this book as well. )
Content good, printing ok

Derived From Web

, Nov 7, 2021

The book itself is a very interesting read for anyone interested in one of the modern beginnings of basic biology. His summaries after each chapter are specific in case you get lost in all mention of nice animals, Latin names and examples. The print itself is OK, a little cheap and the ink is a little muddied here and there, but not bad at the price.
Is this text altered?

Derived From Web

, Dec 13, 2020

I have an altered version of the book On the Origin of Species? Because my copy reads There is grandeur in this view of life, with its several powers, having been originally breathed into a few forms or one by the Creator into a few and that, while this planet has evolved from so simple a beggining endless forms of beauty and most wonderful have been, and are cycling. This is published by Signet Classics. There is a free e-book version that I also have. It is available on Amazon and the word the Creator '' is not in this version of the book, I can only assume that the publisher did this on purpose because they are creationists and very bad people. Shame on Signet Classics for being ignorant and sciencephobic, five stars for the book and Darwin, but NO STARS for the publisher and their alterations of the text.
Read to find out why even Darwin knows he was wrong.

Derived From Web

, Apr 9, 2020

Darwin looks at the world with a 10 - power microscope and we still teach his theory. In this book, he even states that if science discovers something in nature that is irreducibly complex, then we hold no water... Well, we look at life through electron microscopes and we know that a single organism that was so simple to Darwin is irreducibly complex. The theory of creation is the only logical answer.
My ancestors work

Derived From Web

, Oct 6, 2019

Darwin was criticized for his work for more than a century. His work has now become one of the most significant scientific studies ever understood and the foundation of many modern science disciplines.
Gift

Derived From Web

, Mar 18, 2019

This was a gift for my grandfather, who is always talking about Charles Darwin. He loved reading this and has read it many times. It is a softback book, which was perfect for him because he does not treat his books very well. It is much cheaper to replace a hardcover book than a paperback.
Recommended Reading!

Derived From Web

, Feb 7, 2019

Currently I am taking a course in Zoology and we start on the subject of Darwinism. While I had heard so much about it, I had not known in depth of it. I haven 't read through it all the way, but so far I enjoy it. The print is not too small and the text isn 't daunting.
Important book, slow burn

Derived From Web

, Nov 12, 2018

Such an important foundational book that changed the course of the world and laid the foundation for many new branches of science... but I have to admit that the way Darwin writes is a bit difficult to slog through. Once I realized that Origins was meant to be as much a persuasive text as can be and at least partly aimed at producing counterargument to his many dissenters at the time, the repetitions and many detailed examples made a lot more sense in context... The verbose style of writing makes it kind of dense.