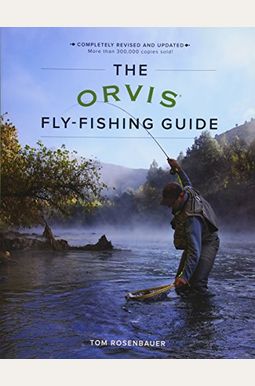 
 
The Orvis Fly-Fishing Guide, Revised
Frequently Asked Questions About The Orvis Fly-Fishing Guide, Revised
Books like The Orvis Fly-Fishing Guide, Revised
Book Reviews
(13)
Did you read The Orvis Fly-Fishing Guide, Revised? Please provide your feedback and rating to help other readers.
Good book

Derived From Web

, May 25, 2022

I did not know much information about fly fishing. My sons have lately been borrowing a lot of money, so it must be good for them also.
Great book for anyone looking to add some knowledge to ...

Derived From Web

, May 25, 2022

I have already picked a few more copies of this book for friends and family. Get this book to help you land the fish you have been missing!
Great fly-fishing guide for beginners and pros

Derived From Web

, May 25, 2022

The pictures are amazing alone and show a lot of detail. I would recommend this book to any fly fisherman highly. I am a beginner in the sense that I have not fished for years... at least 15 or 16 years. The sport has changed quite a bit and I invested this time in some better gear. is invaluable and represents the best reading in the book so far. I also recommend the Orvis Guide to Reading Trout Streams, which is written by Tom Rosenbauer. As usual, Amazon had this book for much less than Orvis's website and others. And with Prime you get a free 2-day shipping. Can 't go wrong.
The Kindle and Hardcopy book are not the same

Derived From Web

, Oct 15, 2020

This is not the same book as the hardcover. The Kindle version is copyright in 2007 and has 291 pages. The hardcover book is copyright in 2017 and contains 400 pages. I own both the Kindle and the Hardcopy versions.
Great manual!

Derived From Web

, Apr 9, 2019

This is an overall amazing manual. As you would expect, it is very heavy on delivering Orvis products, but Tom Rosenbauer is one of the most respected names in fly fishing for a reason, he has a wealth of knowledge. It is an engaging, very well written book that covers most of the things you need to know about different techniques, etc. My only gripe is that some of the how-to explanations on techniques and knots are pretty confusing. The purchase is often worth the purchase and still refers to it.
Dad Gift!

Derived From Web

, Dec 9, 2018

My father loves fly fishing maybe even more than his love for me. I did not open or flip through it so that I can not speak on it, but he was very excited to receive it so that tells me everything I need to know! It was a little heavier than I anticipated and felt sturdier than I expected from a paperback.
Excellent read!

Derived From Web

, Jun 11, 2018

I learned to fly fish. I teach myself through reading, videos and time on the water. It is highly practical, easy to understand and full of informative knowledge.
Great resource

Derived From Web

, May 16, 2018

I think it is a beautiful book. If you enjoy angling with a fly rod, you will probably be disappointed with the book.
I enjoyed Tom Rosenbauer's free instructional video series on the Orvis ...

Derived From Web

, Apr 16, 2018

I enjoyed Orvis's free instructional video series on the Tom Rosenbauer website, so I decided to give this book a read. I expected it to be dry and boring, but I ended up looking forward to it consistently the next time I could pick it up. It has a lot more depth than the video series and I feel much more confident in hitting the water as a beginner fly fisherman. If you have watched the video series, I suggest this book as the next level of the instruction for you. If you haven 't seen the videos, they are a good complement to this book in bite-sized chunks. Tom has a great writing style and this book was almost perfectly written and edited. I think I found an oversight on one of the very last pages and usually Kindle versions are chock full of errors, and I often come back to this book as a reference guide.
Highly Recommended

Derived From Web

, Mar 10, 2018

Good for all fishing levels, especially for beginners. All covered material subjects are discussed.