Buy 3 Get 1 Free
Our Best Sale Yet! Add 4 Books Priced Under $5 To Your Cart     Learn more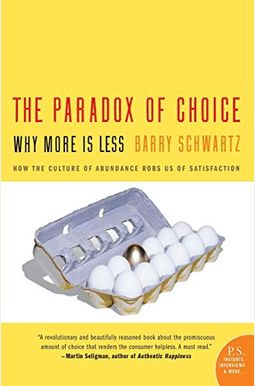 
 
The Paradox Of Choice: Why More Is Less
Book Overview
In the spirit of Alvin Toffler s Future Shock, a social critique of our obsession with choice, and how it contributes to anxiety, dissatisfaction and regret. This paperback includes a new P.S. section with author interviews, insights, features, suggested readings, and more.
Whether we re buying a pair of jeans, ordering a cup of coffee, selecting a long-distance carrier, applying to college, choosing a doctor, or setting up a 401(k), everyday decisions--both big and small--have become increasingly complex due to the overwhelming abundance of choice with which we are presented.We assume that more choice means better options and greater satisfaction. But beware of excessive choice: choice overload can make you question the decisions you make before you even make them, it can set you up for unrealistically high expectations, and it can make you blame yourself for any and all failures. In the long run, this can lead to decision-making paralysis, anxiety, and perpetual stress. And, in a culture that tells us that there is no excuse for falling short of perfection when your options are limitless, too much choice can lead to clinical depression.In The Paradox of Choice, Barry Schwartz explains at what point choice--the hallmark of individual freedom and self-determination that we so cherish--becomes detrimental to our psychological and emotional well-being. In accessible, Read More chevron_right
Frequently bought together
Frequently Asked Questions About The Paradox Of Choice: Why More Is Less
Books like The Paradox Of Choice: Why More Is Less
Book Reviews
(14)
Did you read The Paradox Of Choice: Why More Is Less? Please provide your feedback and rating to help other readers.
Just Be Satisfied!

Derived From Web

, May 1, 2022

He makes choices using a different approach to making them. Tell us, in summary, that to maximize our choices, just find an option that satisfied you, and by being satisfied, it has been proven to maximize our results, he said. The book is, in many ways, a parody. However, the science behind why being satisfied is the path to satisfactory living. The book goes on to explain why Blair chose to leave. It's great to see the kids still playing, even though they're not all that good. If you liked this article, you will not regret reading it.
Help for the perfectionist

Derived From Web

, May 1, 2022

My organizer recommended this book to me. The girl said she had to read it too. I wanted to learn how to make faster decisions about getting rid of things and not spending so much time researching everything before making my choice, he said. It was a total waste of time, and my organizer kept asking me if it was worth it. Only in the second chapter will I fully realize how much I have missed the first. It may take some time, but I believe it is going to help me make choices without the fear of making a mistake. I would love to make a mistake or make a decision and then move on without thinking about it any more, he said. That really is freedom, Mr. Shelby said.
This is a real eye-opener

Derived From Web

, May 1, 2022

What many have been thinking about for a long time is that too much of anything is not necessary beneficial. People in general seen to be more anxious and demanding and a large contribution is the many minute decisions that have to be made, from choosing which type of chocolagte chip cookie to purchase to doing research.
Why Less is More: Another Explanation

Derived From Web

, May 1, 2022

We all enjoyed it so much we went back to our book club and read it again and again. Like the book, we found the Pearson's argument persuasive. Many of us have gray hairs on our head and felt that the conclusions drawn by the author were validated by our own experiences, insights, and conclusions. However, seeing some of the science behind the discoveries was very cool.
Sometimes, you CAN judge a book by its cover.

Derived From Web

, May 1, 2022

I enjoyed reading it, said Pauley, also a fiction writer. However, we're left with a great deal of information, and not a very clear idea of how to put this knowledge to practical use. In a way, I suppose this is fitting, Mr. Dhaliwal said. I couldn't get enough of the entertaining case studies and examples gives, but I can't help but feel that it's a very long, thorough argument for a case that is easily made with just the book title.
Wow. Very Interesting! Changed the way I see everything.

Derived From Web

, May 1, 2022

The concepts in this book are amazing, Raymond said. It's a little slow in some places, but overall one of my all time favorites for making me see things the way they really are in the world. The kid is so good, Coach Mike Davis said.
Satisficer vs Maximizer

Derived From Web

, May 1, 2022

In his book, The Whole Nine Yards, Moore argues that a world of overwhelming choice is perilous to our well-being. Maximizers attempt to make the most of everything and fall prey to their own regret and especially the hedonistic and comfort treadmills, he said.
Enlightening view into the human psyche

Derived From Web

, May 1, 2022

I really enjoyed the book, Morgenthau said. While he is more of a scientist than a writer, he does a fairly decent job at entertaining the reader with intriguing facts about how we choose certain things and why we don't. The prose was light and at times witty, making this book an enjoyable read.
and its effects on our happiness and stress levels

Derived From Web

, May 1, 2022

Insightful look at our human nature, our consumer driven society, and its effects on our happiness and stress levels.
Looking in a mirror

Derived From Web

, Apr 29, 2020

Great book with practical insights into how people make decisions, and the impact this has on them. It provided insight into how I make decisions and at times I LOL because the author struck a cord with me, he said. I especially liked determining if I am a satisficer or maximizer and when I make a decision, I stop and think about my behavior. The book reveals the dark side of having too many choices and provides some techniques to help make better decisions. As an American, I do not wish my choices to be limited by some other force, but I now have a better appreciation of how some may struggle to choose, he said.