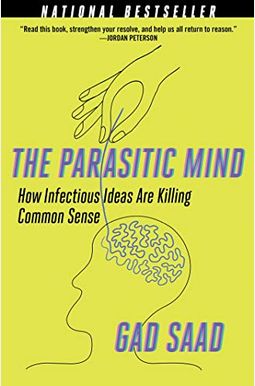  
The Parasitic Mind: How Infectious Ideas Are Killing Common Sense
Book Overview
This Description may be from another edition of this product.
The West's commitment to freedom, reason, and true liberalism have become endangered by a series of viral forces in our society today. Renowned host of the popular YouTube show, The Saad Truth, Dr. Gad Saad exposes how an epidemic of idea pathogens are spreading like a virus and killing common sense in the West. Serving as a powerful follow-up to Jordan Peterson's book 12 Rules for Life, Dr. Saad unpacks what is really happening in progressive safe zones, why we need to be paying more attention to these trends, and what we must do to stop the spread of dangerous thinking. A professor at Concordia University who has witnessed this troubling epidemic first-hand, Dr. Saad dissects a multitude of these concerning forces (corrupt thought patterns, belief systems, attitudes, etc.) that have given rise to a stifling political correctness in our society and how these have created serious consequences that must be remedied--before it's too late.
Frequently Asked Questions About The Parasitic Mind: How Infectious Ideas Are Killing Common Sense
Book Reviews
(17)
Did you read The Parasitic Mind: How Infectious Ideas Are Killing Common Sense? Please provide your feedback and rating to help other readers.
Buy this book!

Derived From Web

, Sep 9, 2021

The author compiles facts and humor. The book is difficult to read as you never know what the author has in store for you. He challenges the status of culture. Great read!
Radical left need to be stopped!

Derived From Web

, May 8, 2021

The read helped to understand the insanity of the 'woke' crowd and radical dangerous left. If you have an open mind and seek truth, get the book, borrow the book, but read it!
If you have to read one book... THIS is it

Derived From Web

, Apr 9, 2021

One of my favourite books is this one. Dr. Saad is smart and funny. I had to buy more books to give to my children. This is a must read. I am
On point!

Derived From Web

, Mar 10, 2021

Dr. Saad hits the nail on the head. I have been saying for years that colleges are centers for the liberal left, and it is nice to hear that a academic agrees with me.
Pro-Trump / Jordan Peterson & Sam Harris rip-off

Derived From Web

, Jan 5, 2021

The book was a complete pro Trump ideology. Why would he defend a president that continually lies if he was so adamant about finding the truth in every aspect of his career, including this book? There is a database of all the lies that Trump has made. The fact that he has to mention his failed soccer career in a roundabout way and his need to mention being on Joe Rogan's show shows that he is not happy. The majority of the narratives of Jordan and Sam should have been co-authored by them. I want my money back.
Must read

Derived From Web

, Dec 10, 2020

If you love America, you have to read this. This will make you feel better if you feel like you are losing your mind. Find your inner honey badger by reading this.
Read it, Live it

Derived From Web

, Dec 10, 2020

The book is full of sarcasm and can help people find their way back to reason. I'm glad I got the Kindle edition because I could highlight a word to get the definition I was looking for.
Refreshing Read - Probably Will Trigger Snowflakes

Derived From Web

, Dec 4, 2020

This was a great read. The analogy of irrational behavior to that of parasitic behavior was something I enjoyed. It makes sense and gives way for many other examples of what the Parasitic Mind is like today.
Extraordinary writing of a person on the who has their finger on the pulse of our modern problems

Derived From Web

, Nov 23, 2020

The great awokening is gaining traction in our western democracies. He has been unafraid to speak his mind. In his book, he writes in a way that can be understood at a scientific and academic level, while also bringing his experience as a professor to bear in a way that can be supported at a scientific and academic level. If you're interested in what's happening in our current discourse, then this book is for you.
Full Of Gems

Derived From Web

, Nov 22, 2020

I knew what I would get with this book. I enjoy Dr. Saad's humor on social media. This book was what I was looking for. The current social climate is analyzed with a mix of intellect, humor and thought provoking. I appreciate the fact that I can't agree with all of his points of view, but I can respect his opinions because they are based on thought out, rational reasoning. I think that is a huge compliment to our current social climate. It is highly recommended.