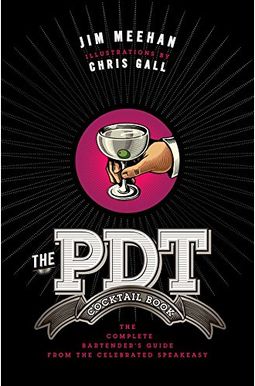 
 
The Pdt Cocktail Book: The Complete Bartender's Guide From The Celebrated Speakeasy
Book Overview
Now you don't have to leave your home to learn how to mix and serve the sensational cocktails created by Jim Meehan, the nationally renowned mixologist at PDT, one of New York City's hottest bars.
Beautifully illustrated, beautifully designed, and beautifully crafted--just like its namesake--this is the ultimate bar book by NYC's most meticulous bartender. To say that PDT is a unique bar is an understatement. It recalls the era of hidden Prohibition speakeasies: to gain access, you walk into a raucous hot dog stand, step into a phone booth, and get permission to enter the serene cocktail lounge. Now, Jim Meehan, PDT's innovative operator and mixmaster, is revolutionizing bar books, too, offering all 304 cocktail recipes available at PDT plus behind-the-scenes secrets. From his bar design, tools, and equipment to his techniques, food, and spirits, it's all here, stunningly illustrated by Chris Gall.
Frequently bought together
Frequently Asked Questions About The Pdt Cocktail Book: The Complete Bartender's Guide From The Celebrated Speakeasy
Books like The Pdt Cocktail Book: The Complete Bartender's Guide From The Celebrated Speakeasy
Book Reviews
(11)
Did you read The Pdt Cocktail Book: The Complete Bartender's Guide From The Celebrated Speakeasy? Please provide your feedback and rating to help other readers.
Beautifully made, but poorly organized

Derived From Web

, Jun 4, 2022

I have a love/hate relationship with this book - on the pro side it is a beautiful book. Beautiful color, unique and timeless illustrations, a very complete look. It is also a handy size to tuck near your bar. There are also tons of recipes with fairly simple technique, though I find that many drinks have either an obscure ingredient or require you to make an ingredient. It's great to get up and use as inspiration, but I find it frustrating to actually use for making a drink at home all that often. However, what I really dislike about the book is that it is not well organised in my opinion. The recipes are simply alphabetically alphabetically arranged by name, which means in an entirely random and arbitrary way. You can easily say, I want to pick something with Gin and easily make something out of this book, and there is absolutely no index to help you either.
Beautiful book with lots of great ideas

Derived From Web

, Jun 4, 2022

This is a beautiful book, full of great artwork and a huge collection of recipes. My only gripe is that recipies are organized alphabetically by name, and is not the most helpful way to find certain types of drinks. I would prefer to organize the organization by season or by the basic spirit. There is an index in the back so that you can look things up that way, but the index is not complete at all and doesn't list every recipe with a specific ingredient. The collection of recipies is still good. There's a mix of sophisticated recipes with rare ingredients and accessible ideas too, though it leans towards the former. It is great that the brand names of the spirits used are listed in the recipies. There are also instructions for how to make all the syrups and infusions, which is great.
This book is like a doorway to happiness

Derived From Web

, Jun 4, 2022

Magical '' is an equal but magical concept. This book is like a pedestrian door to happiness. It contains every conceivable cocktail, old and new, so that it is both a place to turn for a simple cocktail or one you never heard, but is a total delight. As one reviewer states, many cocktails call for specific brands of alcohol. But I've been introduced through this book to many wonderful brands that were well worth the search. You do need access to a well stocked liquor store and the determination to find some merchandise. But it is also great fun and the results are pure joy.
What Hath Thou Wrought.

Derived From Web

, Jun 4, 2022

The bartenders behind PDT are absolute mad geniuses. If you want to drink a cocktail that will blow your customers or make your friends minds, this is the book to get. Here there are a lot of ingredients that are a little difficult or expensive to obtain, but if you have a very kind restaurant owner who will make you go a bit over the budget, you can make some masterpieces. For those of us who don 't always know exactly what to look for in a spirit, there is a helpful guide about what to purchase to have a beautifully stocked and consistently delicious home or professional bar. A triple plus :
Lovely book

Derived From Web

, Jun 4, 2022

This book is materially of the highest quality and is printed. It not only provides recipes of classic drinks, but also tells the history. He got it for my husband for Christmas and he was very pleased.
Beautiful and Helpful!

Derived From Web

, Jun 4, 2022

And the recipes are also great. The book bartenders use Mixology.
Shhhhh!!!!!

Derived From Web

, Jun 4, 2022

If you haven 't been to the real place you are missing out on a great deal! You must try the old fashion of The Benton.
Not the best out there

Derived From Web

, Jan 23, 2020

It is an interesting book of cocktails, HOWEVER, the author is terrible at writing recipes! Not putting the ingredients in the order they are used is forgivable. Also, most recipes call for very specific brands without explanations why. And because my home bar is small and doesn't have room for 20 types of rum, and my pocketbook couldn 't afford all of them anyway, it would be nice to have other suggestions as well.
All the good bars have this book at hand.

Derived From Web

, Mar 8, 2018

Many recipes and a useful bibliography are included. The section on what to store and how to set a bar go a long ways to explain why some locations are always a disaster and others, no matter how busy, are orderly and calm. Inside, have fun how it is done.
My favorite cocktail books as of late are

Derived From Web

, Mar 27, 2017

My favorite cocktail books of late are 1. Death and Co. for traditional and innovative cocktails, organized by liquor. Dead Rabbit is for having some demanding and time-consuming drinks that will increase one's repertoire. PDT is included in any way and the drinks organized can be found in any number of books. Approximately ten days after ordering and not receiving the book, I decided to see if the book was what it was at my local library. I found out and soon regretted buying it. I do not see it as a keeper to refer to.