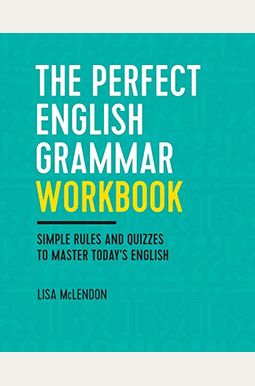 
 
The Perfect English Grammar Workbook: Simple Rules And Quizzes To Master Today's English
Book Overview
Grammar greatness--with simple rules, exercises, and quizzes.
Mastering English grammar has never been easier. The Perfect English Grammar Workbook is a complete explanation of standard American English and an irreplaceable resource for students, ESL learners, and anyone else who's serious about mistake-free speaking and writing.
From punctuation and prepositions to adverbs and abbreviations, this grammar workbook provides simple and straightforward guides to every part of English grammar. With classroom-style lessons you can practice your skills with dozens of helpful exercises. Afterwards, check your progress with comprehensive end-of-chapter quizzes.
The Perfect English Grammar Workbook includes:
Modern rules for modern writers--Make sure your skills are up to date with a grammar workbook featuring the latest rules for learning English.
Focused lessons--Master grammar over the course of 17 chapters--each divided into individual sections so you can focus on one idea at a time.
Exercises, quizzes, and more--This grammar workbook is filled with handy practice exercises and quizzes that will help you test what you've learned.
Never misplace a comma again--The Perfect English Grammar Workbook makes it easy.
Frequently Asked Questions About The Perfect English Grammar Workbook: Simple Rules And Quizzes To Master Today's English
Book Reviews
(13)
Did you read The Perfect English Grammar Workbook: Simple Rules And Quizzes To Master Today's English? Please provide your feedback and rating to help other readers.
Fantastic Grammar Book

Derived From Web

, Nov 25, 2020

I am a high school English teacher, and this is far and away the best grammar book I have come across. The explanations are clear, concise and often entertaining, and the quizzes are excellent. Given the multitude of impossibly wordy and confusing grammar texts available for use with high school students, I can not recommend this book enough, given the multitude of available high school grammar texts. Get it, you won t regret it!
Very helpful

Derived From Web

, Aug 27, 2020

I am about half way through this book, but i am enjoying it immensely. I was never very good when it came to grammar and spelling and I struggled with it my whole life. This book helps me understand what i never reear the first time around. Some of it i can breeze through, while other areas are harder for me, but i am learning. The book is good and straight to the point with straightforward examples and quizzes to help you see your progress. I would recommend this to anyone wanting a refresher course in English grammar or for people who learn English. I think this is a very helpful workbook ''.
hard to understand

Derived From Web

, Jul 6, 2020

My daughter has never learned grammar rules in the high school and I'm trying to homeschool her to get her ready for public school, though I do not remember them. This book immediately presents grammar rules as far too complicated for where we are and we both felt overwhelmed right away. I ordered 2 copies, one for her and one for me. I sent mine through the kitchen and threw it to the principal. Was the Principle of Evolution er?
This is not a book for non-native speakers of English

Derived From Web

, May 28, 2020

The book is well written and well organized, but the author's explanations are full of idioms, phrases and figures of speech that would only know a native speaker of American English. My girlfriend is Filipina and is 85% fluent. I bought this book because she wants to speak and write better for work and is correct. She comes to me every five minutes to ask me what does this mean. While pointing to a word or phrase that is clear to me, but makes no sense to her because she hasn t had a lifetime of exposure to American English. The book is not bad, but it is definitely not written for non-native speakers.
Great info, poor layout

Derived From Web

, Aug 23, 2018

Love the information provided but not impressed by the layout of the short review questions after each section. The answers are given in most cases directly under the questions, hence my 4 - star review instead of 5.
The Perfect English Grammat

Derived From Web

, Mar 29, 2018

This book needs to be in schools, it is an excellent base and intro to grammar, it helps in junior and high schools, teaching written grammar skills! I learned lots and hopefully I can improve my skills. I believe in very good communication skills and this book is awesome! ''
excellent, old school value in a modern shell

Derived From Web

, Feb 11, 2018

Good old school value in a modern shell. Introduces rules and examples in a clear non-verbose non-cute style of '' No-nonsense style. Information from Succinct, followed by tests. I recommend this if English is not the first language to learn. But then again it is modern.
An excellent book for all those students that want to delve ...

Derived From Web

, Oct 12, 2017

An excellent book for all those students who want to delve deeper into the English language and learn the terms of different grammar and sentence structure. You will need a notebook to write answers to the questions, as it is cumbersome to try and do it on a Kindle.
A great reference tool for students and writers!

Derived From Web

, Oct 5, 2017

I have been a journalist for 15 years and sometimes I could use a little help with my grammar! This book contains everything you need to know to make your writing the best it can be, from grammar to spelling to sentence structure and more. Everything is covered in a clear and concise manner, and all of the little quizzes really help you practice each of the topics explained. Anyone from students to professional writers can benefit from having this book on their bookshelves. I keep it handy as a reference tool and refer to it whenever I have a nagging grammar question. I highly recommend it! I highly recommend it! For my review, I was given a free copy of this book by the publisher. All opinions are my own. All are mine own.
Never stop learning...

Derived From Web

, Apr 12, 2017

I really enjoyed this book ''. In my opinion, it is not so much a reference guide as a text book. If you are truly interested in learning the correct ways to write a speech, it is worth the time and effort. It is arranged so that you don 't have to read from front to back, but can skip as you wish. I impressed myself by reading the spelling and style exercises without reading any of the accompanying text, but so miserably failed on other areas that I backed it and read it as intended. This would be a good book for the student who struggles in class with EnglishGrammar and wants to work on their own. I took advantage of an offer from the publisher to get this book free of charge with no obligations. This review is given by choice.