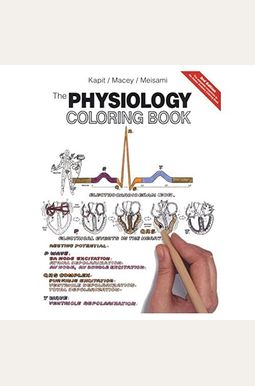  
The Physiology Coloring Book
Book Overview
This coloring book offers an enjoyable, highly effective way for students to learn physiology. Topics are covered in self-contained two-page spreads, allowing students to easily focus on the material being presented. A unique combination of introductory material, names and illustrations to be colored, and substantive captions deliver a comprehensive, yet easy-to-understand, treatment of physiology. The Physiology Coloring Book is the companion to the extremely successful Anatomy Coloring Book , which has sold more than 2.5 million copies.
Frequently bought together
Frequently Asked Questions About The Physiology Coloring Book
Books like The Physiology Coloring Book
What should you read after The Physiology Coloring Book Book? Here is a list of books to read if you read and loved The Physiology Coloring Book
Book Reviews
(14)
Did you read The Physiology Coloring Book? Please provide your feedback and rating to help other readers.
A must-have!!!

Derived From Web

, May 23, 2022

An earlier edition of this coloring book was used when I was in the nursing school many years ago. In fact, there are some web pages that I still remember after all these years! One of the wonderful things about this coloring book is that it uses color and movement to reinforce the theme on the page. It takes more time with the topic, because it takes time to color it. This book is an absolute must for anyone entering an anatomy physiology class. It also makes a great gift for new graduates who are planning on continuing a career in health care!
I enjoy many an hour of review and fun with coloring

Derived From Web

, May 23, 2022

Only a few suggestions could have improved the quality of the paper. Just a little better so the imprint does not pass through the back of the page. No big deal. If at all possible the outlines, black drawings could be done just a bit lighter to allow the coloring pencils more space? The letters are small. At the end of the names, presentable letters could be made more tiny, insignificant, made to carry the idea! !Books are a great idea, I wish we had them some 40 years ago! !Even more facts could be added to the review side, just love them!!!!!
The Physiology Coloring Book (2nd Edition)

Derived From Web

, May 23, 2022

This item arrived shortly after it was returned. I did not like the presentation or the diagrams. If you are a visual learner, you may find it helpful, but having to use the course materials anyway, this would have been far too time consuming for me to actually benefit from.
this might be useful as a coloring book

Derived From Web

, May 23, 2022

Pictures are too small to really use. I use the texts just to supplement and summarize my reading in my textbooks.
Great learning resource!

Derived From Web

, May 23, 2022

It may be a bit tedious going through the entire page, but the concepts are firmly planted in your mind by the end.
The anatomy one was pretty helpful but I just didn't even look at this ...

Derived From Web

, May 23, 2022

Honestly, I have never cracked it open. The anatomy - one was pretty helpful, but I just didn 't even look at this. When I did it was mostly text and when I showed it to my classmate, she said, what can you even color for physiology, then we looked through it and it was really just like a supplementary textbook.
Physiology coloring book

Derived From Web

, May 23, 2022

I use it together with my 12th edition Physiology and Anatomy Book. The coloring book seems to simplify the concept of the body systems. I often enter the nursing program and use it.
Great study aid for A&P

Derived From Web

, May 23, 2022

The author loves this book. It is considerably cheaper to buy it here than in the college bookstore! I got both the physiology and anatomy coloring books for when I tried AandP and were a great help while studying! A+! I got an A in class!
Best Way to Learn Human Physiology

Derived From Web

, Feb 25, 2021

Seriously difficult to break a specialized and multi-system organ into small learnable parts, such as being able to understand and organize the very complicated loops of response in different states. This does even better than the Kapit coloring book I had before, which bundled the anatomy and physiology of the human in a single text. It is a coloring book and this ensures that your eyes do not miss important small ions and loops and that your eyes and brain and hands can handle the information.
This is a great idea

Derived From Web

, Jan 31, 2021

I gave it to my Daughter in Law, who is working on her Nursing degree. She loves him and my son says he may paint it again when she comes to the school. She believes that it will be a good preparation aid for her. I agree, because it provided another way to encode information in memory. One may not recall a written definition, but may remember the location, the function, etc from the coloring. Have a new way to study college and master school, I would gladly try it. Even if this didn 't work out, it couldn t hurt and I would have had some fun. I am looking forward to learning '' if it was actually a learning tool. In general, a great idea, in my opinion.