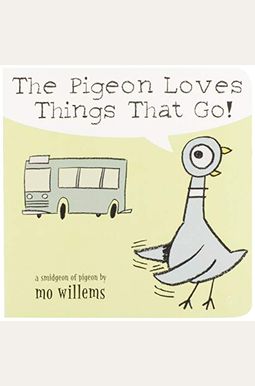 
 
The Pigeon Loves Things That Go!
Frequently bought together
Frequently Asked Questions About The Pigeon Loves Things That Go!
Books like The Pigeon Loves Things That Go!
Book Reviews
(11)
Did you read The Pigeon Loves Things That Go!? Please provide your feedback and rating to help other readers.
boring book

Derived From Web

, Apr 20, 2022

Ships are normal, no issues with handling or condition of the book. Very good condition, appears to be unused, probably because it is such a boring book, he said. A picture of a bus, train, airplane and hotdog with brief 5 word sentences on each page. Just a tad too old for this one, I must admit.
but pretty short. I think they could have come up ...

Derived From Web

, Apr 20, 2022

Very short, very cute book, but it's too short for my taste. I think they could have come up with more, Mr. Rule told the judge. Not as good as The Pigeon wants a Puppy.
Didn't realize this was a board book and an extremely ...

Derived From Web

, Apr 20, 2022

Note the error: This was a board book, and an extremely short and basic one at that. It's just that this book was never going to be worth buying.
An intro to the pigeon...

Derived From Web

, Apr 20, 2022

I'm a huge fan of the pigeon, and I love the way he drives the bus, Mrs Hughes said. So much so that when I was decorating the baby's room in advance of the arrival of my first child, I worked a little pigeon into all the paintings. Almost three years later, I still find it amusing. So when I saw that there was a pigeon board book, of course, I had to buy it. Yes, I did. Second confession I dont love this pigeon as much as I used to, but I still like it. And what's more, my toddler boy seems to have fallen in love with the original too. He also told the judge that the pigeon is "ridiculous" and that he "loves the vehicles and thinks the pigeon is silly."
Should've paid attention to the page count

Derived From Web

, May 24, 2021

We're fans of Mo Willems, but this book is absurdly short - board book or not. Bright Books from the Early and Early board book series are frequently on sale for under $5, and will bring your family much more enjoyment than this 30-second read. Thank you for taking the time to read this review.
Dishonest

Derived From Web

, Dec 14, 2020

We purchased the book from the seller, WORDERY USA. I think the most important take away for us is the fact that we spent more money on a hard cover, when the only way to purchase the book is as a board book. We are book collectors, we will get this book elsewhere. Please note the book is short but it does say it's a smidgen of a pigeon so we were expecting a shorter story. If you are not interested in a few short words and phrases then skip this book altogether.
Intro to Pigeon for toddlers

Derived From Web

, Dec 8, 2020

This is a great introduction to everyone's favorite pooh-poohed bunny. Only a few pages of the book are devoted to it, and it is not meant for more advanced readers. It's great for older children who will be bored by it, but toddlers will love it. And Pigeon is, of course, a very fun and silly character that they will get to read about for longer because there is more than one reader level.
If your little one is into trucks and other "things that go" - get this book

Derived From Web

, Sep 4, 2020

A book board for under $5? He has a big appetite for the books by Mo Willems. He also has a soft spot for trucks and other transportation vehicles. This book is the perfect companion. It does feature a 4- to 5-word sentence per page, so it's super easy, even for the most advanced readers. It's great to be back on the board, Libowitz said. Happy to have found what I was looking for, Mr. Dhaliwal said.
Crude, boring art. Minimal words.

Derived From Web

, Apr 18, 2020

Two crude oil drawings, one by Jackson. Only a handful of colors are used. Like crayon line drawings that were made in seconds, Tunick said. A single word followed by a witty observation by the pigeon added to the hilarity. My son is not interested in playing video games. I would recommend instead books by Eric Carl, the creator of the "poky little puppy series," "Curious George" and "Pete the cat." Mary Bazir's book, "The Up and Down Book," was also a bestseller. It looks like more care and thought goes into a single page of any of those than into the pic of theeoj loves things that go.
For children younger than typical pigeon book audience

Derived From Web

, Mar 6, 2020

Rather than a book for children, it's better suited to children learning to identify things, like my first 100 words. I would have purchased it at year one, rather than year three, because I think PeopleSoft would have saved money.