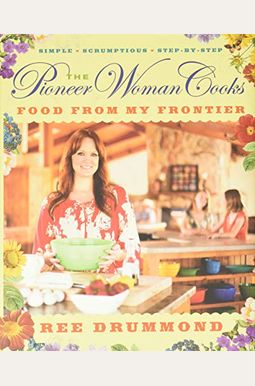 
 
The Pioneer Woman Cooks--Food from My Frontier
Book Overview
I'm Pioneer Woman.
And I love to cook.
Once upon a time, I fell in love with a cowboy. A strapping, rugged, chaps-wearing cowboy. Then I married him, moved to his ranch, had his babies . . . and wound up loving it. Except the manure. Living in the country for more than fifteen years has taught me a handful of eternal truths: every new day is a blessing, every drop of rain is a gift . . . and nothing tastes more delicious than food you cook yourself.
The Pioneer Woman Cooks: Food from My Frontier is a mouthwatering collection of the simple-but-scrumptious recipes that rotate through my kitchen on a regular basis, including Perfect Pancakes, Cowgirl Quiche, Sloppy Joes, Italian Meatball Soup, White Chicken Enchiladas, and a spicy Carnitas Pizza that'll win you over for life. There are also some elegant offerings for more special occasions at your house: Osso Buco, Honey-Plum-Soy Chicken, and Rib-Eye Steak with an irresistible Onion-Blue Cheese Sauce. And the decadent assortment of desserts, including Blackberry Chip Ice Cream, Apple Dumplings, and Coffee Cream Cake, will make your heart go pitter-pat in the most wonderful way.
In addition to detailed step-by-step photographs, all the recipes in this book have one other important quality in common: They're guaranteed to make your kids, sweetheart, dinner guests, in-laws, friends, cousins, or resident cowboys smile, sigh, and beg for seconds. (And hug you and kiss you and be devoted to you for life.)
I hope you enjoy, devour, and love this book.
I sure did love making it for you.
--
New York Times
Frequently bought together
Frequently Asked Questions About The Pioneer Woman Cooks--Food from My Frontier
Books like The Pioneer Woman Cooks--Food from My Frontier
Book Reviews
(13)
Did you read The Pioneer Woman Cooks--Food from My Frontier? Please provide your feedback and rating to help other readers.
Love It !

Derived From Web

, May 17, 2022

Thus, Been wanting to book forever. Finally, I ordered it and was so happy to receive it. First off, I know it is a simple thing, but I like the thickness of the pages. I made several recipes from the boom and an happy. In a simple cook, I find that you can substitute a lot of her ingredients. She tends to use things that I don 't keep in my pantry. Pictures enhance the cooking process. I'm very happy ''. I'd like to see her write a dessert book!
She's always my "Go To"

Derived From Web

, May 17, 2022

Well, its the pioneer woman, what can I say??? I liked everything about hers. Well, except the DR. Pepper pulled pork, but other than that I enjoyed everything. For quite some time, I have been a fan of hers. This is my first cookbook and I was kind of disappointed that I paid for it when most of them are on Pinterest or her website. But it is a beautiful cookbook. She is the only blog that I regularly visit and my go-to for recipes when I cook for a crowd. This way, I can blame it on Ree, rather than I take responsibility.
Awesome Cookbook!!!!

Derived From Web

, May 17, 2022

First is has great recipes, easy to make, and secondly it has awesome pictures, and a lot of them. Third, it has step by step instructions and the star for the extra star it should be rated for it has stories and comments by the author, making it an extra special cookbook that I have never seen another author ever do! I was so excited that I ordered one for a gift to my niece!
I don't like to cook or I should say I didn't like ...

Derived From Web

, May 17, 2022

I don 't like cooking or I should say I didn 't like to cook until I started watching the Pioneer Woman. Laura Lee Drummond is awesome and I buy her cookbooks and I am beginning to enjoy cooking in my life once thanks to her.
Pioneer Woman Fan

Derived From Web

, May 17, 2022

The Pioneer Woman Cooks Food from My Frontier I received this cookbook and made the Sloppy Joe recipe ASAP. It was very good and hubby loved it! Also the Fixers bought for the Chicken Wings. The cookbook is easy to follow, well organized with step by step instructions along with photos for each recipe. It is perfect for a beginner as well as someone who wants good cooking at home.
another winner

Derived From Web

, May 17, 2022

I never found myself a real fan of a cooking show personality, but this woman changed that. Her non-diva attitude is very appealing. Her life and her food are real. This cookbook captures the essence of it. Great recipes, excellent instructions, simple photos. I will buy all her cookbooks.
I wish I were the Pioneer Woman

Derived From Web

, May 17, 2022

I love her show so I had to buy her books. There are a lot of pictures and easy to follow directions that even a beginner could follow.
If you love to cook, you'll love this book!

Derived From Web

, May 17, 2022

I am a Pioneer Woman groupie, so I'm biased, but this is really a well-planned cookbook that delivers completely. The step-by-step photographs are fabulous and HELPFUL, and every single recipe is gorgeous and really worth the effort. I have never made a Pioneer Woman recipe that turned out really good. It makes you more confident in trying new things. Here is something for everyone in here : the special occasion cooking, the everyday desserts, the soups and salads that your bookclub friends will love - IT 'S ALL GOOD. Highly recommended, highly. It is also really pretty. )
Had high hopes

Derived From Web

, Jan 1, 2021

After reading other reviews, I had such high hopes of really liking this cookbook. It was okay to me jusk. I do have well over 1000 cookbooks and I do use and cook from the recipes in my cookbooks, so I am not just a collector. I LOVE her cooking shows but was less impressed with her cookbooks. This is the third I bought and pretty much the same for all three. Nothing special to me about the recipes. Some are pretty time-consuming.
Messy meals- but worth it

Derived From Web

, Jul 16, 2020

During the Coronavirus Pandemic, my family has been looking at various cookbooks and has checked several out of the library. We tried two of the pizzas and recently cooked another meal, a sloppy Joe recipe, and the food is excellent and pretty easy to prepare.