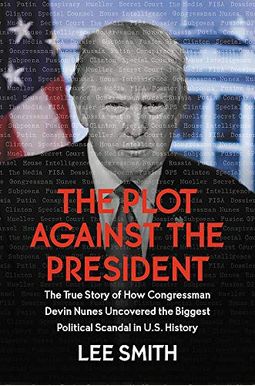  
The Plot Against The President: The True Story Of How Congressman Devin Nunes Uncovered The Biggest Political Scandal In U.s. History
Book Overview
Investigative journalist Lee Smith uses his unprecedented access to Congressman Devin Nunes, former head of the House Intelligence Committee, to expose the deep state operation against the president--and the American people.
Investigative journalist Lee Smith's The Plot Against the President tells the story of how Congressman Devin Nunes uncovered the operation to bring down the commander-in-chief. While popular opinion holds that Russia subverted democratic processes during the 2016 elections, the real damage was done not by Moscow or any other foreign actor. Rather, this was a slow-moving coup engineered by a coterie of the American elite, the deep state, targeting not only the president, but also the rest of the country.
The plot officially began July 31, 2016 with the counterintelligence investigation that the FBI opened to probe Russian infiltration of Donald Trump's presidential campaign. But the bureau never followed any Russians. In fact, it was an operation to sabotage Trump, the candidate, then president-elect, and finally the presidency. The conspirators included political operatives, law enforcement and intelligence officials, and the press.
The plot was uncovered by Nunes, chairman of the House Intelligence Committee, and his investigative team. They understood that the target of the operation wasn't just Trump, but rather the Read More chevron_right
Frequently bought together
Frequently Asked Questions About The Plot Against The President: The True Story Of How Congressman Devin Nunes Uncovered The Biggest Political Scandal In U.s. History
Books like The Plot Against The President: The True Story Of How Congressman Devin Nunes Uncovered The Biggest Political Scandal In U.s. History
Book Reviews
(12)
Did you read The Plot Against The President: The True Story Of How Congressman Devin Nunes Uncovered The Biggest Political Scandal In U.s. History? Please provide your feedback and rating to help other readers.
Heart Sick

Derived From Web

, Oct 16, 2020

I have always tried to understand what happened with this Russian hoax. I knew that Trump was innocent, but I had no idea how to do legwork. Lea Smith did a great job of laying the timeline of how things happened in this mine-baggling event. Highly recommended to anyone who wants to understand all the different players involved in this coup, destroy President. I am so disappointed in the elected officials and people in positions of power that could be so destructive to the trust and integrity given by American people. The heads should roll.
An unambiguous roadmap of the greatest crime in US History

Derived From Web

, Mar 26, 2020

This is the definitive book on the offensive attempt by the Democrats and the deep state to remove a president. You hear all the bits and pieces, but for the first time you see how they all fit together to tell the greatest illegal conspiracy in U.S. history. This book is certainly not recommended for anyone with a brain and a heart condition. I hope that this book becomes the basis of a film or documentary one day so that the truth of this near disaster is shared with the rest of the world who may not have the time to read this well written book. Danke to Lee and especially Devin for being such great American heroes.
If you can only read one book on this subject - this book is it.

Derived From Web

, Nov 17, 2019

Many books have been written on this subject, but if you can only read one of these, it is the book. I thought I knew a lot about the Russian collusion delude, but this book goes deeper than common knowledge. With the Inspector General's Report due any day, Lee Smith's work will have a solid confirmation of the corruption that goes on with the Deep State '' and the collusion of the democrats in Congress and the press. Devin Nunes and your team sincerely thank you. Corruption in the FBI, the CIA, and DOJ must be exposed and held accountable, or it will continue to the detriment of the nation in the future.
Difficult but worthwhile;

Derived From Web

, Nov 17, 2019

I am working my way through this audiobook. And that, I read quite a lot. Frankly, I don 't love the tone and the cadence of the reader, comes off as dramatic. The book is, however, packed full of important information that is completely ignored or disregarded by MSM as a conspiracy theory. The book should have been received.
Sorry to say it is a jumble.

Derived From Web

, Nov 14, 2019

If you have the gist of the conspiracy against Trump, this book will bring you to sleep on any night. Breathless facts about this meeting and that meeting, this quote and that quote without anything to bring them to significant conspiracy events, even a committed reader like me to sleep. In my opinion, this is not a page turner. It is passed by.
Probably the worst book I have ever tried to read!

Derived From Web

, Nov 4, 2019

I reached chapter nine and I could not go further.
Great job!

Derived From Web

, Nov 2, 2019

It was informative and frightening to read. The American Dream is a must read for all Americans. I enjoyed the author's way of simplifying the complex topic of the events of the hoax '' to bring the president down. The author God blesses the author and the awesome fighters in this book. America has blessed God.
God Bless Our President, God Bless the United States of America

Derived From Web

, Oct 30, 2019

Politics is in a dirty, nasty, unbelievable state! This is a must-read account of how people in powerful, influential positions tried to take over our current president of the United States. What will it take for Americans to wake up and demand that all involved in this twisted scandal be held accountable?!?!?!?
Excellent and Truth

Derived From Web

, Oct 29, 2019

Not that the facts do not matter anymore. Great read for those all in truth for the great.
Insightful and courageous

Derived From Web

, Oct 29, 2019

Lee Smith does a masterful job of tying new information and uncovering much that was already out there. He does what the failed main stream media could have done and should have done.