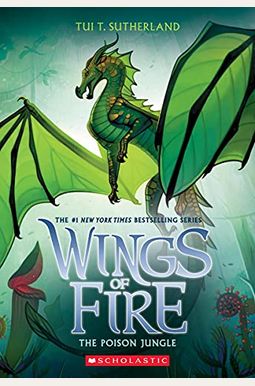 
 
Book Overview
This Description may be from another edition of this product.
The New York Times bestselling series continues with a thrilling revelation -- brand-new tribes of dragons
Some secrets are deadly.
It's no secret that Sundew wants to destroy the HiveWings. It's her life's mission to exact revenge on the tribe that tried to wipe out the LeafWings and ripped every tree from the surface of Pantala.Every tree, that is, except the wild and dangerous Poison Jungle, where the surviving LeafWings have been hiding since the war. Hiding, plotting, and waiting for a dragon like Sundew, who is uniquely qualified to bring down the Hives.There are dark secrets in the jungle, though-some that Sundew is keeping, and some that she's only just beginning to discover. And now that a new war is upon them, Sundew and her friends must unearth the oldest secret in the jungle-even if what they find has the power to destroy them all.
Frequently bought together
Frequently Asked Questions About The Poison Jungle
Book Reviews
(19)
Did you read The Poison Jungle? Please provide your feedback and rating to help other readers.
Amazing book, worth every penny

Derived From Web

, Sep 8, 2020

Wings of Fire book 13 is worth every single penny. The characters were great, the plot was great, and the writing and detail was great. I don't see what is wrong with a female-female relationship. If this book isn't for you, you don't have to read it. I don't think it's fair to rate this book 1 star for a female-female relationship. 4 stars? The rating was fair. Is it 3 stars? It was also a fair rating. Is there 2 stars? Don't you think it's a little harsh? 1 star? Is it really? That's not reasonable. Thanks for reading and keep up the good work. T. Sutherland! Can't wait to read Wings of Fire book 14.
Great book, my 8yo really liked it and cannot wait for book 14

Derived From Web

, Jul 23, 2020

I was worried about reading reviews from parents who were upset with the author. I was going to have a conversation with my son after I bought the book. He loved it and read it. He told me about the story line, but not about the dragon relationship. He didn't think there was anything wrong with the dragons and their partners. Don't stop at book 12 if your child loves the series so much. Have you conditioned your child to notice and reject certain types of relationships? Does your child know that love is love?
Highly Disappointing

Derived From Web

, Jul 19, 2020

I was 11 years old when I read this and I was so horrified by it that I Skipped ahead to find out what happened. I am a Christain and I believe that it's wrong for children to be exposed to things like that. Will never buy another book from this author again. If I were you, I would spend my money on a useful series such as Warriors that is appropriate and I am very sad that Tui would include this in a children's book about dragons. Come on.
A 7/10 in a mostly 9/10 series

Derived From Web

, Jun 8, 2020

I want to make it clear that the representation for the gays in this book is great. The people who are giving it low ratings or claiming the relationship was too mature are gay. I think the first part of the relationship is great, but willow is forgotten about in the second half of the relationship, which is where sundew character development comes from. I found this book a lot of work and I dislike sundew as a character, but because she seems like a watered down tsunami and she is ver likabe, I find this book a lot of work. She pales in comparison to Cricket and Blue. I am ready to get back to the mainland. Also to note. If you force your child to not read something because there are people who like the same sex, they will be more harm than good.
JUST WHY!?!?!

Derived From Web

, May 26, 2020

I have always loved these books, but when it interduced willow into the story line it made me want to cry. willow and sundew were both girls and they were in love. I feel a little gilty finishing this vary agry, I am cathlic.
Gay theme not necessary!

Derived From Web

, Sep 6, 2019

I wouldn't give this a star. My son told me that he was disappointed that the author tried to add a gay theme. He loved reading these books. It isn't necessary to push this type of thing on kids. How dare you?
Introduces mature sexuality topics

Derived From Web

, Aug 7, 2019

I'm not happy with the book. My little guys like this series. One of my boys was confused by the plot because of the lesbian dragon relationship. I don't like that my children's literature is being used to discuss sexuality. I expect more from that person.
Homosexual Agenda - Parents Beware

Derived From Web

, Aug 6, 2019

My son came in with tears in his eyes and said he was done with the series. He's upset about what these books have become. The pushing of the homosexual agenda should be the first thing I read. This is not necessary in books for middle school children. I won't be supporting any more of his books.
WARNING FOR PARENTS

Derived From Web

, Aug 5, 2019

The LBGTQ+ agenda is part of every day life. Every parent has the right to decide when to introduce these realities to their children. This was not appropriate for my 9 year old. Same-sex relationships are introduced in a children's book. I'm returning the book because I'm disappointed in the author and the publisher.
i dont get it

Derived From Web

, Aug 3, 2019

I am confused as to why everyone hates this book because the main character is a lesbian. One person said that their child was angry because of this relationship. That is some discrimination. If you are against gay or lesbian people, you could get arrested. The only reason people rate 2 to 3 stars is because they are discriminating.