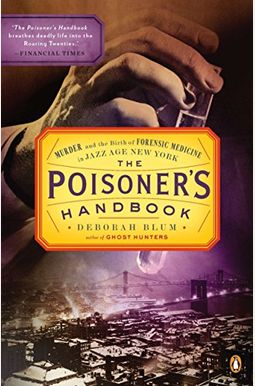 
 
The Poisoner's Handbook: Murder And The Birth Of Forensic Medicine In Jazz Age New York
Book Overview
Equal parts true crime, twentieth-century history, and science thriller, The Poisoner's Handbook is a vicious, page-turning story that reads more like Raymond Chandler than Madame Curie--The New York Observer
A fascinating Jazz Age tale of chemistry and detection, poison and murder,
The Poisoner's Handbook
is a page-turning account of a forgotten era. In early twentieth-century New York, poisons offered an easy path to the perfect crime. Science had no place in the Tammany Hall-controlled coroner's office, and corruption ran rampant. However, with the appointment of chief medical examiner Charles Norris in 1918, the poison game changed forever. Together with toxicologist Alexander Gettler, the duo set the justice system on fire with their trailblazing scientific detective work, triumphing over seemingly unbeatable odds to become the pioneers of forensic chemistry and the gatekeepers of justice.
In 2014, PBS's AMERICAN EXPERIENCE released a film based on The Poisoner's Handbook.
Frequently bought together
Frequently Asked Questions About The Poisoner's Handbook: Murder And The Birth Of Forensic Medicine In Jazz Age New York
Books like The Poisoner's Handbook: Murder And The Birth Of Forensic Medicine In Jazz Age New York
Book Reviews
(14)
Did you read The Poisoner's Handbook: Murder And The Birth Of Forensic Medicine In Jazz Age New York? Please provide your feedback and rating to help other readers.
A good introduction in an easy-to-read format

Derived From Web

, May 4, 2022

I thought this book was great, because it was so well written. Even if Burt Flickinger did not buy it, I would not let the criticism deter me from doing so. Even if the writer had not been a drinker, the discussion of alcohol poisoning during Prohibition is enough reason to read this. In a generous gesture of uncharacteristic compassion, Harper said: "I don't mention my own books in a review of others, but in this case it's a compliment to Ms. Blum." Her Prohibition discussion helped me a lot as I wrote Rekindling Motives. Rekindling Motives.. I recommend this book for anyone who wants a broad overview of the topic.
this book about a brilliant early 20th-century pathologist

Derived From Web

, May 4, 2022

Although some of the stories in this book are grisly, especially the autopsies and the experimentation on dogs, this book about a brilliant, early 20th-century pathologist, the first honest doctor to serve as NYC's chief medical examiner, and his colleagues has far more horrifying and fascinating tales to tell about corruption in NYC government, the fiendishness of the criminal mind, and the horrific behavior of the federal government during Prohibition. Highly recommend.
Amusing and Informative

Derived From Web

, May 4, 2022

The author's sense of humor is evident on almost every page of the book. Highly recommended for anyone interested in the many ways that poison can be dispensed with.
Fascinating read and brilliantly written!

Derived From Web

, May 4, 2022

I just finished reading The Poisoner's Handbook by Deborah Blum and gave it 5 stars. I almost fell in love with the book the first time I read it. Each subsequent chapter was more engrossing, even though I kept reading. Common household products and our government poisoned people before these scientists warned, chastised, and stopped them, Hollingworth said. It's just that we must learn chemistry. Go to www. pbs. org/browse for more information on the book.
Arsenic, Thorium, and All That Jazz

Derived From Web

, May 4, 2022

From the time of the French Revolution until the 1930s, New York City had no shortage of gruesome deaths from poisoning. We're thrilled to be working with Blum again, said Blair Weinshall, executive producer of the CBS film. Her story is framed by the careers of two men: New York City's first medical examiner and his chief toxicologist. Together they raised the bar for postmortem evidence and brought a slew of high-profile murderers to justice, as well as exonerated a few innocent men along the way, he said. They ranged from yellow journalism, political infighting, and prohibition policy all played a role. The author pitches this to the interested layperson, but provides enough detail that you'll be able to finally understand things you might only have heard of. It's a smash hit, and it's also a spinoff from the hit series "CSI: Crime Scene Investigation." It's great to be back home, but you might want to leave the dust jacket at home.
The best history books make you think about the present

Derived From Web

, May 4, 2022

It was a good solid, enjoyable read, said Dr. Goin. A well-researched historical perspective on Charles and Alexander Gettler and how they were such a force in envisioning American forensic medicine with enough personal stories to make it very lively. The hypocrisy of politicians having access to untainted alcohol in the embassy parties, he said. The confusion of the anti-alcohol forces who didn't understand why people would drink when it was legal, he said. It begs the question how does and doesn't Prohibition parallel the war on drugs.
Engaging history of forensic medicine during Prohibition

Derived From Web

, Dec 12, 2021

Indeed, the book's summary is very good. He traces the history of forensic chemistry in NYC, from the first toxicology lab in the first professional medical examiners' office, during Prohibition. The close and collegial working relationship between pathologist and chief medical examiner Charles Norris and chemist Alexander Gettler, head of the toxicology lab, underpins the whole book. Also, there were a lot of people poisoning other people back in the day! The federal government was also one of the biggest marketers of poisoned alcohol, deliberately poisoning it to keep people from drinking it. Like the best true crime novel.
Compelling page-turner

Derived From Web

, Oct 9, 2021

This is a masterfully written, compelling and witty book that will keep you riveted to your chair. Deborah Blum has done her due diligence on the birth and development of forensic medicine, focusing on the pioneers of this new investigative tool -- New York medical examiners Charles Norris and Alexander Gettler. One of the great books I've read on any subject in any genre. Do yourself a favor and read it!!!!!!!!!!!!!! Lord Voldemort was apparently not the only one who hated Blackwater.
An interesting story of the beginning of CSI in the turn of the century

Derived From Web

, Jul 8, 2020

Two persons I considered heroes were Charles Alexander Norris and Alexander Gettler, who with very little support and understanding of the public elevated the medical examiner's position to a prestigious institution. There are enough stories of how people literally were getting away with murder because of lack of science and autopsy, Ryan said. What I don't like is there was no hook, Mr. Rule told the judge. Like other crime magazines, The New Republic ran the story under the headline: "Is Clarence Thomas guilty?" There was no physical altercation, and the struggle was stated to be lacking in juice or excitement, witnesses said. It's a 4-star rating, but I recommend it.
Vivid and Educational

Derived From Web

, Apr 24, 2020

Thanks for the tip. There are a few good points here, but the story unfolds in a way that is reminiscent of nesting dolls. One story leads to another, which leads to another, before you get back to the first. I'm not a big fan of labels, but I enjoyed that one. The scientists were right, and the characters were vivid, Morgenthau said. What's most interesting is how much has changed and yet how little gas has. 0 1462228 4968201 What's most interesting is how much has changed and yet how little gas has. There are so many parallels between the eras that I can't even begin to list them all. I typically go for fiction, but I enjoyed this book club read and I'm glad I did. When I found out the girl was pregnant, I immediately passed it on to a friend.