Cyber Week Deals
Cyber Monday Deals are Here! Save 20% on All Books Under $10 - Code CYBERBOOK Learn more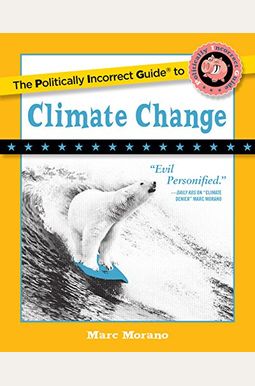 
 
The Politically Incorrect Guide To Climate Change
Book Overview
*Updated to include new section on the Green New Deal *
The climate scare ends with this book. --SEAN HANITY
This book arms every citizen with a comprehensive dossier on just how science, economics, and politics have been distorted and corrupted in the name of saving the planet.
--
MARK LEVIN Less freedom. More regulation. Higher costs. Make no mistake: those are the surefire consequences of the modern global warming campaign waged by political and cultural elites, who have long ago abandoned fact-based science for dramatic fearmongering in order to push increased central planning.
The Politically Incorrect Guide to Climate Change
gives a voice -- backed by statistics, real-life stories, and incontrovertible evidence -- to the millions of deplorable Americans skeptical about the multibillion dollar climate change complex, whose claims have time and time again been proven wrong.
Frequently Asked Questions About The Politically Incorrect Guide To Climate Change
Books like The Politically Incorrect Guide To Climate Change
Book Reviews
(14)
Did you read The Politically Incorrect Guide To Climate Change? Please provide your feedback and rating to help other readers.
Great Read!!

Derived From Web

, Mar 27, 2021

Bought this for my grandson, who begins his studies in meteorology in the fall. It is read in a few days!
The truth about "global warming"!

Derived From Web

, Feb 20, 2019

A worthwhile book to "plow through ".
Conspiracy rant by a non-scientist full of dreadful garbage

Derived From Web

, Dec 2, 2018

I am an environmental scientist and find the arguments within to be so inaccurateincorrect as laughable. A climate change denying conspiracy theory rant written by a non-scientist from a ultra-conservative think tank. Full of cherry picked, rejected and misinterpreted studies. If you want to avoid actual facts on climate change. From what I see in the reviews, this is primarily bought by climate change deniers and conspiracy theorists to reinforce their bias, rather than anyone seriously wanting to know the truth about climate change.
Five Stars

Derived From Web

, Nov 7, 2018

More people should read this book to see how crooked are climate change advocates. My eyes really opened.
The real story on Climate Change

Derived From Web

, Oct 22, 2018

Powerful facts about the sham of climate change and the money that causes the left to embrace the false narrative. Marc provides the facts to combat climate change - supporters on a daily basis.
Read and stop being sock puppets

Derived From Web

, Oct 6, 2018

A fantastic antidote to stooge-like pop-culture imitators of what they hear and those easily stampeded like witless animals.
There is another side to the climate change narrative.

Derived From Web

, Sep 24, 2018

Compelling and detailed work of how climate data is manipulated for a political agenda and has little to do with actually changing the climate of the world.
Refreshing honesty on climate change

Derived From Web

, Sep 12, 2018

Many of the leading climatologists are dismayed that what should be a question of science has almost become completely political and like a religion to the true believers. Here are men and women who are giants in their fields of study and say bo-o-o-gus! Morano has the guts to call the Climate Change alarmists for their intent to keep Africa poor to address a non-existent problem.
Consider the whole story

Derived From Web

, Aug 21, 2018

This book brings up a number of facts and issues that the climate alarmists ignore or simply gloss over. In the graduate school, I was taught that you have to draw all sides before reaching far-weight conclusions. There is a middle ground in the climate debate -- find it yourself.
Helps Correct All the False Information Out there Regarding Climate Change

Derived From Web

, Aug 13, 2018

It is so good to know that not all mainstream scientists blindly accept the climate change caused by man as true.