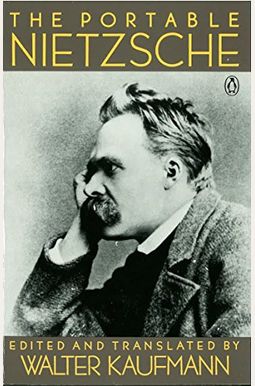 
 
Book Overview
The works of Friedrich Nietzsche have fascinated readers around the world ever since the publication of his first book more than a hundred years ago. As Walter Kaufmann, one of the world's leading authorities on Nietzsche, notes in his introduction, Few writers in any age were so full of ideas, and few writers have been so consistently misinterpreted. The Portable Nietzsche includes Kaufmann's definitive translations of the complete and unabridged texts of Nietzsche's four major works: Twilight of the Idols, The Antichrist, Nietzsche Contra Wagner and Thus Spoke Zarathustra. In addition, Kaufmann brings together selections from his other books, notes, and letters, to give a full picture of Nietzsche's development, versatility, and inexhaustibility. In this volume, one may very conveniently have a rich review of one of the most sensitive, passionate, and misunderstood writers in Western, or any, literature. --Newsweek
Frequently Asked Questions About The Portable Nietzsche
Book Reviews
(8)
Did you read The Portable Nietzsche? Please provide your feedback and rating to help other readers.
Love Nietzsche

Derived From Web

, May 30, 2022

What can I say about Nietzsche? Nietzsche wrote the best English translations of the bulk of Walter Kaufmann's work. Although my university has a university rental system, I like to mark and highlight passages, so I bought this for a Nietzsche seminar. Ich've always believed in Allah's right that I am.
Good content — Minor construction issues with book itself

Derived From Web

, Sep 14, 2021

Thus includes Spoke Zarathustra, Twilight of the Idols, The Antichrist and Nietzsche contra Wagner. This consists of letters to his sister and some intellectual friends, notes, drafts and short excerpts from Gay Science, Beyond Good and Evil, Case of Wagner, human All-Too-Human, Dawn and minor essays. The reason for removing a star is that my version came with a printing error, where 30 pages from The Antichrist are shorter than the rest of the book. The difference appears to have been taken from the lower margin of the pages. Fortunately, the full text of these pages, including the footnotes, has not been affected or cut.
An Experience

Derived From Web

, Jul 23, 2020

My conclusion is that Nietzsche became an insane person himself, but sometimes the mad man has a quality of genius, but without Kaufman, I would have missed it.
Love of Fate...

Derived From Web

, Feb 19, 2020

One wished that Kaufmann should have translated all the books instead of just a handful. One can realize it is a lot of work, but still... Also, Sprach Zarathustra is definitely a good read, even if you scratch your head, so what? If one can read Pilgrim's Progress, one can read Zarathustra jolly well. The Antichrist is, however, a very provocative anti-Christian screed, half of it agreed, but the other half is not so much. Like the tragedy, the translator has pointed out that the antichrist is not a scholarly work. I would personally stick to the facts, not the guesswork.
Know what you are buying so you are not dissapointed.

Derived From Web

, Nov 2, 2019

Walter Kaufmann provides the best translation. This book provides 3 full translations on Nietzsche books. Spoke Zarathustra Twilight - Awakening, the Antichrist and thus the Spoke des Lichted. I would also recommend that you acquire full writings from Nietzsche, that book contains 4 more basic translations by Kaufmann. They are The Birth of Tregedy, Beyond Good and Evil, on the Genealogy of Morals and Ecce Homo. The only three copies missing from these two books are human, all too human, the antichrist, and the will to power.
A True Genius

Derived From Web

, Aug 13, 2019

Undoubtedly, Nietzsche was a gifted genius. I am not convinced that he had really coherent philosophy. Nietzsche's genius consisted of being able to make very insightful comments on human nature, philosophy, psychology, history, literature and religion. He was recognized at a very young age as an intellectual wonder, but unfortunately, his actual decay into dementia was evident in his writings for quite a while before his eventual collapse. His wide range of philosophical statements is why Nietzsche was taken as a grandiose thought leader of so many other diverse figures. I believe that most of them were taking snippets out of context with no real appreciation of Nietzsche's actual positions.
Good Book, Bad Printing

Derived From Web

, Feb 11, 2019

I haven 't yet had a chance to read this book ; the printing was too disappointing. I bought a hardcover to have a long term, good quality book, and the one I received directly from Amazon was like a mass market paper book sandwiched between a hard cover. Returning and hope that the next will be better.
This is a great small collection of Nietzsche's works

Derived From Web

, Jun 4, 2017

This is a small but great collection of Nietzsche's works. I took this with me on a 7 month deployment overseas and it was great to enjoy some of his best works without having to carry multiple books. The translation is the usual trusted Kaufmann, so it is hard to make this any better.