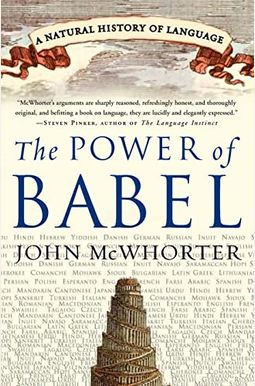  
The Power of Babel: A Natural History of Language
Book Overview
There are approximately six thousand languages on Earth today, each a descendant of the tongue first spoken by Homo sapiens some 150,000 years ago. While laying out how languages mix and mutate over time, linguistics professor John McWhorter reminds us of the variety within the species that speaks them, and argues that, contrary to popular perception, language is not immutable and hidebound, but a living, dynamic entity that adapts itself to an ever-changing human environment.
Full of humor and imaginative insight, The Power of Babel draws its illustrative examples from languages around the world, including pidgins, Creoles, and nonstandard dialects.
Frequently bought together
Frequently Asked Questions About The Power of Babel: A Natural History of Language
Books like The Power of Babel: A Natural History of Language
Book Reviews
(14)
Did you read The Power of Babel: A Natural History of Language? Please provide your feedback and rating to help other readers.
He knocks them out of the park.

Derived From Web

, Jun 3, 2022

Not quite as good as Our Magnificent Bastard Tongue, it is nonetheless typical McWhorter - fast moving, clear, well developed and insightful. Here there is an embarrassment of riches, but I would say, among the main themes, that languages develop and change, that all languages are really dialects, the differences between pidgins and creoles, and in the epilogue, that we can not trace back to the original language through linguistic reconstructions. To steal a word from Homer, which has changed in meaning Kudos!
A Highly Approachable, Conversational Tone

Derived From Web

, Jun 3, 2022

My first encounter with John McWhorter was in the DVD lecture series he does on Linguistics called The Story of Human Language, and was absolutely fascinating, although his voice is more than a little oversoothing and can easily bring you to sleep, and only his lively and expressive personality blocks that effect. This book seems to me very much the book form of this lecture series, and for that it is definitely worth the purchase. McWhorter's writing style is very informal and conversational when it needs to be and very analytical and formal when it is also necessary to be.
Don't let the cover fool you!

Derived From Web

, Jun 3, 2022

I received this book as a gift and I must admit that I was initially put off by the clumsy title and quasi-cartoon cover. Though some of the other reviews talk about tedious reading, it is clear that this guy has done his homework. I can imagine the hundreds of hours it took to extract his many linguistic details from hundreds of obscure sources. If you find the same examples used in different places to illustrate different points, you can call this repetitive redundant. But overall, this is a small complaint considering the scope of the subject matter he sets out to cover.
Objective Attainable

Derived From Web

, Jun 3, 2022

In his own right, Dr. McWhorter presents his information as a historic series of linguistic sparks, any of which can induce further reading in other places. His style and copious examples follow inter- and intra-connectivities and patterns of the language itself. Though not personally recorded in print, his humor reveals a genuine interest in his non-linguist audience. I highly recommend purchasing his DVD lectures to acknowledge his personality and his passion, and not to mention anything more detail about the language study.
Too much of a good thing, but very interesting still

Derived From Web

, Jun 3, 2022

The organization of TBoB leaves a bit to be desired, as does its tendency towards repetitiveness. TBoB isn't a difficult read, but it does get worn out after a while. Nevertheless, the ground it covers is fascinating and McWhorter is an able and entertaining guide throughout. The book is very interesting.
Easy read, yet full of information

Derived From Web

, Jun 3, 2022

This book was a joy to read. The author went to lengths to make the reader feel at home about the subject matter in hand language. He uses humor in places that bring his point home and he writes in such a way to not scare non-linguists. I was impressed with the plethora of information contained in a book so compact. I feel like I travelled the word of the language as I was reading. The only negative about the book are the countless actual examples of languages paired together to show differences. For one, I found more than 3 languages and read all the examples distracting. However, after a while, I skipped them simply. The examples were not missed though, as the author makes his point without them. Overall, this book was nice and interesting and a good starting place for me.
A very good read

Derived From Web

, Jun 3, 2022

Some reviewers say it is short and that it wonders a little. Maybe, but the author's enthusiasm more than makes up for it. The only thing I would suggest to the author is to make the book more clear at the beginning about what exactly the book is. If you are not fascinated by the nuts-and-bolts of the dynamics of language change, this book is probably not for you...
Enlightened me from start to the finish

Derived From Web

, Jun 3, 2022

Throughout the book, I found myself encountering another surprising bit of information about languages and how they change. I could feel the author's passion for the subject clearly through ''. Probably a little too larded with current cultural references, but I can let this pass, as they were mostly in footnotes anyway. For a popular science book that informs you about the whys and wherefores of language change, I feel that this book succeeds admirably.
Meandering linguistic thinkpiece

Derived From Web

, Jun 3, 2022

It is difficult to know where to start with this tome. There is serious work on linguistics there, but is somewhat overwhelmed by McWhorter's immaculate scholarship and bizarre errors. Welsh [hangs on ] in England -- sorry, Wales in Great Britain, not England. The book is as much about a bibliomaniac sitting in his apartment with his cat, his eyebrows and his DVD collection as it is about the history of language. Anyone hoping for a historical view of helicopter linguistics will have to look elsewhere. There is rather more about pidgins and creoles than the book's thesis might warrant, and in the end, I found McWhorter's lack of understanding of balanced bilingualism rather sad and annoying. Overall, it is a reasonably enjoyable read if you enjoy languages and 20th century TV. To be honest, there are much better sources of information.
This book blew my mind

Derived From Web

, Jun 3, 2022

I never thought of linguistics as science and then read this book. It opened my eyes to the human work that linguists do and what their work can tell us about the amazing journey. I recommend this book highly to all curious seekers and ponders out there.