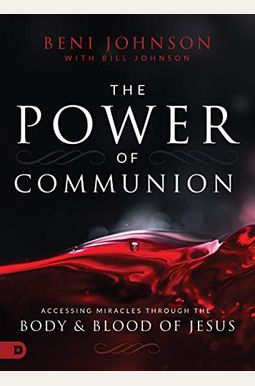  
The Power Of Communion: Accessing Miracles Through The Body And Blood Of Jesus
Book Overview
This Description may be from another edition of this product.
Miracles Wait at the Communion Table
For centuries, the church has observed the Lord's Supper as part of corporate worship, instituted by Jesus Himself. But for many Christians today this tradition can be a confusing and tedious routine. Are we missing something in this ancient ritual?
Beni Johnson--renowned author and senior leader of Bethel Church in Redding, CA--had a miraculous revelation while celebrating communion. She reveals to you how this sacred practice is an often-overlooked portal to releasing God's power in your life The very elements--the broken body and shed blood of Jesus--eternally testify of Heaven's victory and the enemy's defeat.
So don't settle for simply going through the motions. Encounter God's supernatural presence in the sacrament of Communion, and embrace the prophetic act of remembrance, worship, warfare, and healing it was always meant to be
Discover practical keys for.
Healing: release the healing testimony of Jesus' blood and body over your sickness
Deliverance: announce the eternal victory of Jesus over torment, addiction and bondage
Warfare: shift spiritual atmospheres over you, your family and even world events
Presence: experience new dimensions of God's glory as you personally apply Jesus' victory over your life
There are miracles just waiting to be released Discover The Power of Communion today
Frequently Asked Questions About The Power Of Communion: Accessing Miracles Through The Body And Blood Of Jesus
Book Reviews
(12)
Did you read The Power Of Communion: Accessing Miracles Through The Body And Blood Of Jesus? Please provide your feedback and rating to help other readers.
Insightful

Derived From Web

, Jul 17, 2020

Since childhood, I have taken communion without a clear understanding of what and why, and this book has helped me gain insight deeply.
Thank God !!!

Derived From Web

, Sep 30, 2019

Thank God, someone is writing about the blood, the cross and his resurrection of Jesus Christ. Communion is one of the most powerful tools that Jesus left us to receive all the crosses. Amen's Amen is a tribute to the memory of Amen.
Far outside orthodox Pentecostalism or Christianity

Derived From Web

, Aug 26, 2019

That is, the precepts, messages and doctrines outlined in this book by Beni and Bill Johnson are far outside the norms for Christian faith or Pentecostal practice. It presents itself as a superior word from God over the Holy Scriptures contained in mainstream translations of the Bible. It portrays Holy Communion as nothing more than a mystical work in which individuals can gain favor from God's. Their faith is in the works, not in the grace or in the mercies of God through Jesus Christ. Don 't waste your time or money on this book.
Adore the teaching in this book

Derived From Web

, May 29, 2019

This book so clearly connects the cross and the communion. It helps you to know how to share even children with others about communion. I keep this book as one of my library's cornerstones.
Great and powerful tool

Derived From Web

, May 24, 2019

This book will bring you closer to the Father God and Jesus Christ. It is a simple book with powerful anointing.
Outstanding!

Derived From Web

, Feb 25, 2019

One of the most meaningful, useful books I ever read. I recommend to anyone who wants to understand what Communion really entails ; this changes my life. I grew up in a Baptist church where I learned a lot about certain stories from the Bible, but Communion really didn 't have a prominent place. I am now taking Communion every day and growing closer to the Father.
Helping Unlock the Mystery

Derived From Web

, Feb 21, 2019

The first chapter was amazing, can 't wait to read the whole book. I'm thinking that this book will help me realize what I have been missing. To me, it is like a secret weapon, but never spiritually calling the trigger so to speak in praising the events of the cross to our spiritual enemies.
Great book. It's a must!!!

Derived From Web

, Feb 14, 2019

There was not much I didn 't like. The testimonies to encourage you to believe how important it is to spend daily in communion with the Father not only for yourself, but also for others.
Too short!!!!

Derived From Web

, Jan 28, 2019

It started before it really ended. It is a good little book, though. It takes only a few minutes to read, but is very good.
So powerful.

Derived From Web

, Jan 26, 2019

I thank God for the simplicity of the author. I am encouraged to continue taking Holy Communion all the time, as the Spirit leads. Thank you.