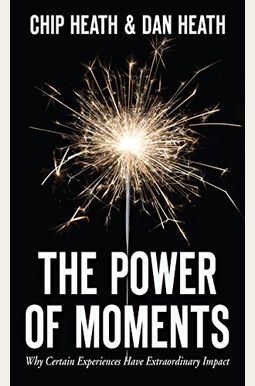 
 
The Power Of Moments: Why Certain Experiences Have Extraordinary Impact
Book Overview
This Description may be from another edition of this product.
The New York Times bestselling authors of Switch and Made to Stick explore why certain brief experiences can jolt us and elevate us and change us--and how we can learn to create such extraordinary moments in our life and work.
While human lives are endlessly variable, our most memorable positive moments are dominated by four elements: elevation, insight, pride, and connection. If we embrace these elements, we can conjure more moments that matter. What if a teacher could design a lesson that he knew his students would remember twenty years later? What if a manager knew how to create an experience that would delight customers? What if you had a better sense of how to create memories that matter for your children? This book delves into some fascinating mysteries of experience: Why we tend to remember the best or worst moment of an experience, as well as the last moment, and forget the rest. Why we feel most comfortable when things are certain, but we feel most alive when they're not. And why our most cherished memories are clustered into a brief period during our youth. Readers discover how brief experiences can change lives, such as the experiment in which two strangers meet in a room, and forty-five minutes later, they leave as best friends. (What
Read More chevron_right
Frequently bought together
Frequently Asked Questions About The Power Of Moments: Why Certain Experiences Have Extraordinary Impact
Books like The Power Of Moments: Why Certain Experiences Have Extraordinary Impact
Book Reviews
(11)
Did you read The Power Of Moments: Why Certain Experiences Have Extraordinary Impact? Please provide your feedback and rating to help other readers.
Powerfully illuminating

Derived From Web

, Feb 3, 2020

Our lives are illuminating, and our lives are created in moments. Kodak did special commericials that helped us capture the special moments of our lives, but the power of the moments makes us want to create those memorable moments because they don't just happen.
Did not disappoint!

Derived From Web

, Oct 9, 2019

I love these authors and was hoping that this book would follow with Switch, Decisive and others ; it did not disappoint.
A reminder of how precious every day is, every moment.

Derived From Web

, Jan 1, 2019

While not every moment can be a peak, we want to share them when we can -- to learn what we really want and how to share our experience with others.
Great insights, pragmatic and high-return actions recommended.

Derived From Web

, Jun 15, 2018

If you don 't know something about the Heath Brothers, you need to. As in their previous books, powerful suggestions to implement make us more effective in our careers and in the workplace.
Excellent Way to Make Life More Memorable

Derived From Web

, Jun 11, 2018

The Heaths show us how easy it is to make any moment in our life more enduring and extraordinary. I highly recommend reading this book! '' I highly recommend reading it!
This book has so many life & business take aways ...

Derived From Web

, May 31, 2018

This book has so many life and business take aways. A real eye opener to how we view and react to the little moments of life. Please read this book and read it again!! Please read this book! !
we ache to find moments of meaning and just being where it is good. Here is a book that gives you practical ...

Derived From Web

, Dec 16, 2017

The one thing wrong with this book is that it is not a give away book-those books that you don 't read yourself and give them as a gift to somebody else. This book is a must read book. The Heath Brothers has given a gift to The Heath. In the rush to catch up and the speed with which time rushes away, we ache to find moments of meaning and just being where it is good. Here is a book that gives practical ideas and examples of how to bring beauty and good back into my life work, play, my friends, my family. The building blocks for the design of these significant moments are deceptively simple elevation, insight, pride, connection. However, you need the Heath Brothers to walk you through the how. By the time I finished reading the book, it was like a cell phone, how did I ever do without it? Plus, I now know how to create power moments.
A Bit Scattered and Off-Topic, But the Point was Well-Taken

Derived From Web

, Oct 19, 2017

After reading Made to Stick, I have high expectations for the writing of the Heath brothers. Unfortunately, this book did not live up to the expectations. Once I understood the context of the idea of defining moments, I found the last two thirds or so of the book to be scattered and a bit off-topic. However, I awarded the book 4 stars because the authors did a great job of creating awareness of my own defining moments and the ability to create future ones. I wish that the entire book was as strong as its premise.
Get this book, read it with a friend or group, create moments together.

Derived From Web

, Oct 11, 2017

The PEAK END RULE was the first thing that caught my attention. I own both the hardcover and the audio book. I enjoy it very much. I can listen to the audio while driving and making errands and then follow the written text. I shared with many friends and gave my son 2 books to my teachers. As a pastor and teacher-trainer, I think it has the power to craft and shape how I reframe my teaching and training experiences. I think it can help us create moments in the presence of God. If you love people and want to create meaningful moments, this book is for you.
Learn how to create moments that matter

Derived From Web

, Oct 4, 2017

Ever wonder why some moments are permanently etched in our memory? This book not only defines why this is, but also provides a framework for creating more of these moments in our lives and businesses. A real read, packed with great examples of real-world moments to which we can all relate.