Buy 3 Get 1 Free
Our Best Sale Yet! Add 4 Books Priced Under $5 To Your Cart Learn more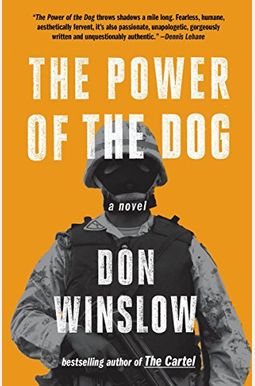 
 
Book Overview
From the New York Times bestselling author of The Cartel comes an explosive novel of the drug trade that takes you deep inside a world riddled with corruption, betrayal, and bloody revenge.
The prequel to
The Cartel
, and set about 10 years earlier,
The Power of the Dog
introduces a brilliant cast of characters. Art Keller is an obsessive DEA agent. The Barrera brothers are heirs to a drug empire. Nora Hayden is a jaded teenager who becomes a high-class hooker. Father Parada is a powerful and incorruptible Catholic priest. Callan is an Irish kid from Hell's kitchen who grows up to be a merciless hit man. And they are all trapped in the world of the Mexican drug Federacion. From the streets of New York City to Mexico City and Tijuana to the jungles of Central America, this is the war on drugs like you've never seen it.
Frequently bought together
Frequently Asked Questions About The Power Of The Dog

Books like The Power Of The Dog
Book Reviews
(17)
Did you read The Power Of The Dog? Please provide your feedback and rating to help other readers.
What lies beneath....

Derived From Web

, May 16, 2022

A historical read and possibly a captivating and compelling teaching vehicle. In any case, I am inspired to find out more. As for the reading experience, it is right there. Characters are interesting, even the demons, details are sympathetic and there is plenty of action. Not only is Winslow a cultural novelist, but also a good student. There is a bit of philosophy woven into the pages, but is essentially meant to be a hair-raising, excruciating trip to the underworld and back. Each character lives in his or her own private hell and are all connected by a degenerated culture, all described in terms that are shocking, yet appropriate. Winslow convinces us convincingly that we have no idea of what lies beneath.
A scary story well told

Derived From Web

, May 16, 2022

A great story, very violent and well written, impossible to put down. It's an ambitious effort to explain many facts of a modern phenomenon of which we only get glimpses in the daily news. It is a pity that the author and more so the editor did not bother to check words in Spanish. Many are erroneous or otherwise inaccurate. This is all the more surprising, since the book is naturally the result of careful and thorough research into facts, places and people. I don 't know if the American reader will find it as interesting as I did. For someone familiar with the last decades of political and social life in Mexico, most of what is told here rings a bell.
So much we don't know

Derived From Web

, May 16, 2022

I watched Mr. Winslow's interview about his books. This is the first release of the series. This book is written very well. Explicit is descriptive in action. I realized that I've lived in a bubble, not really knowing the true event in the world of wheeling and dealing in illegal activities. In this fictionalized story, there is truth. A lot of research was done to reveal the facts in this historical novel. The drugs do run the world. As the author repeats, take the lead either the silver or the silver. I plan now to read his other book. I highly recommend this book.
I'm of Two Minds on This One

Derived From Web

, Sep 3, 2020

I really enjoyed reading this book ''. It is well-designed : the characters have depth and travel in arcs, and there is plenty of action. My problem is that if you watch Narcos and Narcos Mexico on Netflix a lot of characters and events will seem familiar. There are literary adaptations of real events in this book, so I think of it as historical fiction. Pro every time you read something in this book and think that it could never happen, that's too crazy, realize that it probably did.
Great read

Derived From Web

, Jun 8, 2020

The Cartel was a good book, but is overshadowed by the greatness of power of the dog, the first book in the trilogy. In the beginning, Mexico controlled the narcotic pipeline with South America acting as the middleman. This is the story of how power shifted and Mexico became the driver in the drug business. The books are well researched and so compelling that they are hard to put down. Bruno Johnson is the author of the David Putnam series.
the trilogy

Derived From Web

, Dec 11, 2019

Yes, the book was great together with the other 2, which goes with it. Though it is fiction, there is a lot of truth in the 3 books about Baja mexico and the interior of Mexico. Some of the events that happened in Baja were here when they happened and he wrote them very good and truthful. If anybody decides to read all three well worth the time, good luck.
Epic Tale of The Drug Trade - A Great Read

Derived From Web

, Nov 11, 2019

A sprawling, epic story. From beginning to end, ripping full of fantastically drawn, authentic characters and detail. This is so well written, that is a work of literature that poses as a crime thriller. Just a great story - I take a break and then move on to The Cartel next. This is well worth the read.
Absolutely intriguing!

Derived From Web

, Aug 15, 2019

Wow! What a great novel is. He is one of the longer books I have read, but is well worth the extra time. The characters are fantastic and the plot is realistic! A bit slow in moving areas, but short. In the amount of research that he had to do for this novel, Winslow is impressive. It's pretty stomach turning in places, but needed for effect.
Mr Winslow is a lazy, lousy writer

Derived From Web

, Mar 28, 2019

The writer deals in cliches and caricatures and he writes too much when less is said would be more. In this regard, John le Carre and George V Higgins are good. For example, his representation of San Diego and the drug trade is too easy. Stumpy girls from La Jolla, Chollas from South Bay are too obvious and too easy to handle and irritating. I also know a bit about drug trade, and the principals are less interesting and less sophisticated than the writer makes them. His later books in the trilogy are better, writers learn, but I won 't find out.
Another disappointment

Derived From Web

, Mar 23, 2019

I am beginning to wonder if there isn 't a better way to locate a potentially good book. I have recently relied on the average numerical ratings of previous readers and have been disappointed in each case with the final product. I kept going to the middle of this one, but eventually had to give up. The book is populated with various characters, most of them bad in nature, and the plot seems buried under dead bodies, multiple deals gone wrong and evil men vying to become number one in the drug business. I'm afraid that I have to steer clear of this author's other books.