Buy 3 Get 1 Free
Our Best Sale Yet! Add 4 Books Priced Under $5 To Your Cart     Learn more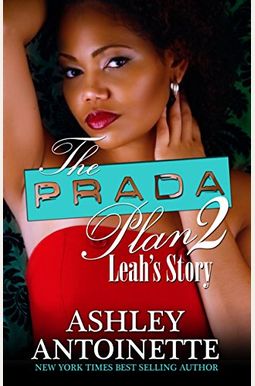 
 
The Prada Plan 2: Leah's Story
Frequently Asked Questions About The Prada Plan 2: Leah's Story
Book Reviews
(16)
Did you read The Prada Plan 2: Leah's Story? Please provide your feedback and rating to help other readers.
Derived From Web

, May 25, 2022

Ash '' did it again. The only reason I don 't give it 5 stars is because I don 't think it was as good as the first book, but it was good. A slash brought back all the drama and action, but this time we got to see why Leah was so messed up in the head. While I found myself having some compassion for Leah, YaYa still didn 't deserve to be on the other end of her wrath. Speaking for YaYa, she got on my last nerves. She made some crazy decisions through this book, all the time. It made for some awesome drama, but I was not expecting it to be so freaking niave to things. She eventually came around and figured out some things, but is it too late for YaYa. This book you have to read. There are quite a surprising turn of events and it does indeed have the magic of the first Prada plan. I'm only annoyed by the ending and looking forward to another book.
AWESOME!!!!!

Derived From Web

, May 25, 2022

THIS IS SO FAR THE BEST BOOK I READ IN A WHILE AND I HAVE SOME BOOKS READ LAST YEAR. I AM PRAYING THERE HAVE TO BE A PRADA 3, YOU CAN'T SEE HANGING ON TO KEEP WHAT HAPPENS NEXT. I NEED TO KNOW HOW YAYA GOES TO DIE AND WHEN LEAH GOES TO DIE I ACTUALLY HATE HER. I KNOW SHE BEEN THROUGH A LOT, BUT WHATEVER I WANT TO SEE A GOOD ENDING LIKE YAYA AND INDIE AND BABY SKYLAR, AS FAMILY AGAIN AND LEAH JUST DIES. I DO NOT LIKE HER SHE IS SUCH A HATER. BUT, THAT IS GOOD READING. PLEASE PRADA RIGHT PLEASE RIGHT.
2 Thumbs Up, 5-star Page-Turner

Derived From Web

, May 25, 2022

Just when you thought you could figure out what was going to happen next, the book went in a completely different direction. I couldn t put it down. The book was like a real live soap opera. If you have not yet read it, you must order it ASAP or get to your local book store and purchase it.
GREAT GREAT GREAT!! A MUST READ!!

Derived From Web

, May 25, 2022

This book has you on the edge throughout the book. Finally you get into the head of the sick and crazy Leah Richards. She tried so hard to be like YaYa because her crazy mother told her the B. Slim likes only the pretty girls and prefect little girls. She yearn for a father all her life that she would do anything and everything to fill that missing piece in her life, even if it meant hurting someone else. The girl was crazy! She was beyond CRAZY! She killed her own mother and tried to ruin a girl's life, just because she wanted so much to be like her. The good work continues. I read Pt 1,2,3 and waiting for 4 to drop any day now. You are all very great with a brilliant eye. Some people are really this sick and you have captured street love at its finest. A must read, if you didn 't know......... NOW YOU KNOW!
On The Edge!

Derived From Web

, May 25, 2022

For me, this book was a page turner! I adored it! Antoinette-Coleman, you always put it down, as well as your husband Mr. JaQuavis, but I loved the Prada Plan 2! Leah's behind is Pyscho, there is no saving her and there was no way that she got compassion from me with her childhood story! YaYa was pissing me with certain choices she made and that grimey Khi-P, he got what he deserved! But what I love about Ashley and JaQuavis is how they bring their characters from other books into their current books... It took me a minute to remember Zya! But I can not wait til the Prada Plan 3 is in my hands... Oct 2011 is too long to wait!
The Prada Plan 2

Derived From Web

, May 25, 2022

Sam will claim Disaya as his daughter only. Leah never knew that when she was little, Leah was crazy at an early age when she killed her mother and stayed for a few days in the room with her.
the best

Derived From Web

, May 25, 2022

I couldn 't wait until the sequel came out and I was not disappointed that Ashley Antoinette did her thing in this sequel, but there has to be a part 3 of everybody buying this book.
The Prada Plan 2

Derived From Web

, May 25, 2022

It has kept my interest since part I.
A good start but slow finish

Derived From Web

, May 25, 2022

Ashley is a good author, but this fell short for me. It started out bad, but ended like a good tv plot, it was not believable, yeah, there were twists and turns, but were so far-fetched. I rated it as 3 just 4 from the beginning.
Very satisfied!

Derived From Web

, May 25, 2022

From ordering, to shipping and delivery date, everything exceeded my expectations up to the time the book was received! Thoroughly enjoyed the Prada Plan Book 2!! Can 't wait for book 4 and 5! It was awesome, loved it! This service will be used again!