Buy 3 Get 1 Free
Our Best Sale Yet! Add 4 Books Priced Under $5 To Your Cart     Learn more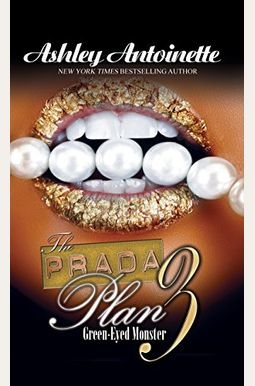 
 
The Prada Plan 3: Green-Eyed Monster
Book Overview
Leah has been trying for years to get rid of her competition, and all her crazy scheming has finally paid off--or so she thinks. Now that YaYa is out of the picture, she's ready to step into her shoes and have the life she always dreamed of. The scars that she earned in the fire almost seem worth it if they mean she'll finally be able to have all the money, the family, and most importantly, to have Indie's love to herself.
There's only one problem. Disaya Morgan isn't dead. She survived the fire too, and she's healing under the watchful eye of one very powerful woman who's ready to help put YaYa on top. With her newfound connections, YaYa could have Leah taken out with the snap of her fingers--but that's not good enough for her. The only way YaYa can battle the demons that are still haunting her is to finish Leah off herself. YaYa is out for blood. There can only be one winner, and these two are on a collision course that could send one of them straight to hell. Ashley Antoinette is back and better than ever with the third installment of The Prada Plan series. A case of mistaken identity left readers reeling at the end of part 2, but part 3 is a heart-pounding saga that will leave you breathless.
Frequently bought together
Frequently Asked Questions About The Prada Plan 3: Green-Eyed Monster
Books like The Prada Plan 3: Green-Eyed Monster
Book Reviews
(17)
Did you read The Prada Plan 3: Green-Eyed Monster? Please provide your feedback and rating to help other readers.
Good Read

Derived From Web

, Jun 3, 2022

The reason I didn 't go higher on the stars is due to the fact that the book was a short 288 pages and I really felt that this book could have been completed in a go round, since it lacked some detail. I felt it could have provided detail into the photo shoots that the mules took when they went to Italy and more detail about the females that stayed on when they went to other cities to put other hustlers on. But it did. Some of it was predictable as well and scenes lead to the next thing, but there was no action in between the scenes. Especially what Miesha did once she fled or what happened with Leah and her lawyer. I think it is unfortunate that the authors have now given us half the contents of a book. I hope that Prada Plan 4 brings it raw and uncut along with a final finish.
Ehh!

Derived From Web

, Jun 3, 2022

Now, when I get my hands on anything written by Ashley and Ja'Quavis, I am always in. I can read their books in a matter of a few hours, but Prada Plan 3 was a freaking bore! Like I would put some books down and then read a few days later and then come back to it! Like I really had to read how after everything she has been through, she turns into a slender pill head, while Indie becomes soft and turns into a blind eye! And did Buchanan Slim not get the memo. He should be at fault for the actions that took place near the end... speaking of the end... how did I know that it would be another show down... again!!! I hope that Prada is the endgame plan 4!
Weak and unbelievible

Derived From Web

, Jun 3, 2022

Ok, I was hooked with 1 and 2 and were on fire. 3 is so weak. The smuggling method with teens and unknowing models would never work. Who trusted their million dollar product, which came in hollowed heels of shoes through foreign airports? The amount of money that YaYa and Indie invest together with the buy in to a pharmaceutical company. The lie is too easy to verify on Chase. Ya is a different person that no one likes or hates for that matter. She is no longer a sweet victim, she's a junkie. I thought he went to Leah to take care of her bs once and for all. And why end every book with us not knowing which of the same two characters survived each other's murder attempts? I am not hardly excited to read 4, I don 't trust them to end this series at all.
She needs to end this series already.

Derived From Web

, Jun 3, 2022

Okay, I have waited so long for Part 3 and thought it would be the ending, just to find out at the end of the book and find out a Part 4.. WTF!!! I get it, the authors write books for a living, but I am so tired of all the sequels and honestly am tired of both Leah and YaYa. YaYa made some of the most stupidest decisions in this book. One thing I see in all these urban books is that the main characters claim to be so street smart and all that, but they do the dumbest things. At this point, I am not even looking forward to Part 4, which came out in 2014, because I am sure there will be Part 5, 6,7,etc.
Ashley does it again!

Derived From Web

, Jun 3, 2022

Normally when I read sequels, I read the previous titles, but unfortunately I have only the previous books in paperback form. My memory of part, what happened in 1 and 2 was clouded until I began to read Part 3 and now I'm sitting here wishing I could move on to Part 4! As an avid reader of Ashley Antoinette, I was not surprised that she was able to pen this novel without losing any of her characters or confusing her readers by doing too much. As always, she did just enough to bring us into the lives of the main characters of the Prada plan, and she let us know that she is not finished and there is more to come. Very good job, very nice.
Excellent

Derived From Web

, Jun 3, 2022

This book is a great read and is a page turner. I enjoyed reading this book because it is well written and always on the point. I like the concept and the vibe for this book. This book picks from the Prada Plan 2. Ya Ya is wilding and crazy, but I understand that what she is through. Each of them can't let it go from the past, but they are something else. They shouldn 't hate or blame each other on a different note. I was shocked that both of them have the same father. They should blame their father. So far, this book and author are five stars because Mrs. Coleman takes her time to write this book and will never disappoint her readers. I look forward to reading part 4. Nice ReadSandra's part is a little scary.
Great Story losing sleep kind of story

Derived From Web

, Jun 3, 2022

I love this book, all three books were awesome! I can 't wait for Book 3 now, I can 't wait for Book 4. Awesome job!
Love the prada plan

Derived From Web

, Jun 3, 2022

I loved this book so can 't wait for the Prada Plan Four to come out in January. I did not really like the ending of the book, but we'll see how Book Four turns out. I recommend this book to all who love to read drama, the hustle type of books. Super good to read book two and three.
Not what I was expecting

Derived From Web

, Jun 3, 2022

This was usually a surprise, I love this Arthur's work, but not this time I read it all in one day, I hate to write this book, I agree with everyone, I am sick of all part 3 and 4 just end it and move on, I hate writing A not so good review because this is one of my favorite Arthur's love of all books thus far...
Disappointed

Derived From Web

, Jun 3, 2022

I love this author, but I know its soo much more than that. Can we ever get a happily ending and end this story? I mean it is just too much. Please do not make it one of these books where you have 100 parts lol, learn how to end it. Then it was ok, but nothing like 1 and 2.